Mumbai-based cricketer Kalp Shah, 16, recovers from his accident-caused spinal cord injury that rendered him bedridden for five months; all set for Vijay Merchant Trophy debut today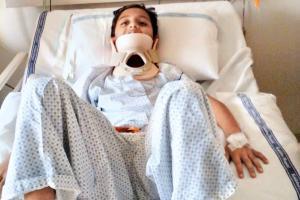 Kalp Shah in hospital when he suffered his spinal cord injury in 2014
Injures are part and parcel of sportspersons' lives. They cope, they shrug it off and take adversity in their stride. However, it becomes harder when practitioners of sport have to deal with mishaps just as their careers are taking shape. Like city-based cricketer Kalp Shah, 16, who makes his debut for Saurashtra against Mumbai in the Under-16 Vijay Merchant Trophy at Rajkot today.
Left-arm pacer Kalp fell from the jhula [swing] during a family function four years ago. A severe spinal cord injury rendered him bedridden for five months. He could resume school and cricket practice only a year and a half later. "I do not want to recall that incident. Forget playing, we all were praying that Kalp survives. He could not even move his neck for the initial two months," Kalps father Yatin told mid-day.
ADVERTISEMENT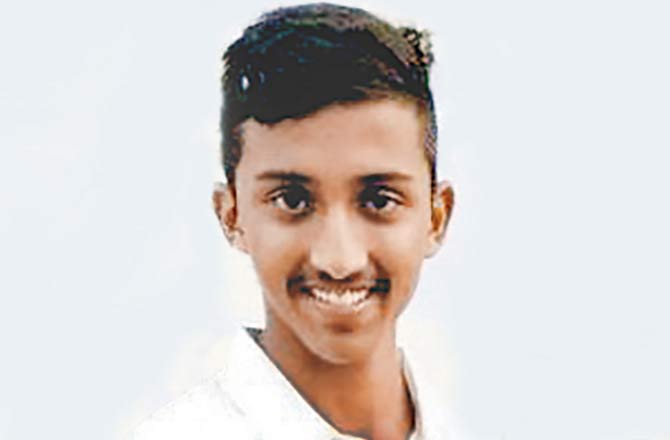 Kalp Shah
With proper medication and rehabilitation, Kalp, helped by Dr Abhishek Srivastav, recovered in time for last season's Giles Shield inter-school tournament. That came after a triumph of the spirit caused by extraordinary mental strength and the wherewithal to get back to playing cricket. Fitness trainer Nirbhay Singh worked on Kalp while his Vivekanand International School (Borivali) coach, Dinesh Lad put him through extended net sessions. However, what motivated Kalp most to come out of his bedridden state was his father's positive attitude. "Though everyone supported me during that period, I displayed will power and mental toughness only after seeing my father put in all efforts to ensure I got better. And he did so without any fuss," said Kalp.
Of course, Kalp's love for cricket played a key role as well. "Even when I was bedridden, I was thinking about playing cricket… I just wanted to bowl again," he remarked.
Yatin is convinced that his son's passion for the game and fighting qualities got him back on his feet: "Cricket ke junoon Kalp ko yaha tak le ke aaya. [Kalp's cricket obsession caused his recovery]. I thank God for giving him a new lease of life after that major accident, but hats off to him for the way he fought."
Coach Lad is still in disbelief. "When I visited him at the Kokilaben Hospital in Andheri and later at his home, I told his father not to let him play again. But I was shocked when Kalp landed up at our nets one day, requesting me to allow him to play. Initially, I just wanted him to mix with the boys so that he could put his injury aside. After a couple of weeks he started playing with the same commitment as earlier. This was quite amazing. He is a promising, hardworking pacer; a quick learner too. I am hopeful of him doing well," Lad said.
Kalp, a Class X student, qualified to play for Saurashtra U-16 since he was born in Rajkot. "I am very excited to play my first (Vijay Merchant Trophy) match. I have few friends in the Mumbai team and I want to dismiss them. It will be fun." Whether Kalp will have many gotcha moments in Rajkot is to be seen, but he has already achieved his biggest win.
Catch up on all the latest T20 news and updates here. Also download the new mid-day Android and iOS apps to get latest updates