mid-day caught up with The New Day for a quick tete-a-tete on their journey in the industry, the WWE universe, Indian wrestling potential in WWE as well as a bit of cricket.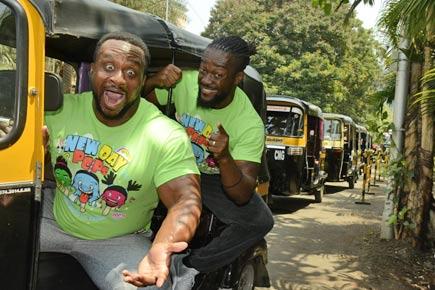 The New Day in Mumbai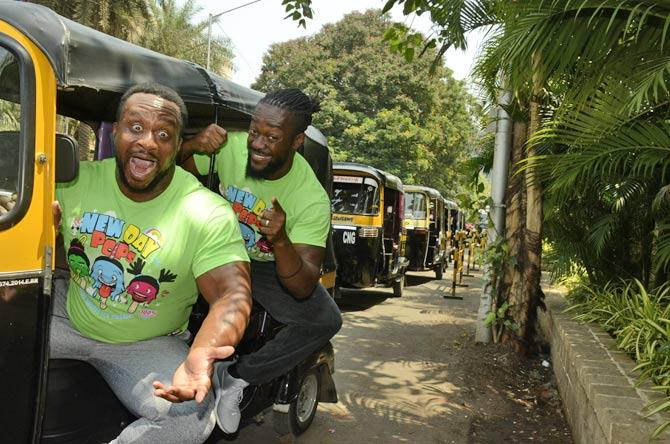 The New Day take a rickshaw ride in Mumbai
The New Day, WWE Former Tag Team Champions, and the host of this year's WrestleMania 33, were in the city for an event with Special Olympics Bharat Athletes from Maharashtra who won medals at the Special Olympics Winter games in Austria.
ADVERTISEMENT
mid-day caught up with The New Day for a quick tete-a-tete on their journey in the industry, the WWE universe, Indian wrestling potential in WWE as well as a bit of cricket.
First off, Congratulations on the WWE tag-team record that The New Day holds. 
Big E Langston: Thank you that will never be broken.
What are your views on the current scenario in the WWE tag team space on Raw and SmackDown Live?
Big E: I think its definitely heating up obviously with the addition of the Hardy Boyz… that's huge for igniting people's passion with WWE tag team wrestling again. Also, The Revival, dastardly as they maybe, I think they are very talented. They say 'what's old is made new' so, they borrowing a lot of brainbusters from the tag team and wrestling of that age has helped them feel new. On SmackDown Live, seeing The Usos with their latest turn as heel and reigniting their careers as well as seeing how much momentum they have. I am a big fan of Breezango as well. Those guys need to be given a chance which they are finally getting. I really feel they are gonna tear it up with the opportunity they have with The Usos.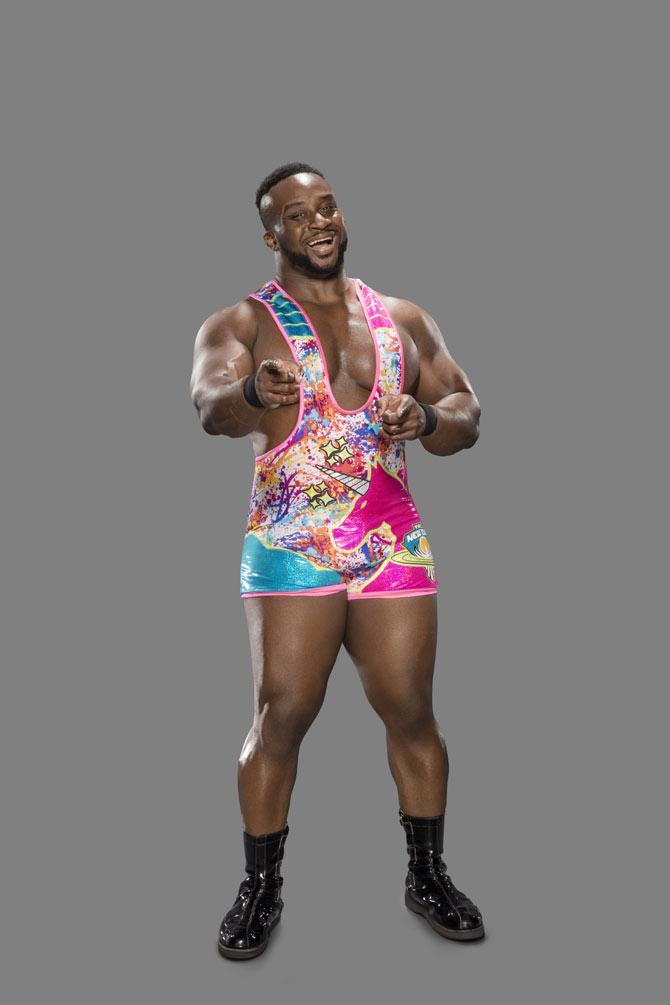 Big E Langston
It's exciting to sit back a bit, we are kind of forcibly before we eventually make our SmackDown Live debut. The tag team division is in pretty good hands. We also have an eye on what is going on at NXT. There's a lot to like about tag team wrestling and we will see how things shape after the superstar shake up.
When The New Day finally make your SmackDown Live debut, what 'new can the fans expect from you?
Kofi Kingston: You never know what you're going to see form The New Day and I think that's what keeps us new and fresh. We always have our fingers on the pulse of pop culture. We always try to incorporate what is 'hot' in culture! You know, when you see The New Day, you are going to be entertained. You just don't know how.
Kofi Kingston, how do you plan and execute your legendary stunts at the Royal Rumble every year?
Kofi: It's funny, how I always say I get a lot of the credit for the execution but a lot of it has to do with the WWE superstars around me. A few years ago, I got clotheslined out of the top and my bretheren Big E happened to be on his shoulder. While everyone said, 'Good job Kofi', its he (Big E) who is doing all the work carrying me on his shoulders and running around. The hand stand I did when I got knocked out of the ring by The Miz – if he throws my feet too far or not far enough I would fall. So these stunts are not something that I think of until a few weeks before the Rumble. I am definitely blessed to be a guy who when the Royal Rumble is spoken about I fall in that same category.
Big E: He (Kofi), does not give himself enough credit. Obviously there are other wrestlers involved but he is the one with the innovations and showing off his unique style of wrestling. Kofi's the man.. Mr Royal Rumble there! He just has to win one.
Kofi: (laughs) That would be the greatest stunt of them all.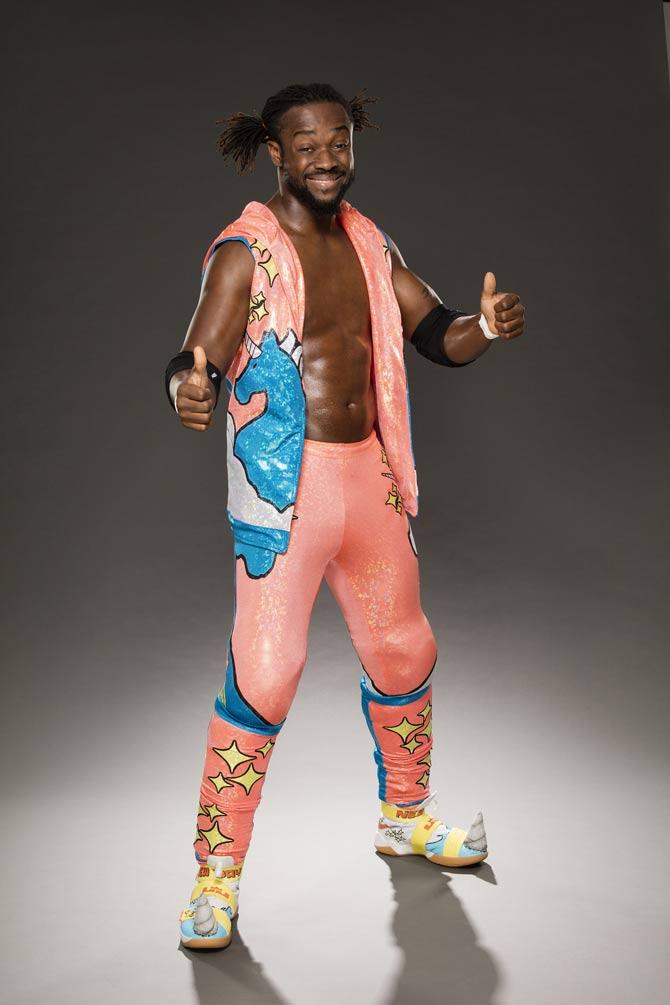 Kofi Kingston
WWE had the Dubai tryouts as well as there are Indian wrestlers training at the WWE centre – Jeet Rama and Kishaan Raftaar. With such kind of a following coming to India, where do you see Indian wrestling fitting into the WWE world?
Kofi: Well, right now there's Jinder Mahal who is currently making strides going toe-to-toe with Randy Orton – one of the biggest names in the business. The Singh Brothers are coming up as well. During the tryouts in Dubai, out of all wrestlers, there were 10 superstars from India which was about 25 percent of the list. Kavita Dalal was the only Indian woman to be at the WWE tryouts. There will be some huge strides made in the near future. I am actually getting goosebumps!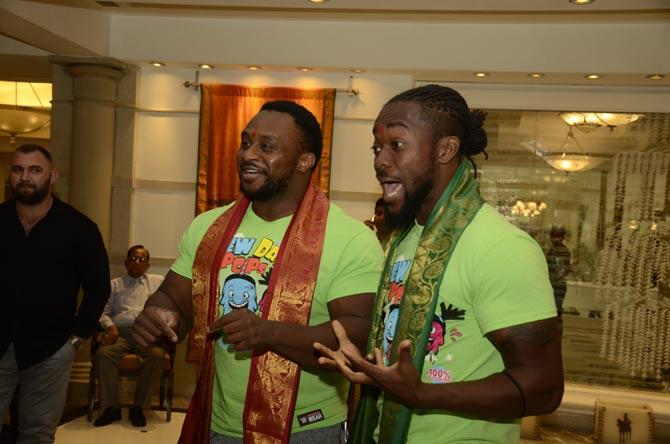 (He actually does get goosebumps!)
Kofi continues: Before the show in New Delhi last year, WWE has been coming back and forth from a talent recruiting stand point. WWE also has one of the best talent recruiters in the wrestling industry. The best will make it and it will be really soon until you see Indian wrestlers 'infiltrating' the WWE.
Big E: The rise of Indian talent is indicative of the popularity of sports entertainment in India. We also now have the WWE Shop India for the official merchandise. Our biggest Facebook fan base around the entire globe comes from India. And it is that fan base that will run in line with superstars and talent from India.
The New Day cereal 'Booty-Os' are a worldwide craze, we all know that. But has the New Day got a taste of Mumbai's craze – the vada pav?
Kofi: I think we may try some today. The best thing is being in Mumbai and not being part of a show, lets us go out and embrace the culture. I am definitely sure we will try the vada pav on our trip.
Does The New Day follow cricket as a sport?
Big E: We are kneelfights to cricket. Well, my father played in Jamaica. Obviously, cricket is huge in West Indies, but I never managed to pick it up. In Tampa, where I am from, every Sunday we would drive through and see West Indians playing in the park. It always made me curious as they are dressed up in all-white which is eye-catching. Cricket is something that we are new too but Kofi and me are definitely open to learning a bit about it.
Previously, your gimmick was that of gospel singers. You guys were initially heel characters but despite that the crowd loved it. Tell us about your journey and the core aspect that was instrumental in the making of the phenomenon that is The New Day.
Big E: Oh it is a very long story! Well, Kofi Kingston, Xavier Woods (the third member of The New Day) and me noticed quite early that we shared chemistry and a bond that was uncommon. Regardless of what incarnation the group would take, the WWE universe would see our chemistry and that would be the selling point. We believe that energy attracts energy. When we have fun and enjoy each others company, people are drawn in. However, The New Day would have manifested, we would be fine. Initially, we had a rocky start with 'The New Day sucks' chants. I remember, Xavier Woods being really fired up in the ring a few times. Initially it just started with a 'clap' (The New Day's gimmick) and no words and Xavier Woods came up with that. It was a way to give us a clap that was unique and one that fans register as The New Day. It was hard on us for months. I remember us working a lot of time outside of WWE, at home, writing texts and emails trying to get on the same page and going out of our way to get this off the ground. And for people to tell us we suck, I mean, we are working as hard as we can.
Most of WWE's hardcore fan base wants to see underutilized wrestlers in better positions. And that was us. Kofi has been with WWE for a long time and never really had a world title opportunity and Woods never got to showcase his talents. We thought people would pull through for us, as underutilized guys, but it was not that way.
I think, the one beautiful thing is that the WWE universe demonstrated that they have a voice and that they matter. If it wasn't for them being so vocal and if they were apathetic, The New Day would have been dead in the water. It was perseverance for us as we believed in each other and that is the biggest take-away from this for us. If the WWE universe believes, they can definitely change a lot – like with Daniel Bryan and his WrestleMania moment. That is what is unique about WWE, that the fans can change and alter careers of the very WWE superstars that they watch.
Does The New Day have something to say to their fans in India?
Kofi: Thank you for being the fans that you are. Keep your eyes open for when WWE comes to India, it will be an awesome show with high energy and positivity. We are just really happy to be here.
The New Day also appeared on the show IPL 2017 Extraaa Innings and they set the groove as well as had a blast themselves.
Download the new mid-day android app to get updates on all the latest and trending stories on the go https://goo.gl/8Xlcvr