A new book explores why religion can and should make space for compassion towards alternative identities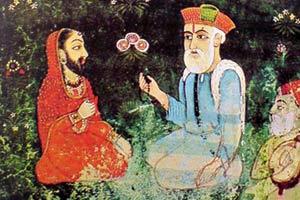 Image of Guru Nanak speaking to Sheikh Saraf, a cross-dressing Sufi Pir in Baghdad. Source: B40 Janamsakhi
Using the words 'religion' and 'sexuality' in the same sentence could very well ruffle many feathers as we speak. However, a recent book, I Am Divine, So Are You (HarperCollins) makes an attempt to arrive at a middle ground. Mentored and edited by mythologist Devdutt Pattanaik and Jerry Johnson, this book chronicles "How Buddhism, Jainism, Sikhism and Hinduism affirm the dignity of queer identities and sexualities". The book explores the teachings of Indian faiths as recorded in its scriptures, mythologies, rituals, practices, and temple carvings and articulates the fundamental principles of liberalism, compassion, humility, and diversity that lie at the core of Indian religions, thereby showing how they can be seen as affirming the rights and dignity of queer individuals.
"Our objective was not to offer 'the correct' interpretation of ancient scriptures but to expand the array of possible interpretations by adding our own, and from the lived experiences of people practising these faiths," says Pattanaik. This is done in the book systematically, approaching one karmic faith at a time, delving into their history and teachings, and bringing to the readers' notice aspects that would spur a re-examination of beliefs. Have karmic faiths, therefore, been misunderstood all this while, we ask? "They have not been long misunderstood, they have been understood differently," Pattanaik clarifies. "And, these understandings remain valid. Where we go wrong is when we attempt to invalidate all other possibilities of interpretation, by insisting on a mono-truth. But, Indian philosophy is characterised by multiplicities of perspectives that co-exist and evolve together," he adds.
The idea for the book originated from Reverend JP Heath, pastor of the Church of Sweden, that had earlier commissioned the book Behold, I Make All Things New that explored interpretation of queer identity under Abrahamic faiths like Judaism, Christianity and Islam. This book is an extension of the same concept to karmic faiths - Buddhism, Jainism, Sikhism and Hinduism - which are the faiths of over 1.7 billion people around the world. This title is a product of two years of research, says editor Johnson. "I am a cultural Catholic. My exposure to Indian religions has been superficial and largely non-critical. So, the perspectives of my co-authors Vivek Tejuja, Sachin Jain, Sukhdeep Singh and Dr Meera Baindur as practitioners of their faiths were invaluable," says Johnson, who circulated drafts of the manuscript to recognised scholars of the LGBTQ community, and religious leaders to receive their feedback. "I visited the Head Monk Phra Boonchuay of Theravada Buddhism in Thailand and read out the chapter on Buddhism to him. Likewise, we were happy to receive the endorsement of Swami Agnivesh, a noted Hindu leader and president of the World Council of Arya Samaj," he adds.
The timing of the book is crucial, especially as it has come at a time when the nation awaits a verdict on Section 377. "This book does not delve into the legal and political arguments. However, by showing possibility of queer affirming inherent in Indian philosophy, the book shows that Karmic faiths can be allies of the political LGBTQ rights movement, that religion and the dignity of every individual can be mutually reinforcing and not adversarial," Pattanaik says.
Catch up on all the latest Mumbai news, crime news, current affairs, and also a complete guide on Mumbai from food to things to do and events across the city here. Also download the new mid-day Android and iOS apps to get latest updates