The smartphone is also a silent killer that is destroying families, causing health hazards and turning us unsocial. But there is hope. Gen Y is coming up with smarter ideas to use it wisely
Monisha Sen was pleased as punch when she bought a brand new iPhone last year. "It was a dream come true. I could keep in touch with my friends on Whatsapp, check mails and Facebook messages, pay my bills, transfer cash and what not. My phone was my one-stop shop," says the 27-year-old general manager in a leading private sector IT firm.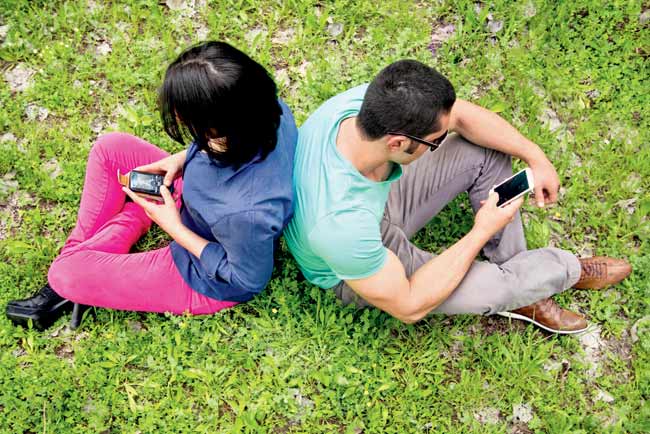 ADVERTISEMENT
But, that was precisely the problem. The ubiquitous gadget started coming between husband and wife, mother and child. As the phone got smarter, Monisha says she, in hindsight, became dumber. "I would check office mail while having dinner, wake up at 6.30 am and instead of cuddling my daughter, I would grab the phone first, checking whether I had missed a call or a message. Tweeting inane stuff had become a habit, even in the midst of a family gathering.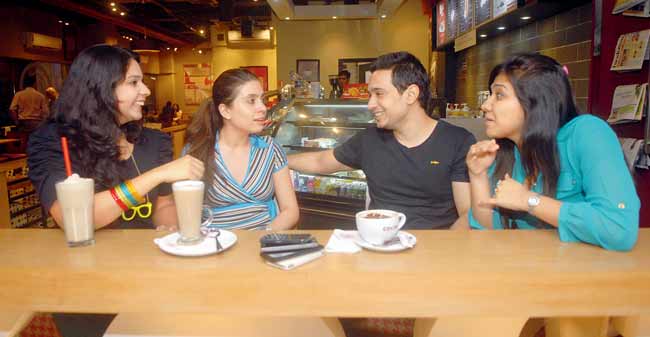 Whenever Areez Dastoor meets his friends, all of them stack their phones at the centre of the table so they are not distracted by messages or phone calls and can enjoy an uninterrupted conversation. Pic/ Pradeep Dhivar
The smartphone with its many social apps, was wrecking my social life," she recalls. She has given up her phone since and has gone back to carrying an old phone dating back to 2006, which only allows her to call, SMS and play a few simple games. "I have regained my family, reclaimed my life," she says.

Sen's case may be extreme, but her story will find resonance across thousands of families where the smartphone has intruded uninvited into homes, causing fights between husband and wife, father and son while leading to health problems or even tragic accidents.

An addiction that's hard to give up
The data, in fact, is scary. Very scary. A citywide survey conducted on over 5,000 parents and 1,900 school-going children has confirmed the worst fears of the smartphone and app addicts. Over 80 per cent of the parents admitted they spent an average of 10 hours per day on their phones and less than five hours with their children. Further damning evidence arrived through their toddlers. Asked to draw their parents, the kids gave wings to their artistic imagination. But, one factor united them all — parents were sketched with a mobile phone in hand by 90 per cent of the children.

Things didn't get any better in the next survey of 400 college-going teenagers across the city. About 89 per cent admitted they spoke on the phone late into the night and 55 per cent said they spent at least four hours on the phone every day, while crossing the road, studying and even while talking to the family (talk about multi tasking!).

Not surprisingly, half of the surveyed teens also reported mild to severe eyestrain and related neurological ailments.
The first survey, conducted by the Podar International School in December 2013, to gauge the relationship between parents and children, found children often felt their parents loved their phones more than them. It was not just the 'working parents' who use the phone more. Sixty five per cent of stay-at-home mothers said even though they spent close to 50 hours a week with their child, they actually spent most of that time on their mobile phones.

"We may be dependent on technology, but we should not let it override human interaction/emotion," says Swati Popat Vats president of Podar Education Network.  Agrees Rajiv Chatterjee, a professor of management at a university in Singapore, who does not use a mobile phone at all. "I find it intrusive. I do not want to be disturbed by people I may not want to talk to, when I am having dinner with my family or on holiday. Why would I want to check e-mail at midnight? I use my landline at work or at home to make my calls. If I need to call someone urgently, I head to the nearest public phone booth," adds the professor, who says he gets to spend a lot more quality time with his school-going son and his wife, thanks to his total dissociation with the mobile phone. His son, too, therefore, has no fascination for the mobile phone, something that cannot be said for 90 per cent of Mumbai's elite.

Says Vats, who commissioned the survey, "Some of the results were shocking. Children said when they play, mummy and daddy talk on the phone; that daddy talks on the phone while eating and mummy is often on the phone while driving. People are breaking rules in front of children and not even realising it. Many p arents admitted they hadn't realised the ill effects of mobile phone usage on children, including health hazards it poses."

Vats adds that parents of pre-school children, in particular, should change their ways, since, "When parents neglect a child, the child learns to follow that and grows up with negative emotions," says Vats. One of the more worrying discoveries of the Podar survey highlighted this aspect. When kids were asked to talk about and make drawings depicting their parents on a sheet of paper, 70 per cent drew their parents talking on the phone. The sketches also showed parents on the phone while crossing the road and driving a car. Glued to the phone This, however, is just one end of the spectrum. If parents spend half their waking hours having an affair with an eight-inch tech toy, it would be silly to expect Gen Y to lag behind.

Mehul Chhatbar, a PhD student and an assistant professor at KPB Hinduja College, recently carried out a study on the use of cell phones and their impact on social behaviour among youngsters. He spoke to 400 college students, asking them about their smartphone usage. The results, even if on expected lines, were worrying nonetheless.

More than 55 per cent of those surveyed, aged between 16 and 24 years, said they spent four hours a day on their cellphones. About the same percentage reported eye problems because of mobile phone use. Chhatbar says in his report that he found "social behaviour of the youth changing due to excessive use of cellphones." Finding a smart wayThankfully, many users frustrated with life on the smartphone lane are thinking up smarter solutions. The 'phone stack' is one of the better ideas. A game invented in 2012 Brian Perez, an American blogger fed up with mobile addicts, is now trending worldwide, getting people to stop texting, Facebooking, tweeting and calling while dining out with friends.

The idea is simple: Everyone sitting together at a restaurant puts their phone face-down in a pile on the table. The first person to touch his/her device before the bill arrives has to pick up the check. If no one caves, the bill is split evenly. It's a trend that is fast catching on in India.

"It works really well. If we end up splitting the bill, it actually means no one touched the phone. It also means we all chatted, laughed and joked like normal people," says 22-year-old Nisha Shetty, a sales executive. "So many people today are addicted to their smartphones. Sometimes, I have patients who fidget with their phones even as I am talking to them about their marital problems," says Dr Yusuf Matcheswala, a psychiatrist and counsellor.

Dr Matcheswala adds that the distance between child and parent, couples and siblings increases when a cellphone comes in the way. Yet, like most amazing new gadgets and tech toys, the smartphone will continue to get smarter and indeed in many ways, make our lives simpler. But the message is clear: if smart gadgets are not used in a smart manner, they will intrude deep into family lives, creating fissures, discord, causing health scares, leading to tragic accidents and turning us into unsocial creature. Time to get smarter?

Dumber phone, smarter dad
In September last year, 30-year-old Siddharth Maskeri's year-old Samsung S2 went blank one evening. He took it to the company's showroom only to be told that since the phone was an imported version, changing its configuration would delete all current data. "I had clicked hundreds of photographs of my four-year-old son on the phone's camera. I couldn't afford to let those go. I told him to repair it. Since I needed a phone for the time being, I bought the cheapest Nokia handset I could get. It cost me R 1,300. All it had as a special feature was a torch," Maskeri, who is an animator, says. The Kandivli resident thought it was fun to play with a Jurassic-age phone for a day or two. But, five months later, he is still carrying the no-frills phone and loving it. "I realised that all these days, I was just standing next to my child as he played a sport, not even watching what he was doing. Fights and arguments over my phone usage were frequent at home. Even my son would complain about it,"  Maskeri says, when we chat about his life as a 'cool smartphone user'. "Sure, it was a smartphone. But, I wasn't being smart. It was making me stupid," he laughs. He is now far more conscious of what he is doing. "I was risking getting my kid addicted to the phone too. Now, when he needs to play cricket, he goes to the field. He doesn't lunge for my phone." The arguments at home have almost stopped too. So where's the phone? "It's being used for what it was made for, to make a call and send a few messages," he laughs.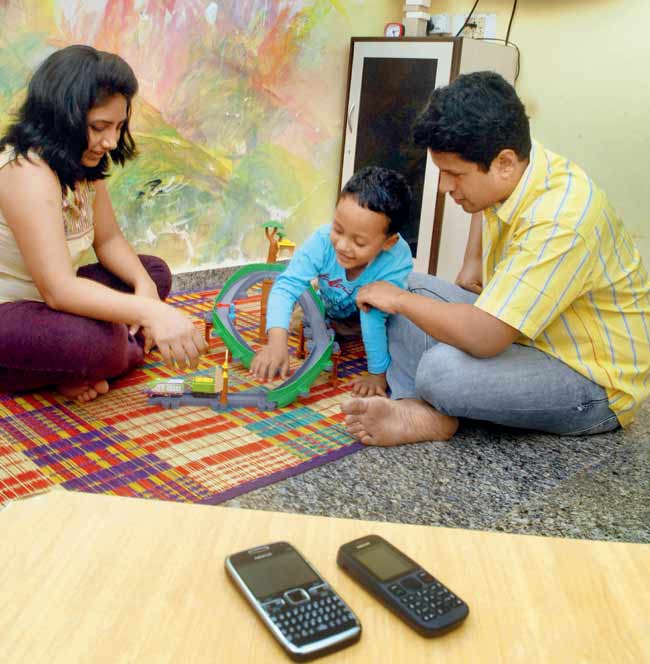 Aloof by choice
Rajat Kapoor finds the whole concept of advanced telecommunication rather ironical. No wonder the filmmaker-actor has consciously stayed away from cellphones, let alone their 'smarter' upgradations. He finds it weird how cellphones have actually created unnecessary barriers between people. "There's this growing trend of avoiding calls made from an unverified number, especially from landlines. I don't own a cellphone but I do have a landline. And my friends who are active on smartphones often don't pick up their calls but you can always trust me to pick up my landline phone whenever it rings," chuckles Rajat. Moreover, he doesn't feel left out in any possible manner. On the contrary, the tall gentleman claims to manage his time better as there is little distraction. Besides, he's not a Luddite as he remains abreast of advancements on Internet and quite active on social media as well. "One can access the web through the PC too, right?" quips the Mithya director.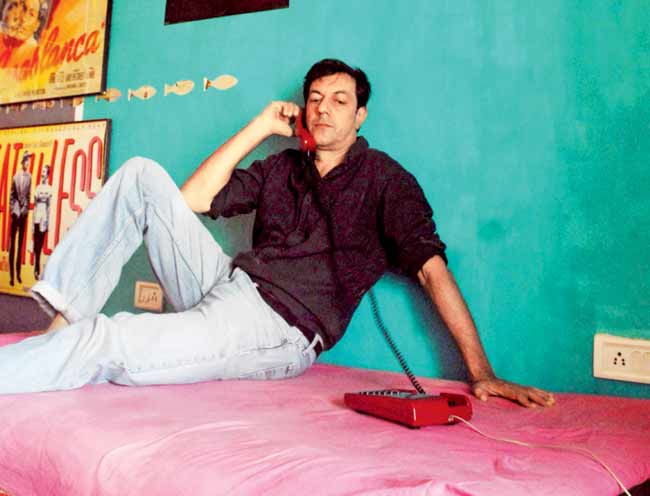 Missus and hits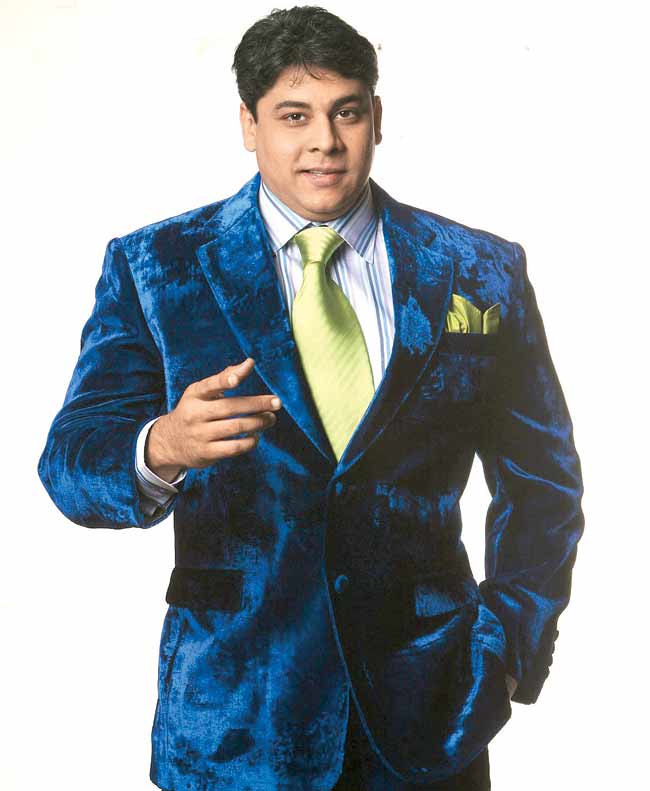 Cyrus Broacha is one more celebrity who is allergic to cellphones. "Landline works for me," says the funnyman before adding, "I wouldn't mind owning a pager though. It was such a great invention. I don't understand why it went out of fashion." According to him, what cellphone culture does is it leaves one with no option but to pretend to keep in touch — not because one wants to but because one is expected to. "And then one day, you ask yourself: why do I have so many followers and so few friends?" questions the self-confessedly unsocial bawa who is not even on Twitter. "The guy who is posing to be me is funnier than me so I have no complaints," he says. Cyrus apparently acknowledged the importance of not having a wireless device after marriage. "The difference between a landline and a cellphone is like a husband and a wife; the former listens while the latter talks." To his credit, he doesn't think he's missing anything as being a family guy is quite a 'handful' task.As told to Shakti Shetty