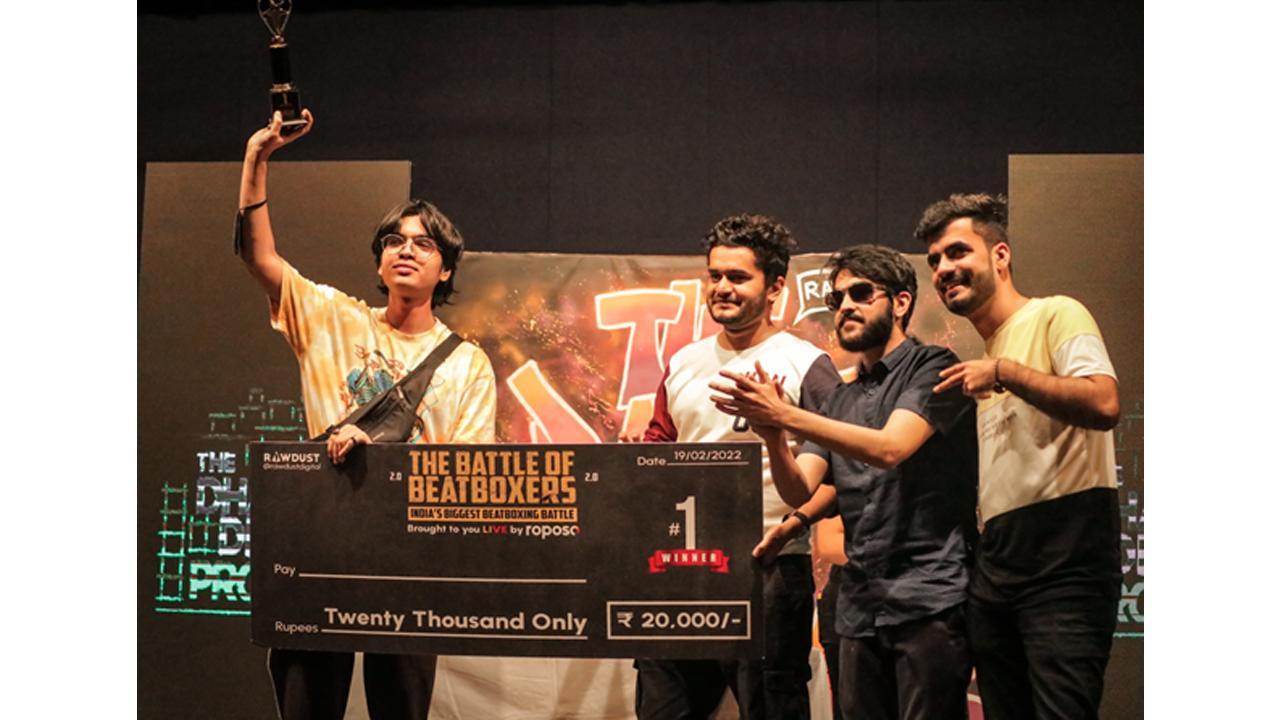 The respect for the Indian Hip Hop scene can be seen in Nikunj Mehta's company initiatives as Rawdust was successful in delivering the country's largest Beatboxing Battle's second edition.
The Battle Of Beatboxers 2.0 took place on February 19th, 2022 at Y.B Chavan Auditorium, Mumbai, and this time it was streamed live to millions of users on Roposo.
Rawdust is a creative marketing & event management company that has recently fixed its eyes on the Indian Hip Hop scene. They have created a niche in the Hip Hop scene since the Hip Hop Goes Local initiative in 2019. They have always stayed true to their core, which is to provide a platform for the budding talents.
The same commitment towards the cause of growing the scene could be seen in the second edition of TBOB.  From respected judges Gaurav Gambhir aka D- Cypher(Mumbai), Roshan Gamare aka BeatRaw(Mumbai), and Dilip Sakhrani(Bangalore) to the Hosts for the night - Shaikhspeare aka Aamir Shaikh and Bhawna Munjal, Rawdust made sure to stay true to the roots of the scene.
People from all over the country were eager to join. However, only thirty-two participants were selected by the judges and were pitted against each other in the 'Knock Out Battle' stage. Romit Dutta aka Fuchi (the 1st Runner Up)  and Vatsal Aggarwal aka Vadsu (the 2nd Runner Up) put up a good fight and were awarded Rs. 10,000/-  and Rs. 5,000/- respectively but Anup Gaikwad aka Wah Da Fu proved himself worthy of the title, taking home the grand prize of Rs. 20,000/- The judges, along with the participants, showcased their talents and skills. 
Selected participants are now getting a chance to be a part of Roposo's growing creator community. Roposo is one of the country's leading creator-led live entertainment commerce platforms.
The contestant with the highest number of views on Roposo received various prizes and benefits from Rawdust. The top four participants also received a unique partnership opportunity with Roposo. These selected beatboxers will get to be a part of various artist collaborations and live shows not only on Roposo but on lock screen content platform Glance as well, enabling them to live stream on a larger scale. The collaboration with Roposo proved to be a very successful one for the event and is another example of the belief of companies in the Hip Hop scene. The participants enjoyed catering to a wider audience due to the event being live-streamed by Roposo as the official Live Entertainment Partner.
Mansi Jain, Vice President, and GM, Roposo said, "With this partnership, Roposo aims to provide beatboxers across India an opportunity to expand their fan base by introducing the craft of beatboxing to a much larger audience. Our ongoing effort is to identify different genres, artists, and subcultures that will help niche music segments, such as beat boxing, explore new avenues and monetize their talent."
"The first was great, it's where it started but it was more city-based you know? This time however we took it to the national level. These artists came from all over the country and I am proud and humbled by the response towards the growing Hip Hop scene. Who knows we might take it a step further and have an international beatboxing competition in our own country next year?"
- Nikunj Mehta, Founder of Rawdust when asked to compare the two editions.