Mothers are the best gifts given to us and since mother's day is around the corner, everyone is looking out for gifts to make these gifts of God feel special.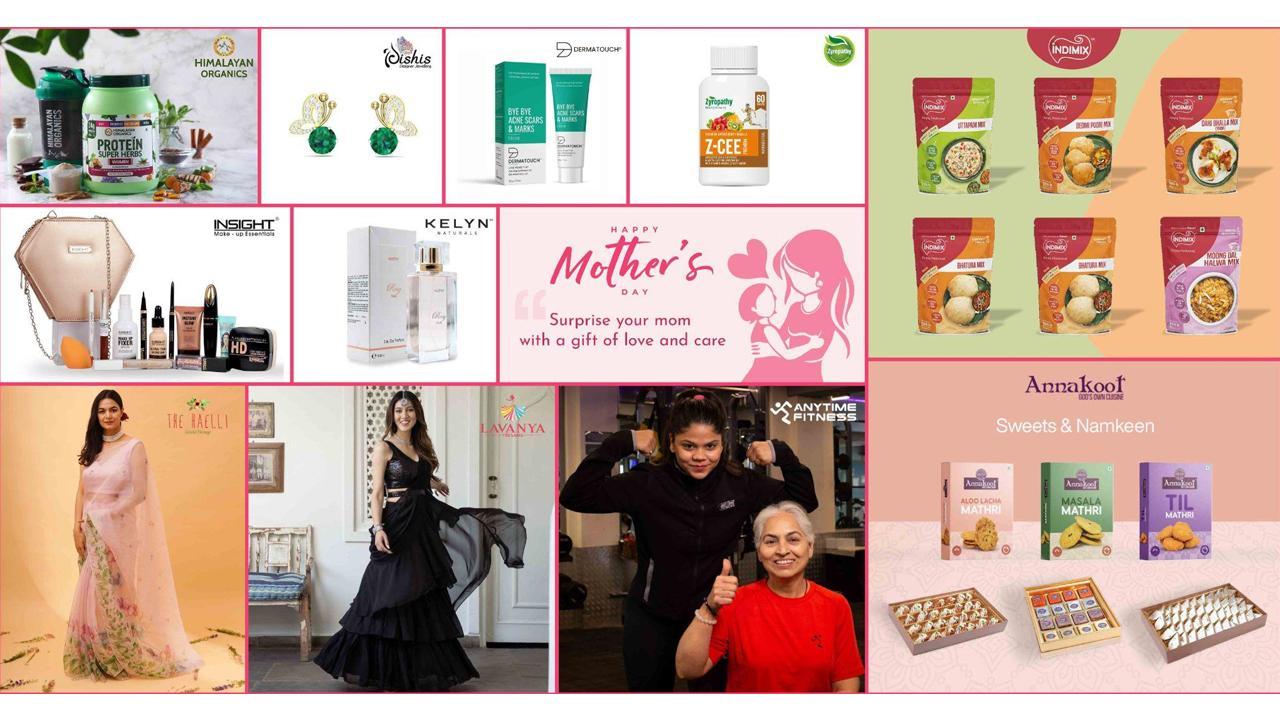 Well, look no further. We have some very special gift options for your mother that will make them feel extremely happy.
Be it specially selected perfumes, taking care of their health with supplements, sarees, skincare products, or beautiful jewellery pieces, we have everything listed below:
Kelyn Naturals - Love Forever Fine Fragrance Body Mist for Women
The extensive composition of the Love Forever has been created to offer a luxurious vibe. The perfume has fresh hints of absinthe, peach, freesia, woody cashmere, amber, vanilla, and musk. The long-lasting aroma of this premium perfume keeps you fresh throughout the day. The soft floral feminine fragrances are ideal for women looking for something to keep them refreshed and energized all day long.
Price: ₹699
Black Georgette Saree with stitched blouse by Lavanya The Label
Do you want your mother to feel young and pretty? Well, a date night with this amazing sassy black dress will be a hit. The glamour of the starry sequin blouse is unmatchable. Pick this one for your mother if she is a fashion lover.
Price: Rs 5319/-
Paradise Garden Organza Saree by The Haelli
Sarees are mothers' love and especially if your mother is working, she would love nothing more than a new saree in her wardrobe. Paradise Garden, a pure organza silk saree, is as light as a feather that is perfect for your mother's summer spree.
Price: 10999/-
Alyce Flower Chain Bracelet by Dishis Designer Jewellery
This beautiful light-weighed flower chain bracelet can be another quirky jewellery option to gift your mother. This Yellow Gold bracelet is 2 grams and 18 KT Gold. This BIS Hallmarked piece of jewellery is fantastic for everyday wear and looks beautiful with every attire - western or ethnic.
You can find this bracelet on the DishiS website only at Rs ₹14,810.58.
Queen Kit by Insights Cosmetics
This unique makeup kit by Insight Cosmetics consists of 13 daily use and high-end makeup products that cover every woman's beauty needs. The constant products you will get in this kit are the Intense Kohl Kajal, Intense Pen Liner, Makeup Fixer, Perfect Ultra Curl Mascara, and Pore Minimizer Primer.
The other 8 products are 2-in-1 Matte Lip Ink, Beauty Blender Sponge Applicator, 2X Cover Master Concealer, Liquid Illuminator, Skin drop foundation, Metallist Glitter Eyeshadow, Ultra HD translucent powder, and Super Lip Liner.
The latter eight products are customizable, and you can choose the ones as per your needs by going on the Insight Cosmetics website.
The best part of this customer's favorite kit is that you also get a Diamond Purse free on your purchase.
Price for the kit: Rs 1999/-


Acne Scars & Marks cream by Dermatouch
Dermatouch Bye Bye Acne Scars & Marks cream is infused with clinically proven actives that are effective to lighten acne scars and improve the overall skin texture. It gently exfoliates the dead skin and stimulates skin regeneration acceleration and skin cell renewal. This cream gives clearer-looking skin by lightening the post-acne scars and marks it is the best product for skincare.
Price for the kit: Rs 472/-
Gym membership by Anytime Fitness
A gym membership is another great gift for your mother to indulge in physical activities. You can check the app or website of Anytime Fitness India and get their membership for your mother. This would help your mother work out anytime, from anywhere.
Price on Request
Indimix options from Pansari Group
Bring home the Pansari Group's impressive Indimix range to make your mothers' lives easier and bring taste and health to your kitchens. This range includes tasty options like Moong Dal Halwa, Bhatura, Dahi Bhalla, Uttapam, Bedmi Poori, etc. These options are a healthy pick for your entire family and tasty (just like how your mother's food tastes).
So, this mother's day, take care of your mother's morning dilemma of preparing breakfast and help her choose wisely for food.
Available Now: These all products are available on World of Mart, Amazon, and Big Basket.
Himalayan Organics Protein Super Herbs for Women's powder (Chocolate) with shaker- 500 gm
A woman's body goes through many changes, and protein is quintessential to cope with it. Himalayan Organics Protein Super Herbs for Women is the perfect blend of Whey protein isolate, Super Herbs, Prebiotics, Probiotics, Digestive Enzymes & Amino Acids that re-defines Protein for all women. This well-balanced formula is gentle on the stomach & fulfills your daily protein needs super effectively.
Price: Rs. 1,499
Z MVIT - Zyropathy
Multivitamins have become a need for women's bodies as they face a lack of nutrition on a daily basis. Z MVIT has multivitamin and multimineral antioxidants, vitamins, probiotics, and ginseng extracts. However, if you are pregnant or nursing, then consult an expert or physician before use.
Price: 2600/-
Annakoot - GOD'S OWN CUISINE
The Bhagavad-gita characterizes sattvic fare as being succulent, healthy, and satisfying to the heart, inspiring a positive mindset and compassionate attitude. This mother's day, gift your mother a bunch of purity and health from Annakoot as a compassionate love of quality new pulses and spices. Also, offer her a mesmerizing delight from Annakoot on her special day as care.
Outlet presence:
Patel Nagar
Gol Market, and
Patel Nagar in Delhi NCR