The growing utilization of CSOP indicates that Tykeinvest, which has pioneered bringing retail investors to the angel investment table, has yet again found the pulse of the consumer and the business.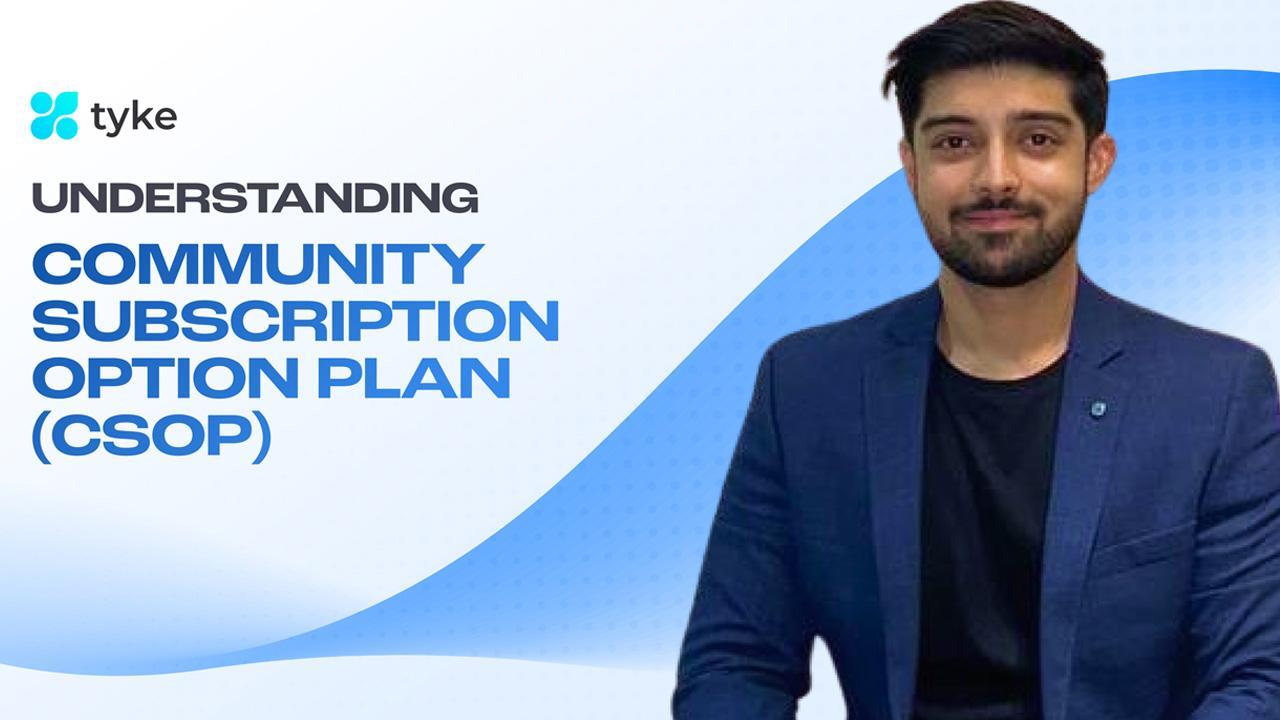 Tyke – Ushering New Era of Startup Investment Opportunity via CSOPs
Tyke Technologies Private Limited, a pioneering fintech firm that has successfully made Startup Investment accessible to a broader audience through its platform called Tykeinvest.com, has witnessed over 120+ startups embracing its distinctive product called CSOP (Community Subscription Offer Plan), showcasing the increase in industry demand of Startup Investment and adoption of this innovative product by Consumers in India.
ADVERTISEMENT
The growing utilization of CSOP indicates that Tykeinvest, which has pioneered bringing retail investors to the angel investment table, has yet again found the pulse of the consumer and the business. The rising popularity of the financial product signals that the more retail investors find value in CSOP, the more startups can create value to the Startup Ecosystem.
CSOP is a unique contractual arrangement pioneered by Tyke that allows companies to extend community benefits and services to individuals, ranging from product trials to exclusive event access. This innovative approach fosters community engagement, furthering the country's enterprising culture, boosting stakeholder involvement, and generating revenue for the company, upon which standard GST rates apply. More importantly, the investment option includes a potential ROI for the retail investor via Stock Appreciation Rights (SAR's).
From an investor's perspective, the rising demand for CSOP can be partially attributed to the appeal of Stock Appreciation Rights (SAR) and other perks that come with CSOP. SARs, granted at a company's discretion, are designed to reward individuals for their contributions to the company's growth trajectory. SARs offer the grantee a value equivalent to the company's equity share appreciation. However, it is worth noting that under the CSOP agreement, SARs are settled in cash and don't amount to any equity ownership.
About the recent milestone around CSOP, "Karan Mehra" – Founder & CEO of Tyke said, "In the ever-evolving landscape of finance and investment, staying ahead of the curve necessitates not only foresight but also the audacity to innovate. Tyke Technologies Private Limited has consistently led the charge in such innovation, constantly pushing the boundaries to redefine the dimensions of investment and financial growth within India. Our unwavering dedication to pushing limits has led us to explore and introduce groundbreaking financial instruments tailored to the diverse requirements of our stakeholders. As we continue to shape the investment landscape, we recognize the importance of keeping our community well-informed and engaged. In this spirit, we are eager to delve deeper into one of our pioneering offerings, CSOP. Through financial instruments like CSOP, we aspire to fulfill our mission of ensuring that innovative startups have access to the capital they require, while offering investors a broader and more diversified portfolio."
Karan further explains, "Understanding the legal landscape surrounding an instrument such as CSOP and SARs is imperative. In its interactions, SEBI has clarified that cash-settled SARs, like those under the CSOP agreement, fall outside the purview of specific SEBI regulations, being governed instead by the contractual terms and the Indian Contract Act '1872. Furthermore, they do not qualify as derivatives per the Securities Contract Regulation Act 1956. Similarly, from an accounting standpoint, SARs are meticulously governed by established standards, specifically Ind AS 102 and the Guidance Note on Accounting for Share-Based Payments issued by ICAI. This ensures transparency and adherence to best practices in financial reporting."
The Tyke team reckons that CSOP is not merely an investment tool but a bridge connecting startups with evangelists who believe in their vision and mission. As stated in the legal opinion from Shardul Amarchand Mangaldas & Co., "CSOP is a contractual agreement where startups onboard persons to evangelize its brand, becoming a part of its community, and contributing to its growth and mission." They also added that CSOP "is not classified as a security, and it operates under the purview of the Contract Act", thus remaining outside the SEBI purview.
The legal opinion also elaborated by saying, "SEBI has clarified that SEBI (Share Based Employee Benefits) Regulations, 2014 would be inapplicable to any cash-settled option which is issued at a pre-determined grant price. This clarification enables listed companies to offer options at a pre-determined grant price without having to comply with any SEBI regulations."
On the other hand, the SAR is designed to allow stakeholders to benefit from appreciating a company's stock value without the direct ownership or the associated complexities. In essence, it's a way to reward those who believe in a company's potential and future growth.
Moreover, Tykeinvest's groundbreaking work also has a macroeconomic impact, given how robust the Indian startup ecosystem is turning out to be. With more access to capital, startups aspiring to grow have been generating massive employment, as a recent NAASCOM report would validate. The study states that startups have contributed to over 5 lakh new formal jobs in India between 2022-2023 alone.
In conclusion, Tykeinvest is leading the way to a new trend in angel investment, fueling the growth of the startup ecosystem via products such as CSOP. The company is poised to lead further, prioritizing stakeholder trust, transparency, and legal compliance.
For more information, visit: https://tykeinvest.com/
To download the app, visit: https://play.google.com/store/search?q=TYKE&c=apps&hl=en-IN
"Exciting news! Mid-day is now on WhatsApp Channels

Subscribe today by clicking the link and stay updated with the latest news!"
Click here!