Walking on the red carpet is always an exciting experience. Bringing that experience into reality UIEP celebrated the commendable work of b-town celebrities, TV stars, and influencers through the Universal India Awards 2022.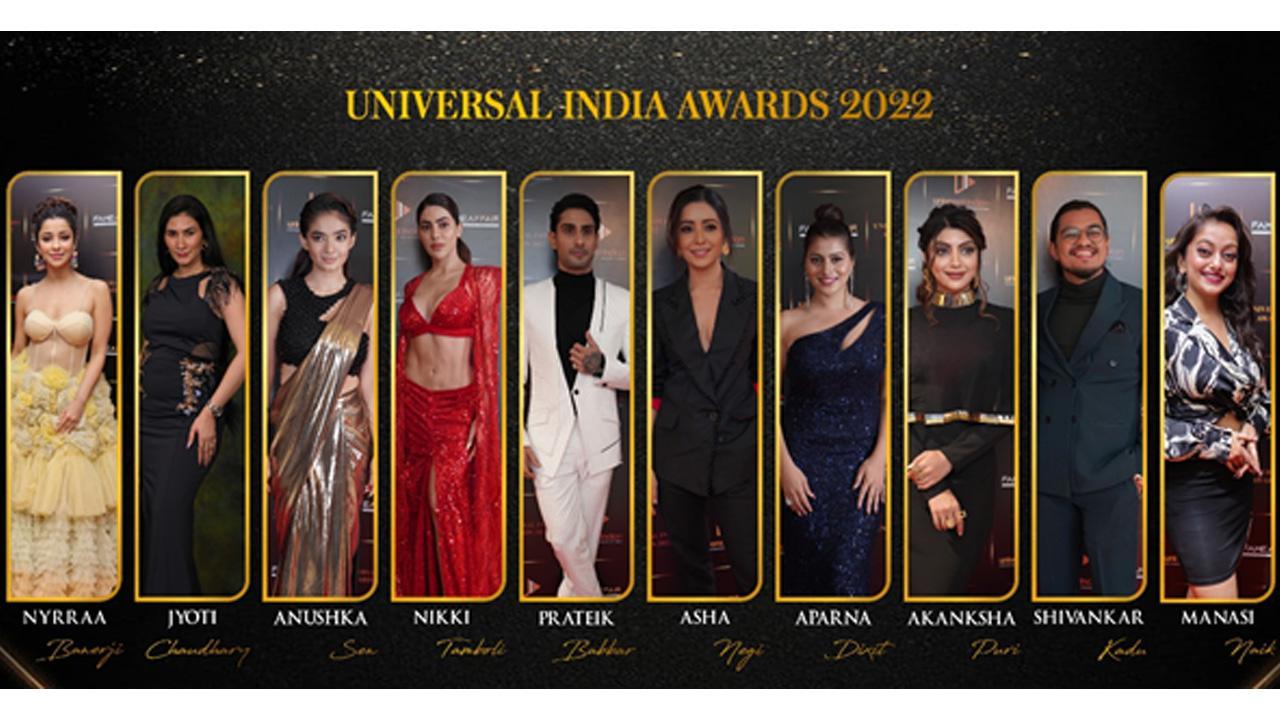 The ceremony was filled with a starry gathering gracing the red carpet. The ceremony was organised by Jyoti Chaudhary, CEO of UIEP, and young entrepreneur Shivankar Kadu, managing director of Universal India Awards at Hotel Sahara Star.
The ceremony originated as a way to admire the sheer hard work of celebrities in the Indian entertainment industry. The nominations were made in categories of different mediums of industry. While discussing the nominations Shivankar quotes, "Every nominee performed out of expectation and was screened not only in India but around the globe. Today, Seeing everyone under one roof is a memorable moment for all of us. We are all excited to hear the names of the winners and wish everyone, life with growth and happiness."
This glamorous ceremony glorified luminaries from different entertainment domains linked to films, OTTs, Fashion, Social Work, and Entrepreneur. All the awards were bestowed by chief guests, and were related to the best performer, best actor and actress, influential personality, singer, and many more.
The winners of the Universal India Awards 2022 were:
Most Beautiful Actress of the Year - Malvi Malhotra
Ace Performer of the Year - Bhumika Gurung
Promising Talent of the Year - Rrahul Sudhir
Dynamic Performer of the Year - Manasi Naik
Best Performance in A Negative Role - Mayuri Deshmukh
Best Actor Television - Karanvir Sharma
Best Comedy Actor of the Year in Television - Rohitashv Gour
Finest Young Artist - Aakriti Sharma
Best Actress in Negative Role - Maera Mishra
Best Influential Personality of the Year - Nikita Rawal
Emerging Face of the Year - Aparna Dixit
Best Entertainer of the Year - Tushar Kalia
Best Actor OTT - Prateik Babbar
Best Singer in the male category - Stebin Ben
Fitness Icon of the Year in Female category - Asha Negi
Real Life Hero - Pearl V Puri
Versatile Performer - Vaishnavi Patil
Most Popular Actor of the Year - Sudhanshu Pandey
Famous Personality of the Year - Sunny Sanjay
Power Couple of the Year - Vatsal Sheth and Ishita Dutta
Fitness Icon of the Year in Male category - Taha Shah Badussha
Best Youtuber of the Year - Muskan Sharma
Most Popular Actress of the Year - Akanksha Puri
Best Content Creator of Television & OTT - Nivedita Basu
Digital Star of the Year - Aashika Bhatia
Fashion Blogger of the Year - Vahbiz Dorabjee
Best Choreographer for Chaka Chak - Vijay Ganguly
Content Creator of the Year - Anushka Sen
Life Time Achievement - Mandakini
Best Villainero of the Year - Sanjay Gagnani
Singing Sensation of the Year - Sonali Sonawane
Versatile Playback Singer of the Year - Shibani.A.Kashyap
The award ceremony had many categories and summoned celebrities from around India. Adding to that; Jyoti Chaudhary, CEO of Universal Indian Entertainment Production and Universal India Awards said, "It was surely a night to remember. We all were equally excited about the show and wanted to do something big. Thank you to the entire team of UIEP for their hard work and dedication to make this possible. I hope in the future there will be more categories and nominees that will fill up the ceremony. I thank you all for joining us to make this night extraordinary. Special thanks to our chief guests and congratulations to all the winners of the Universal India Awards."