'Akira' isn't an action flick. Sonakshi Sinha hardly looks that karate kid part. Bored out of my wits, watching these good fellas with hardly anything significant to do, I could only feel a slight kira (insect) up my bum — desperately itching to go home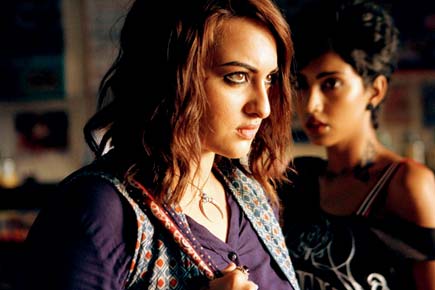 Akira review
'Akira'
U/A: Action-thriller 
Director: AR Murugadoss
Cast: Sonakshi Sinha, Anurag Kashyap
Rating: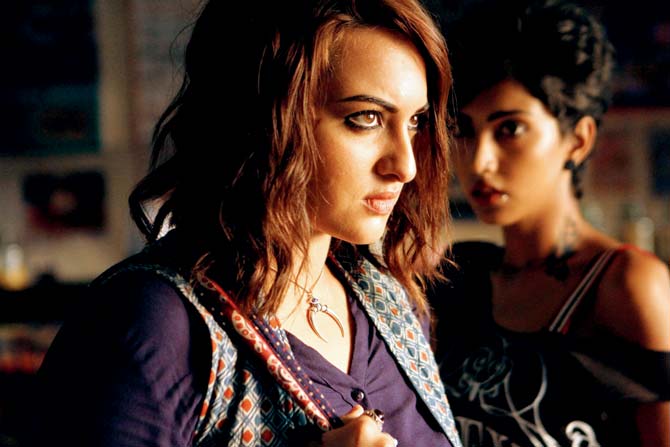 Sonakshi Sinha in and as 'Akira'
If my gossip-reads serve me right, Akira is the name of Farhan Akhtar's daughter. And she's most likely named after Akira Kurosawa — the male Japanese master-director. Akira is also Japanese for 'intelligent'.
Why is this film, or the heroine here, named Akira? I don't know. In much the same way that one wasn't sure why Ghajini (2008) was titled so. The actual Ghajini (Pradeep Rawat) appears in Ghajini for hardly a couple of minutes. You're not supposed to remember that. What you do recall is that the film, lifted from Mementos, directed by Murugadoss, as this one, was the first Indian movie to cross Rs 100 crore in box-office receipts. And it was genuinely a hardcore actioner.
Which is what I guessed this remake of the Tamil low-budget sleeper hit Mouna Guru (2011) would be (going by promos anyway). Sonakshi Sinha as Akira is around throughout. Well, almost. Her character, who moves to Mumbai from Jodhpur, has an unusual facility with martial arts. Even as a little child, she could flatten a bunch of goons with her effortless moves. She's spent time in jail.
To be honest, Sonakshi hardly looks that karate kid part, grown up now, and fearful of fatalities her deft touch on the pressure points can cause to bullies she's surrounded by in college. And that's hardly a worry, because you know what, this isn't even an action flick.
It's possibly a thriller, parts of which are riveting all right. Or potboiler, as it were, with a corny villain — a cop — with no redemptive qualities whatsoever. The heroine gets accidentally entangled in a murky episode involving murder and loot. She gets chased all over. Her family couldn't care less. Her college classmates care enough to hit the street (Delhi-Nirbhaya style), and pelt stones at the police because one of them hurt their professor. But the city and the police department couldn't give two hoots about the same cop mercilessly kidnapping, killing on the house.
Why should we care for this film though? Because they've got some of the casting so right. Which may be the reason this pic got made in the first place. Konkana Sensharma's never played a cop before. Anurag Kashyap, as the main villain, has certainly never acted so much on screen. And Sonakshi, the heroine, to the best of my knowledge, has never stepped out as solo lead.
You only wish so much thought had gone into the OTT script as well. Bored out of my wits, watching these good fellas with hardly anything significant to do, I could only feel a slight kira (insect) up my bum — desperately itching to go home.