'All Is Well' starts going consistently downhill from the first scene itself that you start wondering if the makers and the actors themselves gave up on making any sense, even while they were in the process of making the film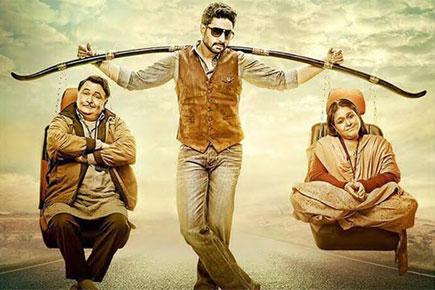 All Is Well Review
'All Is Well'
U; Comedy/Drama
Director: Umesh Shukla
Cast: Abhishek Bachchan, Rishi Kapoor, Asin, Supriya Pathak
Rating: 

This movie goes consistently downhill from the first scene itself and you start wondering if the makers and the actors themselves gave up on making any sense, even while they were in the process of making it.

All Is Well poster. Pic/Santa Banta
Abhishek Bachchan plays the guitar-wielding cool dude musician Inder Bhalla, who has a passionate love-hate relationship with his parents, his once-on-now-off girlfriend Rimi (Asin) and generally with life. He's left his always warring parents (Rishi Kapoor and Supriya Pathak) to be in a foreign country. While he's struggling to make it big, he's summoned back to India with the lure of getting a share of his father's property.
This film aims to be funny, emotional and touching, talking about how children misunderstand the issues that their parents face, and harbour resentment. But what you eventually get is a bunch of bumbling idiots passed off as bad men, a smatter of clueless cops, an insipid story, actors who seem to be going about doing their job just for the heck of it and background and foreground music that seems to belong to some other film.
The film starts losing its steam as early as in the middle of the first two scenes and the rest of it ends up being a mess. After a point, all we know is that a red car and a police van are chasing each other on the highway with no one, including the film, getting anywhere.
A tiny lease of life is infused into the film when Sonakshi Sinha comes to perform the mandatory item song.
The chemistry between Abhishek and Asin threatens to freeze to death at sub zero level and by the time you reach the climax, you stop caring if Rimi is married to Pappu, Tom, Dick or Inder. All you care about is how to get out through the exit gate as soon as possible.
It's sad to see director Umesh Shukla coming out with this, after the delightful OMG – Oh My God! (2012). And as for the writers (Sumit Arora and Niren Bhatt), if they had read up a bit more on Alzheimer's, they would have perhaps written about this dreaded condition a bit more sensitively.