This Hindi film, claiming to be the first-ever on Kabaddi, stays rooted to the ground just as the sport is
Badlapur Boys: movie review
'Badlapur Boys'
U/A; Action
Director: Shailesh Verma
Cast: Nishan, Saranya Mohan, Annu Kapoor, Puja Gupta
Rating: 

This Hindi film, claiming to be the first-ever on Kabaddi, stays rooted to the ground just as the sport is.
Set in a rural setting in UP, Badlapur Boys is about a bunch of Kabaddi enthusiasts, who are used to losing every game that they have played. However, their best player, Vijay (Nishan) sits on the sidelines, thanks to a promise he made in childhood.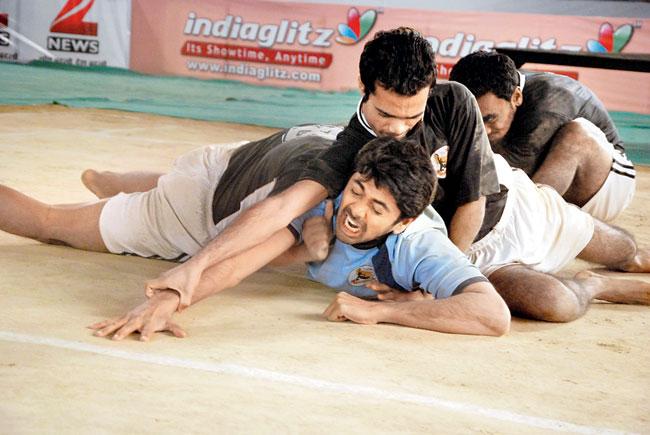 A still from the film Badlapur Boys
Like him, the first half of the film shows a lot of promise as you get engrossed in the simple tale of helpless villagers in a drought-ridden village named Badlapur. The inhabitants are desperate to get a water dam to be able to survive. Vijay's father immolates himself for the cause but that doesn't' help the cause. Vijay, thankfully not the typical Hindi film revenge-seeking kind, is a gentle fellow who wants his father's dream realised. Vijay meets Sapna (Saranya Mohan) in an annual mela in the village, love blossoms and before he could even ask her name, she goes back to her village with the promise of returning for the next mela. The real locations that the film is shot in, adds to the appeal.
As is the case with films about sports, the second half is where the energy reaches its peak but unfortunately, in this one the second half and the climax turn out to be total dampeners. From what started out as a rooted, believable story, the flow goes on to become a rather too convenient and silly storyline in the second half.
However, one must give credit to the director (Shailesh Verma) for eking out good performances from almost every actor on the screen — if you ignore the hamming by Annu Kapoor. Nishan and Saranya Mohan show potential.
Kabaddi fans might get a little disappointed as you see more melodrama and less of the sport in the second half.