'Chalk N Duster', starring Juhi Chawla and Shabana Azmi, has great intentions. Director Jayant Gilatar's objective to bring forth the issues that school teachers have been facing for decades now is laudable. But handling of such a subject evidently requires lot more finesse and depth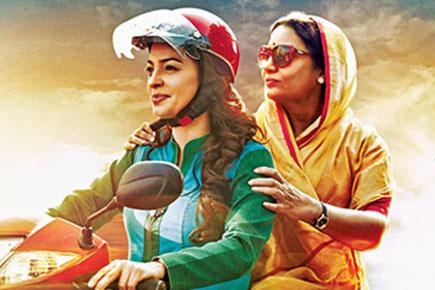 'Chalk N Duster' - Movie Review
'Chalk N Duster'
U; Drama
Director: Jayant Gilatar
Cast: Juhi Chawla, Shabana Azmi, Divya Dutta, Girish Karnad, Zarina Wahab, Aarya Babbar, Jackie Shroff
Rating: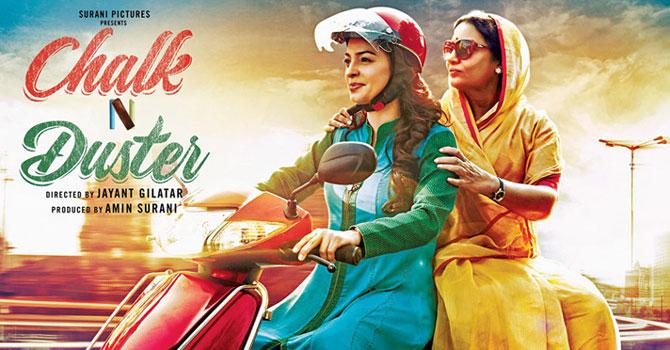 'Chalk N Duster' poster. Pic/Santa Banta
'Chalk N Duster' has great intentions, as it attempts to talk of the sorry plight of the underrated and undervalued school teachers. It also brings forth a pertinent issue; the rotting of the education system, thanks to rapid commercialisation of schools and other education institutions.

However, intentions are never enough. Unfortunately, with 'Chalk N Duster', while the story and script belongs to the higher secondary classrooms, the level of execution doesn't even rise above the kindergarten standards. So clumsy is the handling of this sensitive subject by director Jayant Gilatar that one is left with a mixed sense of amusement and regret when you walk out of the theatre.
Vidya Sawant (Shabana Azmi) and Jyoti (Juhi Chawla) teach Maths and Science in a school owned by a 'MBA from London' (Aarya Babbar). The dimwitted MBA quickly falls into the trap of the wily supervisor (Divya Dutta) of the school and gives her the position of the principal. Once in power, the supervisor, in a bid to glamourise the status of the school, starts giving hell to the teachers by denying them basic things like chairs in the classroom and free chai in canteen. She targets older teachers, hoping that they quit the school.
What starts as dirty politics in school between the principal and the teachers, illogically and unconvincingly, ends up being a national debate by the time we reach the climax. What could have largely worked for Gilatar is that he began well by assembling a bunch of competent actors. But, of course, even the best of talents can't do anything if they are made to mouth silly lines and made to be part of a storyline that senselessly meanders towards some random direction.
However, one must make a mention of a few and far in between credible scenes, including the ones between Shabana Azmi and Girish Karnad. These two great actors show us how their talent can rise above the silliest of films.
The director's objective to bring forth the issues that teachers have been facing for decades now is laudable. But handling of such a subject evidently requires lot more finesse and depth.