'Dil Dhadakne Do' is a classic example of how when a pertinent, contemporary story meets a stellar star cast and near perfect direction, it results in a wholesome film good enough to be taken home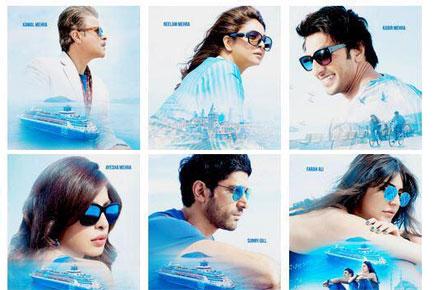 'Dil Dhadakne Do' review
'Dil Dhadakne Do'
U/A; Comedy/Drama
Director: Zoya Akhtar
Cast: Anil Kapoor, Priyanka Chopra, Ranveer Singh, Anushka Sharma, Farhan Akhtar, Shefali Shah, Rahul Bose
Rating: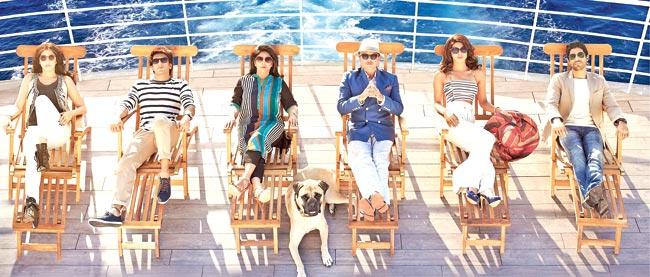 'Dil Dhadakne Do' poster
This is a classic example of how when a pertinent, contemporary story (Reema Kagti, Zoya Akhtar) meets a stellar star cast and near perfect direction (Zoya Akhtar), it results in a wholesome film good enough to be taken home to mum.
Even while holding our hands to take us through some of the most interesting parts of the world, Zoya Akhtar sometimes subtly and at times with a bulldozer aggression drives home certain bitter truths typical of most Indian families, but those we choose to avert our collective gazes from.
Photos: Screening of 'Dil Dhadakne Do' at Yashraj Studios
Reema and Zoya give us a story of a dysfunctional, Mehra family, but it hits so close to home that it could easily be yours and mine. Father Kamal Mehra (Anil Kapoor) is a boastful, self-made, self-obsessed man, mother Neelam is the typical suffering wife, who likes to sweep everything under the carpet to keep up the pretension of a happy family.
Their spunky, smart daughter Ayesha (Priyanka Chopra) chafes and suffers under the preferential treatment doled out to the son Kabir (Ranveer Singh), who is forced to follow life path that his father has chosen for him. Then there is the pet of the family, Pluto Mehra. Ayesha is married to Manav (Rahul Bose), who is outwardly modern but belying a typical patriarchal mindset, when you scratch the surface. The family lives in a 'blissfully happy' bubble till a cruise trip along with friends, to celebrate the Mehra's 30th wedding anniversary starts unravelling certain twisted and uncomfortable emotional knots. It is on this cruise that Kabir meets a girl Farah (Anushka Sharma) he falls in love with and Ayesha meets her long lost best friend, Sunny (Farhan Akhtar).
Anil Kapoor gets into Kamal Mehra's role so well that it is impossible to imagine any other actor in the role. Shefali Shah excels, especially in those few crucial, sensitive moments. But the film truly belongs to Priyanka Chopra and Ranveer Singh. These two blazing talents are magical when they come together sharing what perhaps could be one of the best sibling chemistry in Hindi films. Even though the duo gets maximum screen time, you want to see more of them. Anushka Sharma, Rahul Bose and Farhan Akhtar give good support.
Photos: Sridevi and family watch 'Dil Dhadakne Do'
It is to Zoya's credit that she gives each and every one of the large ensemble cast, which includes newcomer Ridhima Sud, Zarina Wahab, a well thought of character sketch.
While the dialogues (written by Farhan Akhtar) are mostly delightful and keeps the humour quotient going, at times it gets a bit forced and repetitive.
The cruise takes us to some of the most scenic places, which includes glimpses of Turkey, France, Spain, Tunisia and Italy. But more importantly, it also takes us to a journey within, as it raises the mirror to the hypocrisies and double standards that we have either been propagating or suffering in silence in Indian families.
If this film looks like an entertaining, escapist film at the outset, it is, but it is also much deeper than that. Watch it for sure.