This movie is touted as Aishwarya Rai Bachchan's comeback vehicle and she's got a meaty role to justify it. She perfectly looks the part and even does a fairly decent job, barring certain emotional scenes where she clearly goes over the top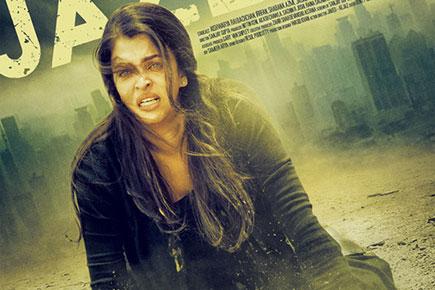 'Jazbaa' - Movie Review
'Jazbaa'
U/A; Crime/Drama
Director: Sanjay Gupta
Cast: Aishwarya Rai Bachchan, Irrfan Khan, Shabana Azmi, Chandan Roy Sanyal, Jackie Shroff
Rating: 

This movie is touted as Aishwarya Rai Bachchan's comeback vehicle and she's got a meaty role to justify it. In an age-appropriate role, Aishwarya plays a successful lawyer, Anuradha Varma, who's also a single mother to her daughter Sanaaya (Sara Arjun). 
ADVERTISEMENT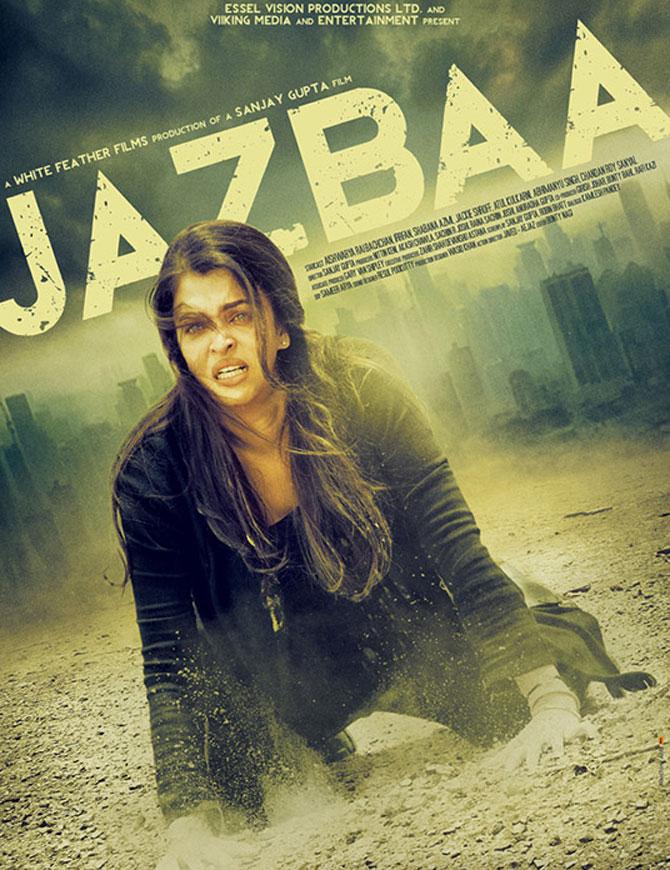 'Jazbaa' poster. Pic/Santa Banta
Anuradha feels no guilt fighting a case for criminals, as long as they can 'afford' her. But, soon enough, she gets caught in a trap where she's forced to defend a rapist and murderer because that is the ransom for freeing her abducted daughter. Tainted cop (Yohan) is her best friend and secret admirer, who, eventually, becomes her ally in her fight to get her daughter back. Hyper active, ambitious Anuradha and the cool headed, melancholic Yohan make for an interesting pair. The good thing is that the two lead protagonists are not the epitome of virtue; they are true-to-life, grey characters, with their own issues and their own justifications.
Director Sanjay Gupta already has half the battle won, as the story inspired by Korean film 'Seven Days' is fast paced and guaranteed to keep you hooked for most part.
Photos: Bollywood celebs watch 'Jazbaa' at Yashraj Studios
The two-hour duration doesn't let you linger too much, except for once or twice when the otherwise foolproof screenplay goes limp, particularly the scene when Anuradha spots her kidnapped daughter and goes all out with her emotional outburst under a bridge for what seemed like eternity. Otherwise, Sanjay Gupta manages to keep the proceedings on a tight leash, not allowing our attention waver for too long. Even as you anxiously follow Aishwarya's tense four days in which she has to get the rapist, Miyaaz Shaikh (Chandan Roy Sanyal) out of prison that he's ensconced in, it is Irrfan who captures your heart and imagination. This fantastic actor is helped by some deadly punchlines dotted with wry humour and at times, a fine poetic touch (dialogues by Robin Bhatt and Kamlesh Pandey) lights up the screen and keeps you delighted, even guffawing at some points.
Aishwarya Rai Bachchan perfectly looks the part and even does a fairly decent job, barring certain emotional scenes where she clearly goes over the top. Sanyal's character is caricaturish. Otherwise a good actor, he seemed to be struggling to find a solid footing. Shabana Azmi, who plays the mother of a rape victim, is effortless and adds value to the film.
If only Sanjay Gupta had gone a little easy on the unnecessary and intrusive melodrama. Even then, it's a good one time watch for sure.
"Exciting news! Mid-day is now on WhatsApp Channels

Subscribe today by clicking the link and stay updated with the latest news!"
Click here!