'Kapoor and Sons' might remind you of your own family issues and make you a bit squirmish but is also largely feel good and entertaining. It is the near-perfect casting -- Alia, Sidharth, Fawad, Rishi, Rajat, Ratna and others -- that works for the film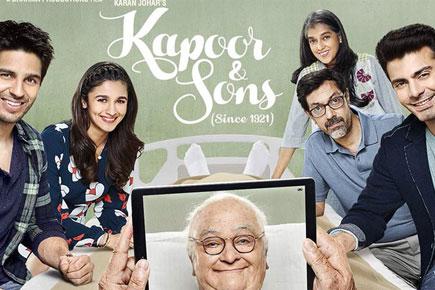 'Kapoor & Sons' - Movie Review
'Kapoor & Sons'
U/A; Romance-drama
Director: Shakun Batra
Cast: Alia Bhatt, Sidharth Malhotra, Fawad Khan, Rishi Kapoor, Rajat Kapoor, Ratna Pathak Shah
Rating: 

Welcome to the big, boisterous and emotionally charged Kapoor family. A family so believable that you want to reach out and touch them, mediate in their fights and hug them and tell them it's all going to be fine. It is to director Shakun Batra's credit that he creates a family which though muddied by lies, deception and betrayal, is as endearing, vulnerable and of course, as fallible as most of our own families are.
ADVERTISEMENT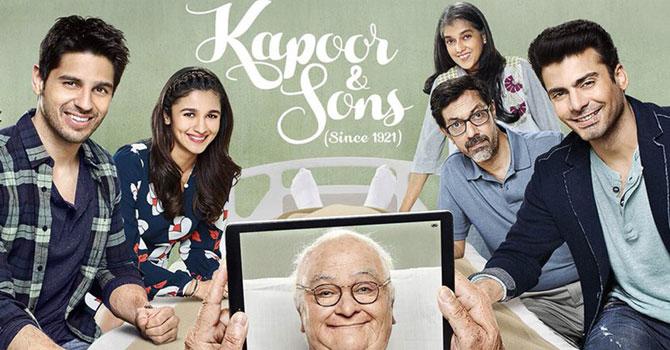 'Kapoor & Sons' poster. Pic/Santa Banta
Arjun Kapoor (Sidharth Malhotra) and his older brother Rahul (Fawad Khan) are visiting the family home in Coonoor after 5 years because their feisty grandfather (Rishi Kapoor) has summoned them and soon after suffers a heart attack. Arjun is not really ecstatic about meeting his brother as he is still smarting at a foul play that he thinks Rahul is responsible for. Arjun is also convinced that his parents favour Rahul as he's more successful and turned out to be a 'better' son.
As is true of a lot of real world families, this one too is quick to take each other for granted, and would rather get into a heated argument instead of openly communicating about the simmering issues.
Tia (Alia Bhatt) enters the scene and her presence only makes the conflict between the two brothers worse.
Shakun Batra's biggest achievement is that he has etched each of the central characters with precision. The grand old man Amarjeet Kapoor, whose zest for life at 90 not only makes him hugely interesting but also a factor that binds the family together in spite of the differences. The mother has turned bitter, unhappy and argumentative thanks to her real and imagined betrayals, while the father is struggling under a financial strain. Arjun is struggling to be a writer and Rahul, even though successful, is being crushed under a burden of truth that he doesn't know how to reveal to the family, which is too busy with its own issues and expects him to be the ideal son.
Fawad Khan seems like the perfect choice to play this complex character. His on-screen charm is intact, but he impresses more with an understated, totally in control performance, especially in emotional scenes, where one can easily get into the danger of going overboard.
In fact, it is the near perfect casting that works for the film too. Rishi Kapoor, who amazingly looks like he's just a decade short of being a centenarian (make-up by Greg Cannom) is fantastic and is also lucky to get the best dialogues. Ratna Pathak Shah and Rajat Kapoor are so convincing that you feel that they have actually been fighting with each other for years. Tia's is the only character that seems a bit underdeveloped but then Alia yet again convinces us of her natural acting ability in one emotional scene when she talks about her parents' death. Sidharth as the wronged, misguided second son is a good fit.
Dialogues (by Shakun Batra and Ayesha DeVitre), peppered with lot of easy wit, adds to the charm of this delightful film. The story, however, falters a wee bit as the central conflict between the two brothers is not convincing and doesn't really hit close to home. Taut editing (Shivkumar V Panicker) and excellent cinematography (Jeffrey J Bierman) add to the experience.
This film is produced by Dharma Productions along with Fox. It is heartening to see Karan Johar's film family having grown up enough to get out of their bubble and face some tangible issues. Thankfully, there is no Kantaben and so no treating someone's sexuality flippantly either.
Watch this. It might remind of your own family issues and make you a bit squirmish but is also largely feel good and entertaining.