Watch Saif Ali Khan and Katrina Kaif starrer 'Phantom', flaws aside, it talks of a real concern facing all of us, even while taking a flight of fantasy. The climax is worth the ticket money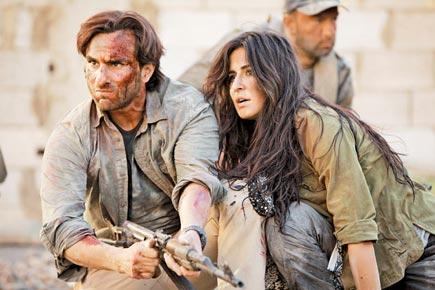 Saif Ali Khan and Katrina Kaif in 'Phantom'
'Phantom'
U/A; Action/Drama
Director: Kabir Khan
Cast: Saif Ali Khan, Katrina Kaif
Rating: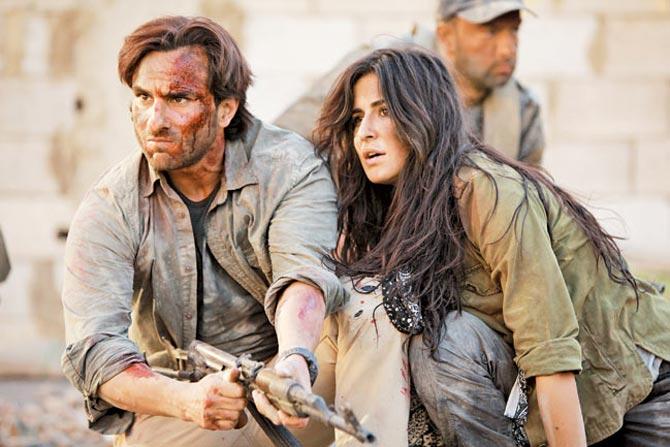 Saif Ali Khan and Katrina Kaif in 'Phantom'
There is a gripping scene in this film when one of the key characters desperately asks a few navy officers, "Do you remember that night of 26/11 when you felt the most helpless and vulnerable?" That line and the film brings back that dreaded feeling that most of us went through seven years ago. The night when terrorists blatantly entered the city to take us under siege and ended up killing thousands of citizens, and nothing was the same again.
Reopening that wound is perhaps necessary because seven years hence, the helplessness continues as we haven't been able to do much to punish the masterminds behind the attack. Director Kabir Khan dreams of a situation (adapted from S Hussain Zaidi's book, Mumbai Avengers) wherein a fearless, faceless agent is sent to the neighbouring country to quietly eliminate them all.
Daniyal Khan (Saif Ali Khan), a tainted soldier, is handpicked by RAW officers to be sent to as a 'phantom' agent to the neighbouring country on a deadly mission. Daniyal is introduced to Nawaz (Katrina Kaif), an ex-RAW agent, and she is forced to join hands with him as he goes about ruthlessly and with cold precision plotting the killing of each of those behind the attack.
What works against the film is that a powerful story is diluted by the use of too many cinematic liberties and a rather lazy screenplay which gets too convenient at some points. Also, the inconsistency. While parts of the film are compact, edgy and nail-biting, some other scenes look like they are hurriedly thrown in together. What works for the film is Kabir Khan's unwavering, balanced storytelling, which at no point gets carried away by hollow jingoism and not once blames a particular religion or a particular country for the evil doings of a terrorist outfit. In fact, he highlights the fact that helplessness is similarly felt by the citizens of both countries, as he tells us the plight of a Pakistani mother who's lost her son to LeT.
Saif gets into the skin of the character quite admirably, but one wishes a lot more thought was put into his character sketch and also that the director didn't succumb to the temptation of showing unnecessary and unconvincing 'herogiri' at one point. Katrina seemed at a loss about what exactly she's supposed to do, as her character is vague and even unnecessary at points.
The climax is worth the ticket money.
Watch this film. Flaws aside, it talks of a real concern facing all of us, even while taking a flight of fantasy.