'Rocky Handsome' is so busy falling over itself to look stylish and slick that it forgets to focus on the emotional aspect altogether. There is zero connect between the two central characters, Rocky (John Abraham) and Naomi (Diya Chalwad), and the script goes haywire at many places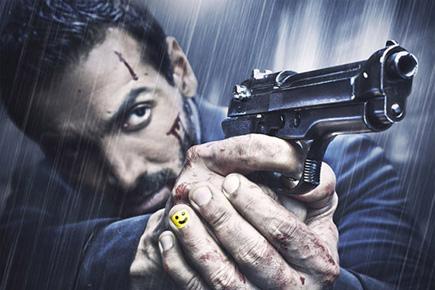 'Rocky Handsome' - Movie Review
'Rocky Handsome'
A; Action-thriller
Director: Nishikant Kamat
Cast: John Abraham, Diya Chalwad, Shruti Haasan
Rating: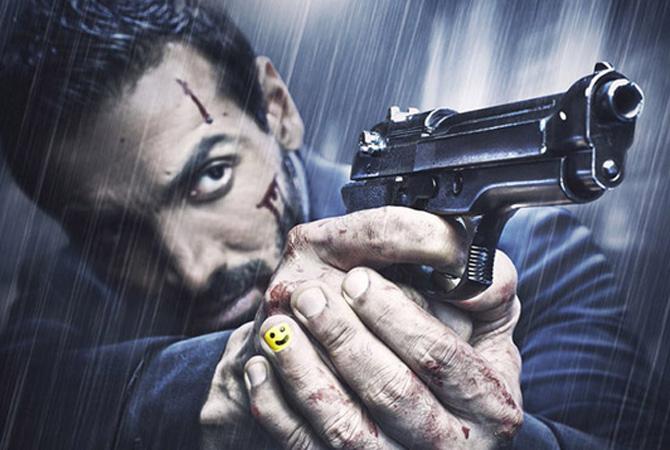 A still from 'Rocky Handsome'. Pic/Santa Banta
'Rocky Handsome' has some interesting characters. Two Konkani-speaking bald brothers hamming their way through the worst of scenes, a precocious child (with hair that suspiciously looks like a wig), a lady who when drugged out behaves like she's orgasming, a cop who cracks bad jokes, a heroine who is so stereotypical that she is chirpy, wants to break into a song in the rains, and massages her tummy all the time when she's pregnant. This heroine (Shruti Haasan) is, mercifully, just playing a cameo.
Each character seems to be infused with so much annoying pep and energy that it seems like they are desperately trying to compensate for the deadpan expression with which Rocky Handsome (John Abraham) moves around.
An adaptation of Korean film 'The Man From Nowhere', 'Rocky Handsome' is about a man (John) who runs a pawn shop in Goa, but there is obviously more than what meets the eye. A little girl in the neighbourhood, Naomi (Diya Chalwad) befriends him and the otherwise dispassionate Rocky swings into action when she gets into trouble.
Now, he's in the clutches of the villains, the drug mafia in Goa, which includes a comical don (who seems as harmless as a Maharashtrian gent in a local train going to work), Kevin Periera (Nishikant Kamat), and his highly annoying brother (never mind who the actor is) who suffers from an acute case of verbal diarrhoea.
The movie is so busy falling over itself to look stylish and slick that it forgets to focus on the emotional aspect altogether. There is zero connect between the two central characters, Rocky and Naomi, and the script goes haywire at many places, but the director was evidently concentrating on making the movie look cool by getting the cameras go back and forth with heavy doses of flashbacks and slow-mos drizzled in between.
The only good part is its action sequences, which might have been directly borrowed from the original Korean film. It looks like John comes back to life every time he throws his punches around or breaks people's bones with absolute ease. His body, his personality and his moves make us want to believe that he can take on an army single-handedly. There is a fascinating character, Atilla (Kazu Patrick Tang), who seemed to have a lot of potential, but woefully, was given very little to do. More duels between Rocky and Atilla would have been a treat to watch.