What did we gauge from Bollywood in 2016 to call it the year of the woman then? Mayank Shekhar discusses the reasoning behind it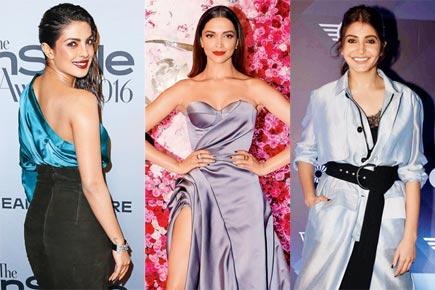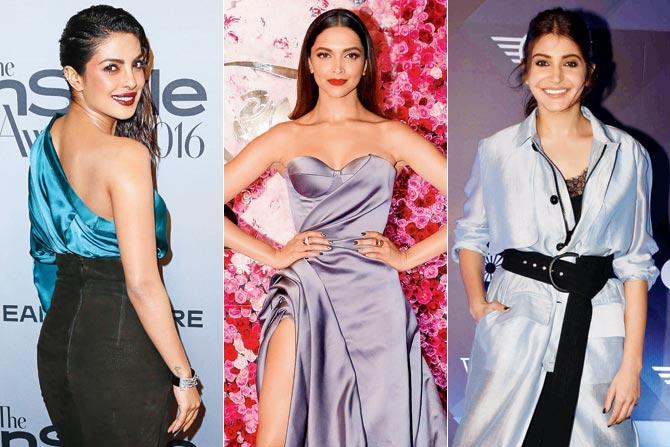 Priyanka Chopra, Deepika Padukone and Anushka Sharma
In old-style magazine journalism, four good examples would make a trend. Yup, that's lazy writing. So does it even make sense to spot trends anymore? Sometimes, yes — when the changes you see are, one, irreversible; and two, staring you in the face. What did we gauge from Bollywood in 2016 to call it the year of the woman then?
That there were quite a few 'female-centric' films? No. We've had several of those before. Especially since Vidya Balan's Dirty Picture (2011), which became almost a R100 crore hit, prompting several producers to safely invest in female actors as main leads — Vidya Balan in Kahaani (2012), Kangana Ranaut in Queen (2013), Priyanka Chopra in Mary Kom (2014), Anushka Sharma in NH10 (2015). So yeah, the observation is probably a little less obvious than that.
Salman heroine with 'proper' role
When producer Aditya Chopra, Anushka's mentor, in her own words, asked her to get on-board the Salman Khan-starrer Sultan, the first thing that crossed her mind was, what'll she get to do in it? The fact that they should think along these lines, rather than lap up what's bound to be a solid commercial success, already says a lot about female A-listers.
But Anushka trusted Aditya, heard director Ali Abbas Zafar narrate Sultan's script, and could tell that if she put in enough, there was enough in her role to make it memorable, alongside Salman's. She trained herself in professional wrestling to fit the part. Why's that a big deal? 
Hardcore star-system in Bollywood, as it were, started roughly about six-and-half decades ago. Salman alone has been an active super-star for 25 years plus. If you discount Amitabh Bachchan's long peak in the '70s/ early '80s, no other actor, especially over the past decade or so, has managed to corner such huge audiences by his presence alone — regardless of a film's content.
Salman shows up on screen. Audiences show up in theatres. Hardly a surprise then, that if you were to look back at some of his hits, you'll hardly remember anybody else. Can you instantly recall the female lead of Kick, Jai Ho, Ready, Bodyguard? Or what the thoroughly replaceable Jacqueline, Daisy, Asin or Kareena were doing in those films? Katrina, to be fair, had a relatively significant role in Ek Tha Tiger, also produced by Aditya Chopra.
But here was Salman, Bollywood's last male bastion — actually prepping for a part (wow!), sharing ample screen time with the heroine (no way!). Sure signs of an immeasurable change. Also, Karan Johar's Ae Dil Hai Mushkil was as much, if not more, Anushka's film, as it was Ranbir Kapoor's. Rounded total of her two movies' box-office collections come to around R420 crore. Surely a fair part can be attributed to her. 
Priyanka in America!
Time magazine's '100 most influential' cover, one among 14 presenters at the Oscars, presenter at Emmy, winner at People's choice awards, guest at practically all top American chat shows… All of this in one frickin' year.
This is the astounding rise of Priyanka Chopra, who after winning Miss World, slowly but steadily moved up in Bollywood, from second-billing roles (The Hero, Andaaz etc.), to female leads (Mujhse Shaadi Karogi, Aitraaz), to main lead (Fashion), to releasing singles in the US, to playing central character in a US network show (Quantico). And now the villain in Baywatch.
Surveying the much-loved heroes in Bollywood, she says, it's about time they stepped out of their comfort zone. Couldn't agree more. Guess who's showing the way: a Hindi female film star!
Deepika's Holllywood debut
Much of image building happens through speculative and congratulatory stories on the web/ press — few of them are plants, most of them true. If you were to glance through the showbiz section consistently in 2016, what you'd realise is how passé is the SRK-Salman star-war. It's about who's also big in America. Besides Priyanka, of course: Deepika Padukone. Piku, one could argue, was this former model at her peak — winning audience's hearts with just a simple smile. The West has always been the final frontier still. And who's the one rubbing shoulders with the bulky Vin Diesel in XXX? That's how doors open, causing a natural domino effect. Sonam Kapoor, we hear, might be next.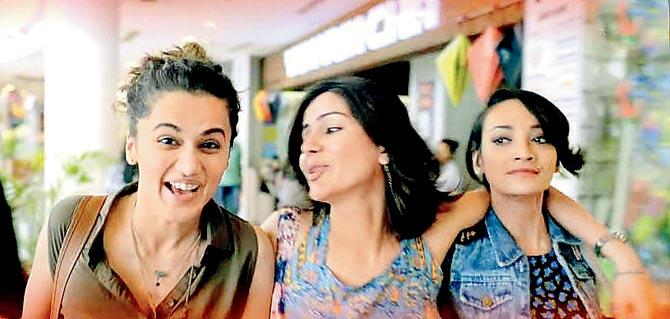 Pink, Dangal: top hits
Andrea Tariang, Kirti Kulhari, Tapsee Pannu, Zaira Wasim, Suhani Bhatnagar, Fatima Sana Sheikh, Sanya Malhotra — who are these girls? Without doubt, the most loved actors of 2016. We say this, because they were the faces of the two most talked about movies of the year. Both set around the lives of women — one (Pink) in urban India; the other (Dangal), in rural. One zeroed in on the insecurities and fears of being single in a city. The other showed girls from Haryana realising dreams that were justifiably theirs to achieve. One (Pink) became the biggest sleeper hit of 2016. The other (Dangal), the highest opening weekender at the BO. Both reflected a new, progressively feminist India. Let's not nit-pick on semantics of that point. Look at the larger picture. This change, we reckon, is irreversible.