Internet is really where the scene for this film's genre is. Would I've happily caught this online? Yes. But the invitation is for the big screen? That's being thoda sa ambitious, I think.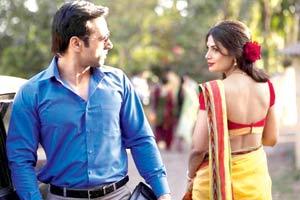 3 Storeys
3 Storeys
U: Drama
Director: Arjun Mukerjee
Cast: Richa Chadha, Pulkit Samrat, Sharman Joshi, Renuka Shahane
Rating:

Three Storeys, as the title sort of suggests, is effectively a set of three short stories, with no (or little) relation to each other, besides that they're all set in a three-storeyed chawl in Mumbai. Which brings me to the traditional definition for what a chawl is - a series of single-room tenements, or 'kholis', lined along a common balcony, with a toilet, usually on every floor, that is shared between residents.
The film doesn't strictly follow that description - kholis seem more like one or two bedroom-hall-kitchens (BHKs in Bambaiya). Consequently the characters' socio-economic class don't particularly match their dwellings, or each other's, either. But then again, that is not so hard to imagine in a severely space-starved Mumbai, where you could be a fairly well-to-do lawyer/engineer, and still live in a slum, while the rest of the world peers into concrete huts for poverty porn.
This film similarly claims to look into lives of the aam junta types, arguing repeatedly that while these folk seem rather regular, they hide within stories that aren't so regular after all, and therefore this film, or its noble intention. Ain't that true for any story that you may wish to tell (about anyone: real or imagined), anyway?
To be fair, this isn't a pic on the plight of the plaebs (mercifully). The narrative unfolds like a fire-side story-telling session, with each story bearing a surprising turn of events - somewhat along the lines of Jeffrey Archer's collection A Twist In The Tale. The flip side of which is, since the tall tale is hinged on the twist alone, if the end doesn't cut it, the beginning and the middle cease to matter much. Good chances are you might go, "Eh?" Or, "That was easy!" Or even, "Ah! (make that wah)" I went through all three emotions, given the three shorts, although more of the first two, rather than the third.
Now that may be true for a feature-length film as well (or novels for that matter), except in a proper picture, when the plot stops working, you can always engage yourself with extraneous sub-plots, even side-characters, that are often more interesting than the main ones. This film allows you no such distraction. Besides shooting in fairly undiscovered locations in what's possibly the most over-exposed city in the world, where the film, or films, do well though, is putting on display some really fine performances - starting, foremost, with the lovely Renuka Shahane, totally killing it as a Goan aunty.
Can't recall the last time we saw Shahane on screen, although mainstream audiences still remember every moment of her turn with Salman Khan in the blockbuster Hum Aapke Hain Koun, two and half decades ago. Don't know if this is deliberate, young Pulkit Samrat (pretty much a Salman clone) is cast opposite Shahane in one of the shorts, while Sharman Joshi - another superb actor, missing in action for sometime - stars in another unrelated short.
Have we seen such anthologies on the Indian screen before? Joshi himself was part of Life In A Metro, similarly a slice of life kinda collection of shorts, set in a metro. But this one is more like Dus Kahaniyan, if you may, only less exhausting, since lengths of films don't matter as much as moving from one experience to another, without much of a breather, does. Anyone who's binged on shorts to judge for a competition (mainly for the Internet) will know how an hour feels like a few.
But in these online contests, or even play-lists, you also end up discovering some phenomenal talents, with incredible filmmaking chops, telling stories that features will find hard to fit. Some of them even find mainstream actors for support - happy to play along, when stakes are so low. Internet is really where the scene for this film's genre is. Would I've happily caught this online? Yes. But the invitation is for the big screen? That's being thoda sa ambitious, I think.
Watch 3 Storeys Trailer
Also Read: Renuka Shahane's character from 3 Storeys is inspired by real life
Catch up on all the latest entertainment news and gossip here. Also download the new mid-day Android and iOS apps to get latest updates