Akshay Kumar and Salman Khan are the only two Bollywood actors to make it to the top 10 highest-paid actors' list from June 1, 2017 to June 1, 2018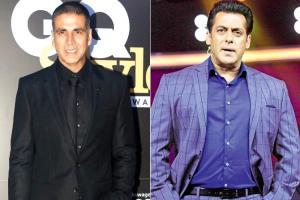 Akshay Kumar and Salman Khan
Akshay Kumar has emerged as the seventh highest-paid actor in the world by earning USD 40.5 million in 2018, according to Forbes magazine. The Gold actor is closely followed by his contemporary Salman Khan in the ninth place, raking in USD 38.5 million. Kumar and Khan are the only two Bollywood actors to make it to the top 10 highest-paid actors list, compiled by the publication.
Kumar, who came in 10th last year, upped his game by USD 3 million. Khan stayed at his ninth rank, but with an increase of USD 1.5 million this year. Shah Rukh Khan, who was at the eighth spot on the 2017 list, did not find a place in 2018.
The list has been topped by Hollywood star George Clooney, who scored a career-high pre-tax paycheque of USD 239 million between June 1, 2017 and June 1, 2018. Clooney was followed by Dwayne Johnson, who banked USD 124 million pretax to rank. Avengers: Infinity War star Robert Downey Jr, earned USD 81 million to book the third place. His co-star, Chris Hemsworth came in at number four with USD 64.5 million earnings.
The combined earnings of world's 10 highest-paid actors come at a total USD 748.5 million between June 1, 2017, and June 1, 2018, before fees and taxes - USD. The figure overshadows the salaries of the world's highest-paid actresses, who earned a cumulative of USD 186 million in the same scoring period. Scarlett Johansson topped the list with USD 40.5 million - the exact amount pocketed by Kumar in the actor's list.
International action star Jackie Chan came in fifth 45.5 million and Will Smith followed in at number six with USD 42 million. Adam Sandler and Infinity War star Chris Evans were in eighth and tenth positions with USD 39.5 million and USD 34 million respectively.Last year's numero uno, "Transformers" actor Mark Wahlberg, did not make it to the list.
Also Read: Akshay Kumar becomes first male Bollywood Actor to get 20 million Instagram followers
Catch up on all the latest entertainment news and gossip here. Also download the new mid-day Android and iOS apps to get latest updates