Freida Pinto, who started her Hollywood journey with Oscar-winning film Slumdog Millionaire, went through a phase of "self doubt and anxiety"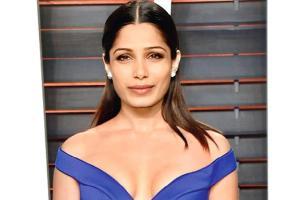 Freida Pinto
Freida Pinto says she never wanted to surrender to the Indian stereotype in Hollywood, which resulted in her saying no to a lot of big projects. The 33-year-old Indian actor, who started her Hollywood journey with Oscar-winning film Slumdog Millionaire, says even though she knew it was the right decision, she went through a phase of "self doubt and anxiety".
"I made it very clear after 'Slumdog...' that I would have to carve my own path and also determine the path for the next generation of Indian actors. It was very important for me to not surrender to the Indian stereotype. But there was a fear of missing out. There was a no formula, which I could follow. There was a phase in my career for two-and-half years where there was a lot anxiety and fear," Freida told PTI in an interview.
The actor, however, says those "moments of self-doubt" taught her a lot. "I am exactly in a place where I wanted to be. This is exactly the space where I wanted to work. I always wanted to be a part of the content where focus is not on glamour and beauty but on real people."
"After having a huge start and then going through a phase of anxiety, I can truly say I am happy and content now. It was a great learning experience." Freida believes the inclusivity drive and debate on representation of cultures, races and gender has made things better for artistes like her.
"There is no better time to be in cinema or in television than right now. The time right now is such where a lot of producers and filmmakers are taking risks. efinitely in the West we have seen that happening with 'The Crown' or 'The Handmaid's Tale'. In films also women are playing the lead and they are successful."
Under-representation of actors of colour in 2016 Academy Awards nominations ignited the debate around whitewashing and a year later the #MeToo movement brought a major shift in the politics around gender in Hollywood. The strong reaction from people within the industry pushed filmmakers and writers to focus on writing better parts for women and actors of colour.
Freida says the way Hollywood is evolving is commendable, and she feels privileged to witness the change. "I have seen representation in movies becoming a talking point in front of my eyes. I feel privileged as it was not possible once and within 10 years I have seen that change, which is monumental. Probably even three years ago, the Asian representation was not taken seriously. It is remarkable that we are talking about inclusion because for the longest time Asians on American television and in movies were never written seriously. For me, it is really phenomenal to see this change during my career."
Freida's latest film to hit the theatres is Love Sonia. The actor says she is proud of the film directed by Tabrez Noorani. "I was probably one of the first actors to come on board. Tabrez (Noorani) is my good friend and he shared the script with me 10 years ago when I was shooting for 'Slumdog Millionaire'. I told him 'I want to be a part of this film'. He asked me to read for other parts. I loved Rashmi's character the most. I am very proud of the film. Of all the film's we have seen on human trafficking, I feel this is the most authentic. It is just one of those films which looks so real," she said.
Catch up on all the latest entertainment news and gossip here. Also download the new mid-day Android and iOS apps to get latest updates
This story has been sourced from a third party syndicated feed, agencies. Mid-day accepts no responsibility or liability for its dependability, trustworthiness, reliability and data of the text. Mid-day management/mid-day.com reserves the sole right to alter, delete or remove (without notice) the content in its absolute discretion for any reason whatsoever