Wednesday was a star-studded day at Bandra's Mehboob Studio, where a bevy of Bollywood beauties and dapper men toiled at work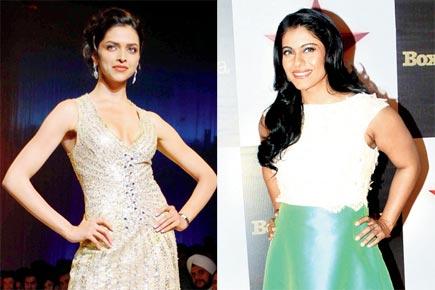 Deepika Padukone and Kajol
Wednesday was a star-studded day at Bandra's Mehboob Studio, where a bevy of Bollywood beauties and dapper men toiled at work. The set for Sanjay Leela Bhansali's 'Padmavati', designed on Stage 3, was brimming with colour.
Background dancers dressed in vibrant ghagras kept the energy levels high as the folksy foot-tapping tunes of the track, Ghoomar, filled the air. But, Rani Padmavati (Deepika Padukone) seemed to be having a hard day at work. As reported by hitlist earlier, the actress was required to catch the beats under the weight of her lehenga and ghunghat. She was reportedly struggling with the quick footwork. Following a short pep talk with her director, Padukone picked up pace.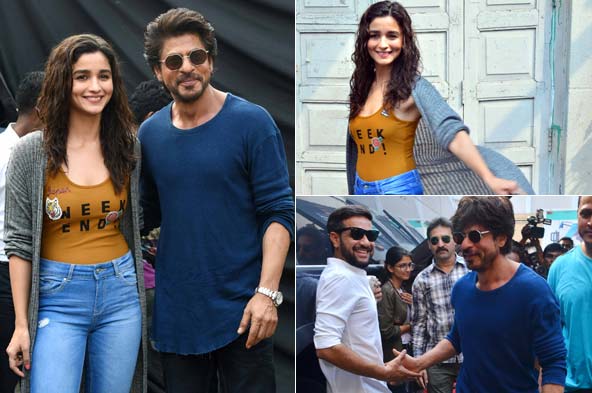 Shah Rukh Khan and Alia Bhatt at Mehboob Studio in Bandra. Pics/Yogen Shah
As the hours went by her 'Om Shanti Om' co-star Shah Rukh Khan, and Alia Bhatt, who were promoting their upcoming film at the adjacent stage, dropped by to say hello. However, it wasn't until 8:30 pm that her surprise package arrived.
Beau Ranveer Singh and she are believed to be in the midst of a lover's tiff, but the overtly romantic actor wouldn't miss catching his lady love's first dance, would he? Despite attempting to park his car in the dark to avoid attention, Singh soon found himself buried under a sea of fans, embracing one, sweet-talking another.
Earlier in the day, an epic reunion was averted however. Kajol, who was in the vicinity for a product launch, came down to meet SRK, but the horde of pesky scribes made her change her mind. She simply turned around and left.
Close by, Hrithik Roshan and Jacqueline Fernandez were shooting for a commercial, with Dia Mirza and hubby Saahil Sangha in attendance. They largely kept a low profile and left soon after wrapping up.
While it was just another day for A-listers, who were merely going about their routine, they surely made the day of a local chaiwallah with their presence: "Aaj din accha tha. Sab bade saab log aaye. Har din aisa hi hona chahiye," he was heard telling his assistant.