Drawing inspiration from the legendary composer R.D. Burman, Sachin-Jigar produced the song using beer bottles, mugs and cans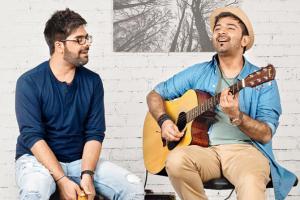 Jigar Saraiya and Sachin Sanghvi
Popular composers Sachin-Jigar created four options for the newly released song Chad gayi hai from Akshay Kumar-starrer "Gold" before they zeroed in on the final one.
"While we were working on the film for over one and a half years, this song came up at the last minute, and was finished in a span of 20 days. We created four options for this song before we zeroed in on a final selection. We wanted a modern sound that didn't take away from the era that the film is based on," Sachin Sanghavi said in a statement.
ADVERTISEMENT
Drawing inspiration from the legendary composer R.D. Burman, Sachin-Jigar produced the song using beer bottles, mugs and cans. The composers roped in Vishal Dadlani as the singer who had to embrace a Bengali accent to complement the intoxicated reel character of Akshay.
The track also features popular tabla player Zakir Hussain's younger brother, Taufiq Qureshi, for rhythm arrangements. "R.D. Burman has been a great inspiration to us and for 'Chura liya...' he had used a glass for the song. As a musician, he used a lot of real elements to create music and since the song was about getting intoxicated we thought why not try using actual liquor bottles and give a more real-time effect to the music," said Jigar Saraiya.
"We used close to 100 bottles and cans of different brands to procure the right sound. Infact, we had to import a few bottles but eventually we could only use a few to suit the sound of the song," he added. Gold, a historical sports drama, is inspired by India's first Olympic gold medal. The film traces the "golden era" of Indian hockey through the journey of Tapan Das, a young assistant manager in 1936, who dreams of playing for an independent nation.
Directed by Reema Kagti and produced by Excel Entertainment, the film will release on August 15.
Catch up on all the latest entertainment news and gossip here. Also download the new mid-day Android and iOS apps to get latest updates
This story has been sourced from a third party syndicated feed, agencies. Except for the change in headline, the story has been provided "AS-IS," "AS AVAILABLE, without any verification or editing from our side. Mid-day accepts no responsibility or liability for its dependability, trustworthiness, reliability and data of the text. Mid-day management/mid-day.com reserves the sole right to alter, delete or remove (without notice) the content in its absolute discretion for any reason whatsoever