Given his experience of over 25 years in the film industry, Salman Khan says his only advice to newcomers is to do good work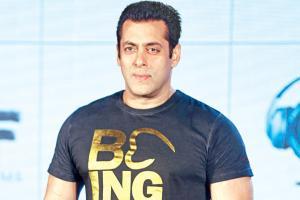 Salman Khan
Salman Khan, who is launching his brother-in-law Aayush Sharma with the film "Loveyatri", says it is a huge responsibility to introduce people to Bollywood. "If they make (it big), it is the happiest feeling but if they don't, whoever you have launched or worked with, I believe that you should never stop working with them.
"New people will keep on coming in but those people whom you worked with you should work with them again because that time you had thought that there's something in them, which maybe didn't work out that time," Salman said in a group interview. Given his experience of over 25 years in the film industry, the 52-year-old actor says his only advice to newcomers is to do good work.
"I tell them (newcomers) don't play games. Just be enthusiastic in what you want to do. Be patient and don't jump into anything. If there is no work, it is fine as the work that you do has to be good work.
"Otherwise working everyday may lead to some bad work and it will not let you get work in the future. And good work does come, maybe in different forms, be it from (mainstream) movies, different kind of cinema, TV and web," Salman says.
The actor also opened up about the controversy over the film's earlier title "Loveratri" and he says there was nothing offensive in it. "So basically, this whole thing came out with 'Loveratri'. There's nothing offensive about that title. We are making a very sweet beautiful love story, like earlier the films were used to be made. It has love and then the whole festival, so we called it Loveratri.
"But some people got offended by that, and they were like, 'Ye galat hai' and one person's emotion is not okay with that, why do we do that? We are making love story. So we changed the title," he adds Salman says director Abhiraj Minawala met the Central Board of Film Certification (CBFC) members regarding the title and had explained it to them as well.
"Abhiraj sat down and explained them that there's nothing offensive in the film that will hurt anyone's sentiments. We are building the essence of Navratri and a love story around it. Then they agreed to it and said, 'okay, don't change the title, just put a tag line.'
"The team came back and said, 'Loveratri is the title'. I asked, 'Did they raise a concern?' They said, 'Yes'. Then I said, 'Change the title'. If they have raised a concern, then we should change it."
Catch up on all the latest entertainment news and gossip here. Also download the new mid-day Android and iOS apps to get latest updates
This story has been sourced from a third party syndicated feed, agencies. Mid-day accepts no responsibility or liability for its dependability, trustworthiness, reliability and data of the text. Mid-day management/mid-day.com reserves the sole right to alter, delete or remove (without notice) the content in its absolute discretion for any reason whatsoever