Are these really desi versions of the NYC ladies, from Sex And The City? That's what the filmmakers wanted to make.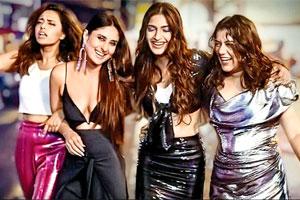 Veere Di Wedding poster
Veere Di Wedding
A; Comedy
Director: Shashanka Ghosh
Cast: Kareena Kapoor Khan, Sonam Kapoor Ahuja, Swara Bhasker, Shikha Talsania, Sumeet Vyas
Rating:

Maybe the whole point of making this picture was to have a giggle of girls, half a decade apart in terms of actual age—but very much sisters from other misters who went to school together - unleash a scatological vocabulary that you don't usually expect from heroines on the Bollywood screen. The audience is supposed to be in haw! That women in general, especially in the company of women, usually do talk about orgasm, sex, and masturbation (why would they not?), is beside the point.
Still, this seems like a fair enough purpose to me, given the inane laughs, over inaner jokes, in my hall—for it's mainstream leading ladies, ruminating on "charam sukh" and "apna haath Jagannath". While the genre usually features leading men, and a lot of them score much higher on low-brow humour, this is basically a laugh-or-barf kinda sex-comedy.
No, not exactly a chick-lit; definitely not a femme power gem. How else can you explain that a film with four strong women protagonists, at various stages of their life, might fail the Bechdel Test? Bechdel being a convincing measure for gender equality (in fiction), which checks for whether there are at least two named female characters in a story, who talk about anything, other than a man (or lack thereof).
The heroines here—happily married with a child (Shikha Talsania); separated (Swara Bhaskar); singles, ready to mingle (Sonam K Ahuja), and about to wed (Kareena Kapoor Khan)— more or less seem obsessed with love, and failed relationships, even as they push the (shaadi) envelope. Which is fine, of course, since this is supposed to be a very 'male' movie about urbane Indian females, who get away with the f-word on screen, but ch***iya is somehow beeped out.
Of the lot, the one who naturally stands out with her 'moophat' comic timing/delivery is, without doubt, young Bhaskar. You can see shades of someone you know, have known, or at least would like to (or not), through her character.
Of the equally excitable rest, the less said the better. They oscillate at so many levels over the top of what is permissibly normal, that it's hard to connect with them at a human level. Especially when the film, going on a 'womance' mode (nice to see that happen), attempts to tug at your heart strings, with a string of emotional scenes, while the most existentialist question remains: Who exactly are these behenjis inside a Bentley, with over-done homes, that are almost as much eye-sores as the garish Punjabi wedding-stage, and other crazy aunties that they're simultaneously appalled by.
These women are from South Delhi. I grew up there. As did a lot of my women friends (roughly the same age as Kareena, I guess). Are these really desi versions of the NYC ladies, from Sex And The City? That's what the filmmakers wanted to make. And you always knew that. What you make of it then is up to you. Really can't be complaining
Watch Veere Di Wedding Trailer:
Also Read: Bhavesh Joshi Superhero Movie Review - The Dark Knight Falls
Catch up on all the latest entertainment news and gossip here. Also download the new mid-day Android and iOS apps to get latest updates