Akshay Kumar in an interview with mid-day talks about being the antagonist on-screen and fanboy off-screen during shoot of 2.0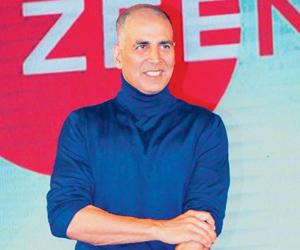 Poster of 2.0
As is the norm with any big-ticket release, rumours have abounded Rajinikanth and Akshay Kumar-starrer 2.0. After Kumar's look from the sci-fi film made its way online last year, fans went into overdrive speculating that he plays a scientist who turns into a crow after an experiment goes wrong. Laughing off the presumption, the actor says, "Whatever you hear about 2.0 is all a lie as no one knows anything about it and we are not allowed to talk about it. In fact, I'm glad such rumours are doing the rounds because people will be in for a surprise when they watch the film."

Akshay Kumar
All Kumar is willing to divulge is that he plays the antagonist in the Shankar-directed movie. "Many people asked me why I wanted to play a villain and I told them, 'Why not?' A hero exists only when there's a villain. I had never imagined that I would be part of the costliest Indian film."
He agrees that getting the opportunity to share screen space with arguably India's biggest superstar may have influenced his decision. It's endearing to see the National Award winner turn into a fanboy for a brief moment as he claims that Rajinikanth is "the only one in the industry who has got swag." "Once, we were just sitting on the set, waiting for the next shot and he brushed some dirt off his pants. The entire unit was awestruck by how stylishly he did it. Everything he does is so stylish. I even enjoyed getting punched by him," he laughs. His 131st film, the April release marks Kumar's first venture in South cinema.
Catch up on all the latest entertainment news and gossip here.
Download the new mid-day Android and iOS apps to get updates on all the latest and trending stories on the go