Akshay Kumar on wife Twinkle Khanna's first outing as producer for 'Padman', based on India's Menstrual Man; says she takes most decisions on his behalf by 'bullying'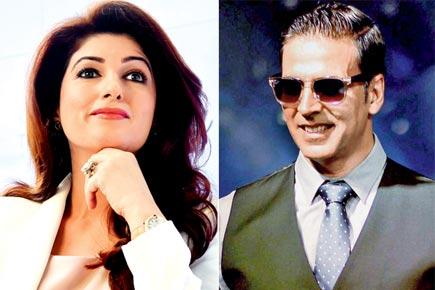 Twinkle Khanna and Akshay Kumar
Akshay Kumar may not exactly be a style icon for men, but by his own admission, he feels happy when people call him fashionable. "If they don't, I would like to believe so anyway," he jokes when we meet him backstage, minutes before he walks the ramp for a fashion week in Bangalore on Wednesday.
He credits his "beautiful wife", actress-turned-author and film producer Twinkle Khanna for his evolved sartorial sense. "My mother-in-law [veteran actress Dimple Kapadia] is a style icon and wouldn't have me any other way. I have no option but match up to the ladies in the family. When my house was being made, my only contribution was to say nothing. And it looks pretty damn good.
The same way, when she tells me what to wear, whether it's by bullying or not, I just follow her instructions," he says with a chuckle. Is he worried that Twinkle Khanna might call all the shots even for their upcoming film, 'Padman', which marks her debut as producer?
Shaking his head, Akshay Kumar says, "She hardly comes for the shoot. She is allowing the director [R Balki] to take charge of the material exactly they way he wants. Since she was a part of the industry and has seen her parents at work, a film set is the last place she wants to be. She hates it."
But that's not to say that Twinkle isn't a hands-on producer. "When the script was in the works, she was clued in to every step of research. But if my wife wasn't producing the film, I'd have still done the film." Great efforts are being put in, he says, to keep the story of 'Padman', based on India's Menstrual Man Arunachalam Murugunatham, as real as possible. "I am not here to make a documentary. Of course, we won't preach, but what we have to say has been done carefully, with slight humour, subtlety and maturity that the subject demands."
The star currently has eight films on hand. Ask him if it's true that he won't share screen space with Salman Khan for the latter's collaboration with Karan Johar and he says, "Yes, it's true that Salman is just producing the film and I am acting in it. It'd have been great to share screen space with him, but that's not what the script requires," he says as his long-time associate and fashion designer Ramesh Dembla tells him it's time to launch the second edition of the India Luxury Fashion Week.