The Ayushmann Khurrana starter is garnering rave reviews from audiences and has been trending in the Number one spot on Netflix ever since it was released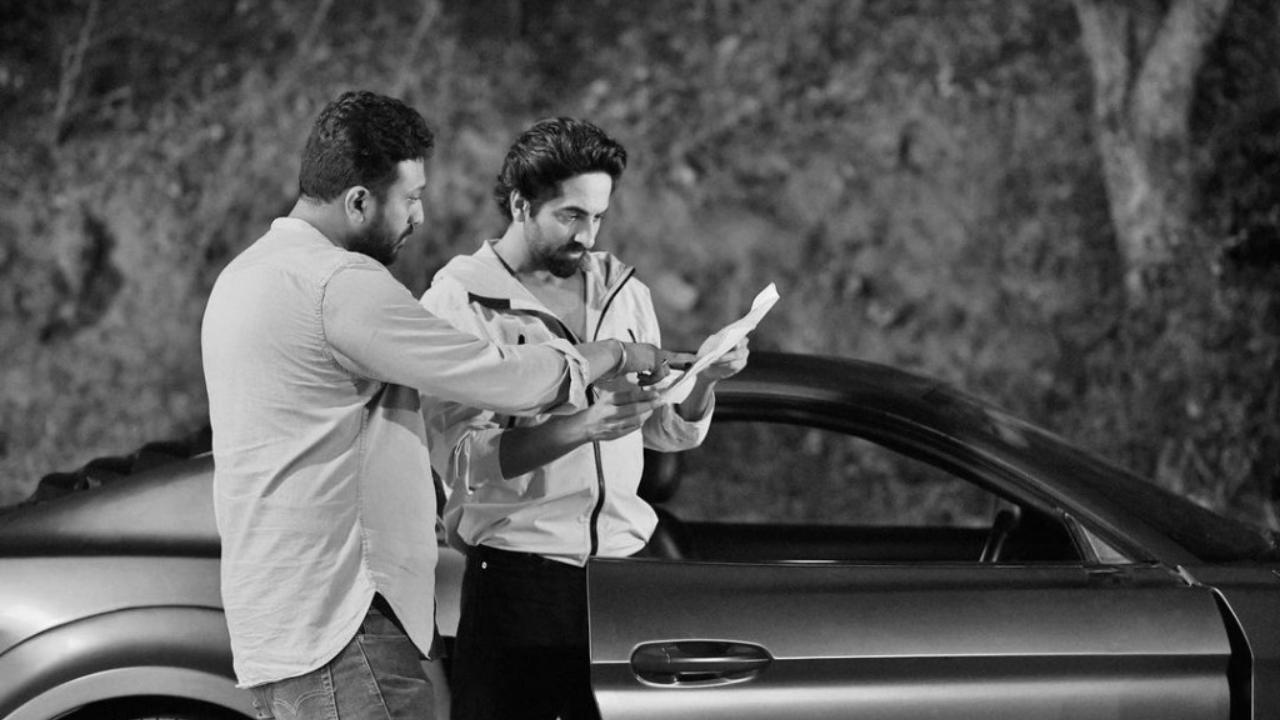 Anirudh Iyer with Ayushmann Khurrana . Pic/PR
Every debutant director dreams of garnering adulation for his films. Anirudh Iyer, whose directorial debut, 'An Action Hero' has recently been released on the global OTT giant Netflix is living every director's dream, quite literally! The Ayushmann Khurrana starter is garnering rave reviews from audiences and has been trending in the Number one spot on Netflix ever since it was released. Interestingly, Anirudh's refreshing direction is considered to be one of the most seminal content pieces of Bollywood in recent times.
Sharing his delight over this humongous milestone, Anirudh Iyer added, "It is an overwhelming feeling. I am grateful to the audiences for giving 'An action hero' their love and embracing my directorial debut with open arms. Audience love is the true artillery for every director. Ayushmann and Jaideep along with the entire cast has done a phenomenal job. No one could have played 'Maanav' better than Ayushmann. 'An action hero' shall always remain special for me."
ADVERTISEMENT
Ayushmann stated, "'An Action Hero' is not your typical Bollywood film. It's fun, fast-paced and full of well-timed thrills the audiences never saw coming! It breaks the most searing skepticism about Bollywood with Anirudh's incredible narration. I mean we glamorise film stars, we worship them in India, but in the movie we saw dollops of an actor's charisma going down the drain and his affirmation to get back, I guess that's what really worked! It really, was a delight to work  on this one."
The netizens applauded Ayushmann & Anirudh's crisp direction via tweets such as:
#AnActionHero कल रात दोबारा देखी #Netflix पर अभी भी यही कहना है कि ये एक मजेदार और स्टाइलिश फिल्म है. इस फिल्म को हिट होना चाहिए था. @ayushmannk और @JaideepAhlawat की जोड़ी ने कमाल कर दिया है. #AnirudhIyer का निर्देशन भी कमाल है. @netflix पर इसे लोग जरूर पसंद करेंगे. pic.twitter.com/1zsxhW1l6E

— Divyaman Yati (@YatiDivyaman) January 27, 2023
#AnActionHero is a brilliant film. A good script with fun , action and smart writing.Should've worked in theaters. One of the best from 2022. #AnirudhIyer gave a solid pacy entertainer in his debut .@ayushmannk is a charmer and @JaideepAhlawat deserves his own origin story. pic.twitter.com/35vZnV5mNC

— Pawan P Khade (@filmyjawan) January 29, 2023
@ayushmannk @JaideepAhlawat #AnActionHero #anirudhIyer #AyushmannKhurrana #JaideepAhlawat pic.twitter.com/nj1t1lWdB1

— Shahzad Siddiqui (@getbusylivin_ss) January 28, 2023