A slight slip of the needle here and Saif Ali Khan could seem like he is mocking his own Gujju character.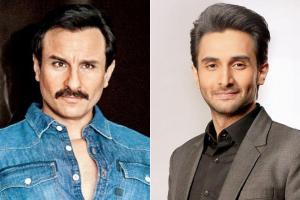 Saif Ali Khan
Baazaar
U/A: Crime thriller
Dir: Gauravv K Chawla
Cast: Saif Ali Khan, Rohan Mehra, Chitrangda Singh
Ratings: 

Since we inevitably walk into a theatre hoping to love a film, or at least for the film to be good enough to be liked (who wants to waste hours of their lives anyway), can tell you this: I thoroughly enjoyed the fact that this movie wholly mainstreams the Muslim lead character (Rohan Mehra), whose religion and its accoutrements has no bearing on his larger life, or in its character sketch, which is solely built around his unbridled, ruthless, youthful ambition to get rich, that's all.
How? He has no clue. Neither do you. Money is his only religion. He plays a boy from Allahabad, which as you know is now called Prayaagraj, the only movie association of which is the fact that Prayag Raj was also a Bollywood writer-actor-director-singer, who by the way sang the famous refrain, 'Yahoo,' from the Shammi Kapoor song.
But let me not digress, since this pic, delving in a crackling genre, absolutely never does - fixated as it is with surveying the desi world of Wall Street, or Wolf Of Wall Street, mainly through childish innuendoes, stunning skyline, some slick visuals (no doubt), stock tips running into hundreds of crores getting discussed in the loo, and basically a lot of faff that would be fun, if they weren't so facetious at times.
A bit too suave for a Surti (sadak chhap) who rose up the ranks parcelling cash and jewels in the infamous Angadia trade between Bombay and Gujarat as a little kid, Saif Ali Khan plays the king of Malabar Hill. Every stock-broker has mugged up his biography. I'm not sure who he's exactly modelled on. Harshad Mehta, India's most popular Gordon Gekko definitely deserves a film. Sameer Hanchate's Gafla (2006) on 1992 securities scam wasn't all that bad.
Either way, a slight slip of the needle here, and Saif could seem like he is mocking his own Gujju character. He takes under his wings the boy from Allahabad, who incidentally doesn't quite seem the post-it from Prayaagraj either. It's hard to tell what he seems to like, given that he walks into a plush office, goes through a phony interview, and is handed a phone, so he can cold-call frickin' CEOs of top companies on their cell, so they buy into random deals he intends to sell? Seriously. No amount of breaking the fourth wall, like Kevin Spacey from House Of Cards, is going to help you get inside his head.
What you simply learn about the Indian economy, between the boy and the bad baap is one, there is such a thing as 'insider trading'. Wow. And that through random transactions, there is much to be made, if a Dubeyji is a secretary, and his boss, the phrama minister (there's a pharma ministry?). With such shoddy understanding of the complex web of post-liberalisation Indian finance and day-trading that the film wishes to portray, you're meant to choose between mathematics (bad baap), and emotion (poor boy), with no sense of proportion, causing much commotion, in this loose motion (picture).
And I think most of this picture actually comes from an inherent perception of what a Hindi film should be - hero-villain, dialoguebaazi, twist - while that is continuously being challenged so often by audiences, it seems unlikely that one would go in for an approach so simplistic, on a subject so urban-multiplex, assuming that people won't get it otherwise? If you can get over the juvenilia, this jukebox will do you just fine.
Take a look at the trailer here:
Also Read: Halloween Movie Review: Green, Not Hallowed
Catch up on all the latest entertainment news and gossip here. Also download the new mid-day Android and iOS apps to get latest updates