What does a ship have to do with ghosts? If you consider a 2011 news-item, about a cargo ship that drifted and ran aground on Mumbai beach, you'll know exactly where the idea for this film came from.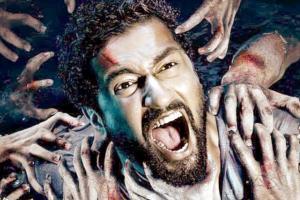 A still from Bhoot Part One: The Haunted Ship
Bhoot Part One: The Haunted Ship
A: Horror, thriller
Dir: Bhanu Pratap Singh
Cast: Vicky Kaushal, Ashutosh Rana
Rating:
The first frame/slate in this film thanks director Ram Gopal Varma. The reference I guess is obvious. It's do with Varma's 2003 Hindi horror film of the same name, that I suspect remains unsurpassed in Bollywood still for multiple reasons. For one, that it lifted the otherwise low-investment, high returns genre into a proper mainstream space, starring Ajay Devgn in the lead role. There were no songs in the film, of course.
ADVERTISEMENT
But beyond that it sent shivers down audiences' spines, chiefly for of its incredibly realistic setting — a regular apartment in Andheri's Versova/Lokhandwala/Oshiwara neighbourhood, hit by an otherworldly spirit, as the hero goes about his normal day, travelling up and down a typically rickety Mumbai elevator.
Watch Bhoot Part One: The Haunted Ship Trailer
Still distinctly remember going home alone from Bhoot's screening, hoping all remains well after all. Felt too close for comfort, like say, Roman Polanski's Rosemary's Baby must've seemed to a western audience in the late '60s. And that's saying a lot. Must tell you right away, as a movie-buff, horror is hardly my scene.
In the sense that it does nothing to me. Just so you're well within your right to treat this review with possibly as much indifference/disdain as I typically look at ghost stories in general. And then are crossover films that for the sheer quality of story-telling, effects, editing, characters, locations and performances, draw you in — whether or not you're into the genre in the first place.
Is this ambitiously titled Bhoot—Part One: The Haunted Ship one of them? I'm afraid not. Although it's got all the accoutrements that you ordinarily associate with horror, so all genre boxes checked alright — creaking door, eerie doll, sound going ballistic on occasion, besides a space that's horrendously haunted.
Of all the horror ingredients though, your heart inevitably goes out to the doubting character in the picture. This is that guy—whether in a Ramsay or RGV film — who continues to disbelieve all the stuff that the film is about. Even while evidences that he can even witness with his own eyes prove to the contrary. He carries on pretending everything's okay, and places himself in harm's way.
Vicky Kaushal plays that dare-devil. Actually he's not even the only doubter in this film. Even his best buddy is one of them. They work in the shipping industry. What does a ship have to do with ghosts? Well, if you consider a 2011 news-item, about a 9000-tonne cargo ship MV Wisdom, whose engine had failed, and then it drifted and ran aground on Mumbai's Juhu beach, you'll know exactly where the idea for this film came from.
What if that wrecked ship was haunted? This one is. The lead character is made in-charge of clearing this monstrosity off the beach. In the process, it appears he's encountering monsters of another kind. Frankly, this is the sort of subject that would work incredibly if there was both motion and seasickness involved, and the unceasing madness of it all, repeatedly throwing audiences off.
Basically I'm suggesting going the whole hog—or maybe full Korean gore, if that's what it takes. This film actually doesn't. It keeps slipping back to normal, after a few jolting sequences thrown in. There's much back-story — as if you're meant to care.
Eventually, everything boils down to two or three quick scenes — with top-notch sound and production design — where you can hear audiences laugh. And that's a great news. Those are nervous laughs. Nobody laughs at a horror film. Ever. The loudest ones are in fact the biggest believers.
Or even if intimate, you only wish this was a higher stakes' game, though. The wrecked ship is called Sea Bird. That's also the name of my building, where I'm going to be sleeping alone tonight. Am I feeling scared? Nope. Unless, of course, I speak too soon!
Catch up on all the latest entertainment news and gossip here. Also download the new mid-day Android and iOS apps to get latest updates
"Exciting news! Mid-day is now on WhatsApp Channels

Subscribe today by clicking the link and stay updated with the latest news!"
Click here!