Lightbox preview theatre in Santacruz was demolished on Thursday evening by Brihanmumbai Municipal Corporation (BMC)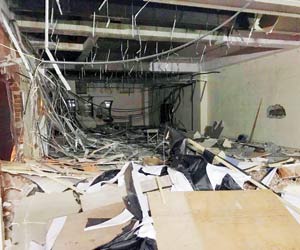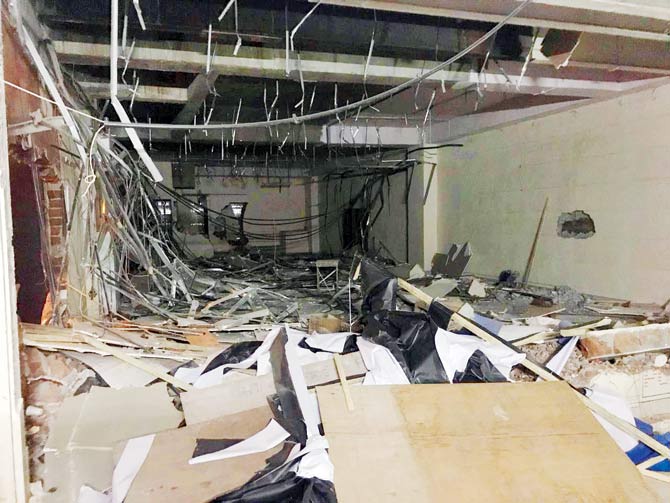 The Lightbox preview theatre after it was demolished by the BMC on Thursday
Preview theatre Lightbox in Santacruz, which had the distinction of being the preferred choice amongst celebrities to host special screenings of their films, was demolished on Thursday evening by Brihanmumbai Municipal Corporation (BMC). The BMC officials undertook the measure after sending repeated notices to the owners stating that the preview theatre, which has been built in the basement of a residential building in Hasmukh Nagar was an unauthorised construction.
A special screening of Pad Man was underway for a senior filmmaker and his family on Thursday when the BMC officials walked into the premises and began the demolition. An eye-witness told mid-day, "The filmmaker, though initially shocked at the sudden turn of events, did not intervene in the matter. The screening was stopped mid-way and the entire process took about an hour."
The preview theatre was originally owned by Excel production partners, Farhan Akhtar and Ritesh Sidhwani. However, it was shut down early last year when the producers realised that it was no longer monetarily feasible for them to maintain the property. After a temporary shutdown, the doors of the preview theatre were reopened in May as Salman Khan's business partner Prashant Gunjalkar took over from Excel. Despite several attempts to reach Sharad Ugade, assistant municipal commissioner of H West ward, he remained unavailable for comment.
Catch up on all the latest entertainment news and gossip here. Also download the new mid-day Android and iOS apps to get latest updates