Farhan Akhtar's upcoming film 'Toofaan' is yet another example that proves Farhan Akhtar's mettle as an actor.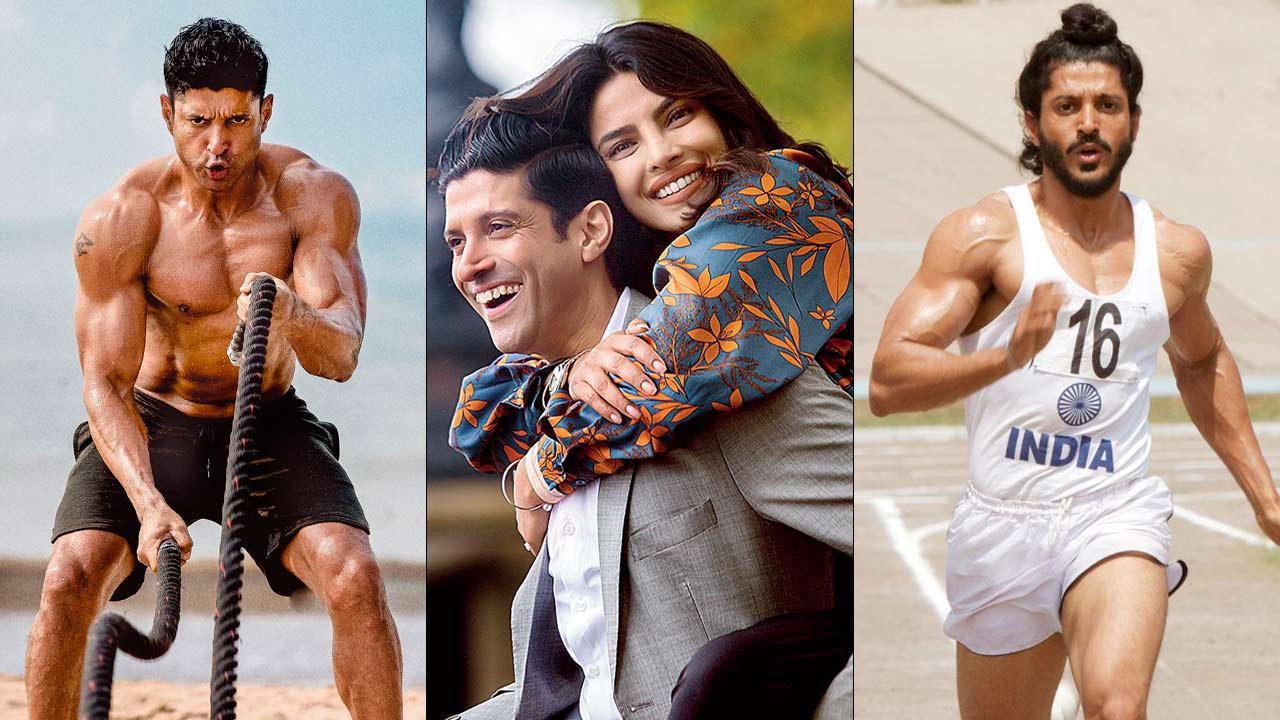 Farhan Akhtar's film stills. Picture courtesy/PR
Think of Farhan Akhtar and the one word that probably comes to our mind is – UNSTOPPABLE. An actor, a director, screenwriter, producer, host and a singer par excellence, Farhan wears many hats with élan. Is there anything this multi-talented artist can't do? Any mantle that he takes on, he serves the purpose right and makes it his own with utmost dedication. His upcoming film 'Toofaan' sees him transforming completely at varying tangents to justify the role of boxer Aziz Ali. While we eagerly wait out the calm ahead of the storm called 'Toofaan' releasing on Amazon Prime Video on July 16, here are five must-watch unique characters portrayed by Farhan Akhtar that speak volumes about his craft and choice of narratives:
Rock On
ADVERTISEMENT
After winning the audiences with his award-winning directorial like Dil Chahta Hai, Lakshya, among others, Farhan made his acting debut with this critically acclaimed film as a singer and musician that broke new ground. This unique coming of age film that released in 2008 ushered in newness of style, approach and storytelling in the Hindi film industry. His performance of Aditya, a rebel in more ways than one, received accolades.
Also Read: How Drew Neal got B-Town's stars to develop their boxing skills
Luck by Chance
A unique look into the workings of the film industry, Farhan portrayed Vikram, an aspiring actor who arrives in Mumbai to participate in the race to stardom. Vikram, a self-aware character, highlights how no one, in reality, is black or white, but we all are essentially grey. He, therefore, does what is best for him staying true to the survival of the fittest narrative. Farhan's understated performance holds the layered and wide-ranging 2009 film in place, making us feel the making of an actor in showbiz.
Zindagi Na Milegi Doobara
This 2011 perfect buddy road comedy-drama not only made every millennial aspire for their next dream destination but also soak in true fun flavours of friendship. The film is a story of three friends (played by Farhan Akhtar, Hrithik Roshan and Abhay Deol) who go on an adventurous road trip. Farhan's boyish charisma in the backdrop of a gut-wrenching back story, adding to that the entire complicated BFF drama, was easily our favourite in the trio. Imran (Farhan) made us believe that life is definitely what we make out of it.
Bhaag Milkha Bhaag
Who can forget Rakeysh Omprakash Mehra and Farhan's first outing, this impeccable biographical drama that released in 2013? Before Toofaan, their latest venture together, the director-actor duo delivered this ground-breaking masterpiece that was an embodiment of sportsman spirit and patriotism. Farhan truly surpassed all boundaries (no pun intended) and portrayed the inspirational life story of the legendary Milkha Singh. His brilliant performance truly infused life into the onscreen journey of the late track and field sprinter.
The Sky Is Pink
While there is no doubt that Farhan can pack a punch and transform into any character with utmost ease, in this beautiful and delicate journey of this film we see him as an unnervingly vulnerable father, Niren. This deeply moving story about the complications that a child's illness can have on their parents and caregivers is inspired by real life. Starring alongside Priyanka Chopra Jonas, this bitter-sweet film saw Farhan scale new heights as a performer. As Niren in this offbeat niche film, he made us both laugh and cry.
Over the years, Farhan Akhtar has been impressing the audience with his brand of cinema and by his portrayal of incredibly interesting characters. Now the stage is set for his next, the story of the ultimate fighter Aziz Ali in Toofaan that premieres in 240 countries and territories in Hindi and English on July 16, exclusively on Amazon Prime Video. Surely you don't want to miss this one!
Also Read: Farhan Akhtar: Ode to the boxers who fought against all odds