Thalaivi actor Kangana Ranaut discusses gaining weight to play Jayalalithaa, employing prosthetics for features that her transformation couldn't address.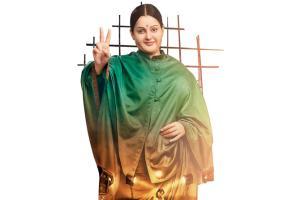 Kangana Ranaut's first look as Jayalalithaa
Kangana Ranaut addresses questions on her commendable avatar in AL Vijay's directorial venture. But Ranaut is a picture of calm as she addresses questions on her commendable transformation in AL Vijay's directorial venture.
"[When aping a person for cinema], actors usually get the apparel and appearances on point, but not the physical transformation. Vijay wanted me to resemble her as closely as possible. She [Jayalalithaa] endured a drastic physical transformation in her life. Having grown up as a Bharatanatyam dancer, she had an hour-glass figure. Then, when she joined politics, she had an accident which demanded that she be injected with huge doses of steroids. While we could not depict all of that, we did take measures [to resemble her during these phases]."
Having previously spoken about her struggle to gain weight, Ranaut says that for this film, she put on six kilos. "That was needed so as to look voluptuous, especially around the belly and thighs. Since I am tall and skinny, and my face is angular, not round, I had to take mild doses of hormone pills to look different. Of course, I also started eating foods that promote weight gain."