Always in the limelight for her frame, hot momma Kareena Kapoor Khan on how accepting different phases of life enables her to stay fit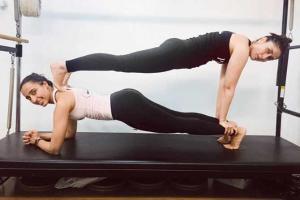 Kareena Kapoor with Namrata Purohit at the pilates studio
It's a bridge she crossed twice -- shedding 20 kilos the first time around; then again dropping 32 after giving birth to Taimur. But while a journey like hers can rattle even the most determined, Kareena Kapoor Khan doesn't mind doing it again, should her career as an actor demand for it. "I mean, if I was in a Bridget Jones Diary, I'd gain weight again for it, and then go back to losing it. The script has to be amazing," she says of roles that have demanded such transformations from male artistes before.
It's not cumbersome to decipher why Kapoor is uninhibited when braving the fluctuations of the weighing scale. She has been able to get a grip of an essential that most women constantly battling the kilos, struggle with – the ability to sit back, analyse and understand their body. Also, she willing to accept -- even celebrate -- the fact that life happens. Talking about turning up at Namrata Purohit's pilates studio post-pregnancy as a "90-kilo girl" years after being in the limelight for her 'size-zero' image, she says, "I was bearing a child. It was obvious that I would put on weight. But I wasn't [rattled]. I enjoyed my pregnancy. I absolutely loved it. Losing the weight after that was another journey. I remember, sometimes, I'd wear tight pants, and people would tell me, 'You've put on so much weight. You're thighs are so big.' And I was like, 'I don't care because I'm working on losing it'. Honestly, I'm comfortable in any shape and size."
ADVERTISEMENT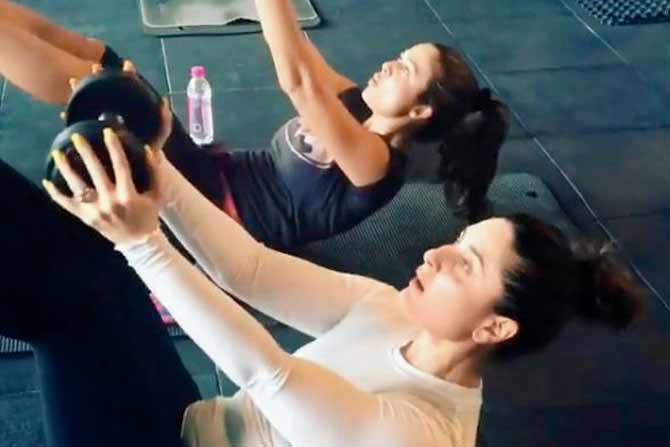 The toil was hers, but Kapoor is unrestricted when showering love on those who helped her reach here. It's hard to get past a few sentences without her crediting Purohit, or acknowledging the role that "food doctor" Rujuta Diwekar plays in her life. Her publicised weight-loss journey for Tashan (2008) had first brought attention to Kapoor's association with Diwekar. "The size zero phase was a result of a combination of yoga and Rujuta's meal plan. I was 68 kilos, and she brought me to down 48, which is when gave that bikini shot for Tashan. I took up that project as a challenge. Adi [producer Aditya Chopra] told me, 'You need to be super fit to be in this movie. Will you be able to do it?' And I said, 'Of course." To which he said, 'You're quite a heavy girl.' But I was determined. I was ready to challenge my genes, stand there in a bikini and show him that I can have amazing abs," she says, quick to add that the thought of delivering the "bikini shot", continued to be her motivation during the entire journey.
Convenient as it is to discredit toil, naysayers were quick to dismiss her effort, attributing her svelte frame to starvation instead. Kapoor too was rendered amused when news of her surviving on orange juice hit headlines soon after. "I'd love to make this fact clear that I lost weight the right way. I'm a Kapoor with a Punjabi built. I can't live without wholesome food and would not have been able to conceive, had I not eaten the way I did. Rujuta always had things sorted out for me, balancing the right amount of fat in my diet. I trusted her blindly, even when I was told to consume Parathas with ghee," says Kapoor, adding that even today, the nutritionist is only a call away to solve her woes. "Sometimes, I call her and tell her if I feel acidic after a string of late night commitments, or when travelling. Instead of prescribing medication, she'll recommend I have a glass of chilled milk with gulkand in it. On other occasions, she'll ask me to have water with kesar to flushes out toxins. Her methods work well for me."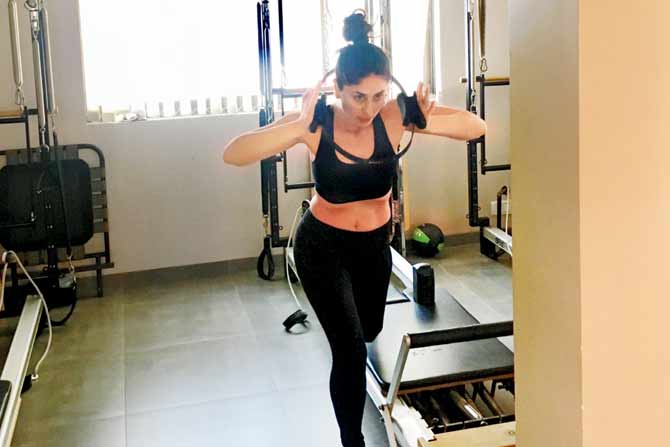 Kapoor had a lot working in her favour when she underwent the physical makeover for the film, which paired her with now-husband, Saif Ali Khan. However, replicating the feat again after giving birth was never going to be the same. "Not only had I had a child, it had also been 10 years since Tashan released. Namrata made me repeat that journey even though [I had aged]. I had child-bearing hips and gained a lot of weight. But, she merely asked me to believe in her. She was set to change my body."
When chronicling her love for pilates, Kapoor makes it evident that going from strength-to-strength is turning out to be a cherishable experience. "We started our journey with me executing a mere eight repetitions in each exercise, because I had a weak back post delivery. Today, Namrata and I trained together, and executed a high-intensity class that involved 20-30 reps, one after another."
Kapoor admires the fact that Purohit doesn't keep her in the studio for more than 55 minutes "on the clock". "She always tells me, three-hour workouts are not needed. Even on the days that I'm not up to exercising, she'll ask me take a two-day break. I'm not the kind who'll train at 10 pm after a shoot. I'd rather go home, eat, and sleep. When you're body is exhausted, it's also the sleep that will help you lose weight. Maybe I won't have six-pack abs, but as long as I have a smashing body, I don't need to be in the gym for three hours." Prod her on suggestions she's partaken in 10-hour exercise sessions in the past and she says, "Even a robot can't train for 10 hours. For the past 15 years, I've trained in the gym for no more than one hour. I have a life outside of it."
It's evident that she had a string of professional help to guide her in her fitness journey, yet, a bout of childlike enthusiasm envelopes her voice when she talks about her army of girls who are also responsible for her success. "Best friend" Amrita Arora Ladak is credit repeatedly for holding her hand throughout this journey. "A special chapter in a book [on my life would] need to be dedicated to her. Without her push, and her constant care, this would not have been possible. She'd remind me to eat healthy, urge me to train, and even offer to do so together. She was always there while I was putting on my sneakers and fitting into my tights, telling me, 'C'mon, we have to do this."
As for her other besties, sis Karisma and Malaika Arora, Kapoor has some part of the blame to take for their fitness journey going awry. "Through my pregnancy, we would go to restaurants to eat. I'd eat two entire pizzas, and then the desserts, and eventually they would be tempted. They started putting on weight because of me. Every morning, I'd wake up and say, 'I want to eat samosas with motichur laddo'. And they'd be like, 'Oh God, we can't do that.' I'd urge them to eat, and eventually, they'd relent. So they've done that with me, and even brought me back to shape. Having a good friend is so important in this journey."
Kapoor confesses that, unlike Karisma, she has a heavy Punjabi built and must work on her frame. From being the person who cared little for fitness, to now barely going a day without working out, it's been a journey she's enjoyed. But her Punjabi upbringing is reiterated before she says, "Food is my biggest love." It's tough competition, she says, to pick one between "Saif, Taimur and food". "I'm passionate about my meals. Even at home, although we have three different types of meals made – vegetarian for me, non-vegetarian for Saif, and baby food for Taimur – it's all healthy. My meals are as basic as doodhi sabzi, karela subzi, one roti and bowl of rice. Dinner can be different versions of soups. But that doesn't mean I will deprive myself of things I love."
Pizzas and pastas, it is evident, seamlessly melt her heart. "Because we work, we don't have dedicated weekends to cheat. But, if we have a few days off, we call friends over, boil spaghetti, throw in some tomato, crack a bottle of wine, and unwind." And unlike it does to many weight watchers, a cheat meal doesn't have her scrambling to schedule her next workout session. "I'm at peace after cheat meals. I'm the kind of girl who says that if you eat what you want, and you're happy about it, there's no guilt and no calories. You have to nurture your body, and have fun."
Also view: Oh-so-inspiring! Kareena Kapoor Khan's weight loss journey heading to size zero?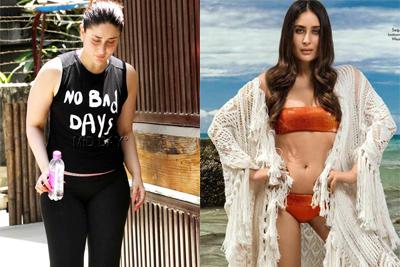 Catch up on all the latest entertainment news and gossip here. Also download the new mid-day Android and iOS apps to get latest updates
"Exciting news! Mid-day is now on WhatsApp Channels

Subscribe today by clicking the link and stay updated with the latest news!"
Click here!