Laxmii is a remake of a Tamil film (presuming a hit) called Kanchana (2011), that was a sequel by the same director (Raghava Lawrence) of a film called Muni.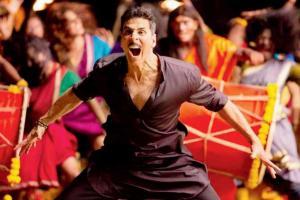 A still from Laxmmi
Laxmii
On: Disney+Hotstar
Director: Raghava Lawrence
Cast: Akshay Kumar, Kiara Advani
Rating:

This film pretty much starts with the scene of a witch-hunt in Haryana. By which I don't mean the sort of witch-hunt that plays on national news on Indian TV. But an actual witch-hunt, where the proverb comes from. Which I guess is the ancient act of banishing women, by ascribing them characteristics of a witch — with supernatural powers that could hurt society. Call them chudail, if you will.
God knows if this practice is still prevalent. Its metaphorical equivalent certainly is. Akshay Kumar walks into the real witch-hunt scene, to save a girl from the clutches of a fake tantric. Here's the thing though.