Despite having Gulzar as scriptwriter, Shankar–Ehsaan–Loy as music director and Rakeysh Omprakash Mehra helming the project, 'Mirzya' doesn't connect with Mayank Shekhar. This film, like all earlier versions of the Mirza-Sahiban legend, lets the audience down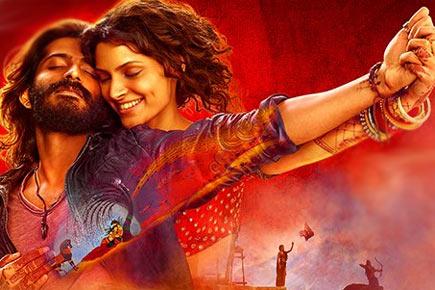 'Mirzya' - Movie Review

Harshvardhan Kapoor and Saiyami Kher in 'Mirzya' poster. Pic/Mirzya's Twitter account @MirzyaTheFilm
'Mirzya'
U/A; Romance-Drama
Director: Rakeysh Omprakash Mehra
Casting: Harshvardhan Kapoor, Saiyami Kher, Anuj Choudhry
Rating: 

This film is an edge-of-the-seat entertainment of another kind. Or at least that's what I felt towards the latter half of this loosely structured pic: shifting gradually towards the front end of my the seat, getting edgy, gently biting my nail, fiddling with the cellphone, hoping the travels and travails will end soon, and I'll just go back home, and take a nap instead. How did things come to such a pass?
On paper, there is nothing about this movie that shouldn't work. The lead actor, debutant Harshvardhan (promising son of the son-of-soil hero Anil Kapoor), had worked for a year and half, learning archery and horse-riding for this role. The female lead (Saiyami Kher) is just as stunning as the vistas before us — the lakes, and the mountains, and the desert, and the sand dunes, and the galloping horses, and the high-life of Rajasthani palaces, and polo, and pretty belles and boys moving to Shankar–Ehsaan–Loy's score. The director (Rakeysh Omprakash Mehra), himself a fine scenarist, does well to keep the film's duration at 2 hours 9 minutes, as against his last, 'Bhaag Milkha Bhaag', which was over three hours long.
To top that, this movie marks the return of the great Gulzar, who hasn't written a script in 16 years. My faint suspicion is that his 'vanvaas' from screenwriting continues, unfortunately. Beneath all the brooding intensity, contrived conversations in hushed tones, and giant splendour of this picture, there lurks such strange hollowness in this movie that you are unsure whether there was ever a script at all to be executed in the first place.
The original Romeo and Juliet sort of Punjabi legend Mirza Sahiban, on which this film is based, I'm told, has been made thrice as a Hindi film — none of which, it turns out, did much for its audience. A key glitch with the story, gyanis opine, is that even as Mirza Sahiban is a tragic-romance about undying love, the climax concerns betrayal, wherein the heroine breaks her hero's arrow — leaving him completely exposed and helpless before her father's armed men, who come to finally get him in the end.
Why did she break the arrow? That, I guess, was the starting point of this picture. It's not even an afterthought in your head, while you genuinely wonder why and how did these two — poor boy, rich girl — even fall in love? They were childhood sweethearts, yes, and he meets her having grown up, and she's in his arms right away, even while engaged, and ostensibly in love with a fine, young prince.
The film juxtaposes this oddly contemporary setting in Rajasthan with faux ancient images of Mirza and Sahiban, sitting around in a surreal, picturesque locale, with a bunch of extras borrowed from 'Mad Max: The Fury Road', aiming arrows at poor Mirza. Flitting between these two sets of self-aware, self-indulgent sequences, and with little to empathise or care about, frankly, my head hurts from all the fakery. But then again, art or fart, is, of course, a very subjective call. Well, you know what I thought.