It is sure disappointing that 'Happy Ending', a film which gives you hopes of being an intelligent, witty satire, ends up being as predictable and soppy as the film it intended to make fun of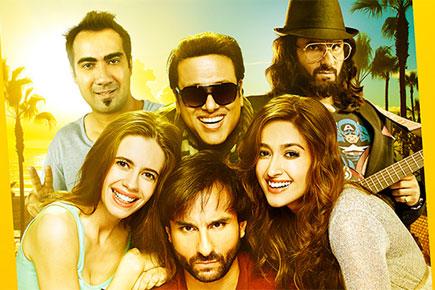 'Happy Ending' movie review
'Happy Ending'
U/A; Comedy
Directors: Raj Nidimoru and Krishna DK.
Cast: Saif Ali Khan, Govinda, Ileana D'Cruz, Kalki Koechlin and Ranvir Shorey
Rating: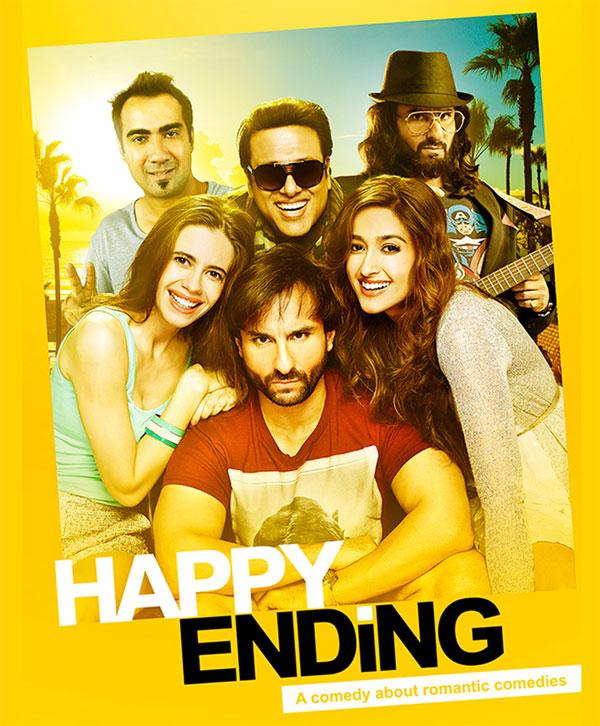 'Happy Ending' poster. Pic/Santa Banta
Imagine this scene. Someone's steps on a banana peel and slips and falls. His friend is laughing so hard at this mishap that he slips and falls too. Funny? Not really. 'Happy Ending' ends up in a situation somewhat like that.
It is sure disappointing that a film which gives you hopes of being an intelligent, witty satire, ends up being as predictable and soppy as the film it intended to make fun of. Directors Raj Nidimoru and Krishna DK, who gave us a laugh riot 'Go, Goa Gone' and also gems like '99', and 'Shor in the city', surprisingly come across as confused and less sure footed this time.
Saif Ali Khan plays Yudi, a Los Angeles based lazy author, and his twin, Yogi. Yudi is just another typical man, who likes the trappings of romance but wants to run away from the responsibilities of commitment. Yogi chases women and romances them and then promptly vamooses when they utter the dreaded three words, 'I Love You'. Yudi finally meets a girl Aanchal Reddy (Ileana D'Cruz) he genuinely falls for, even when he is trying to get out of a relationship with his bat crazy girlfriend (Kalki). This is also when he lands up an assignment to write script for the Bollywood star Armaan's (Govinda) film.
Saif, who undoubtedly has excellent comic timing, however seems largely handicapped because of lack of a plausible script. Yet, he makes the most of it as he plays the cool dude and his much wiser twin rather effortlessly. Kalki and Ileana are pretty good as well. But it's obviously Govinda who overshadows everything and everyone whenever he appears on the scene (sadly not as many times as one wished he did). Govinda doubles you up with laughter as he shows us the shallow and self obsessed world of a megalomaniac Bollywood star. One scene where he is in the process of trying to get a six pack is laugh-till-you-fall-off-your-seat funny and shows us a glimpse of what the otherwise capable writers (Raj and DK) and the genius actor could have done together.
So, not so happy ending for a film that must have looked great on paper.