We have no idea where the fiery chemistry that Arjun Kapoor and Parineeti Chopra had in Ishaqzaade fizzled out.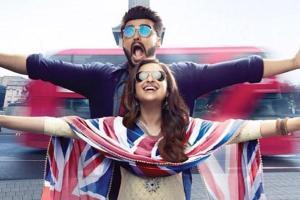 Arjun Kapoor and Parineeti Chopra
Namaste England
U/A: Comedy, Romance
Director: Vipul Amrutlal Shah
Cast: Arjun Kapoor, Parineeti Chopra
Rating:

Sitting through Namaste England was a disturbing experience for several reasons. To begin with, it made me wonder how a promising actor like Parineeti Chopra could be reduced to such a forgettable role. Secondly, while the trailer didn't promise that this venture would be a masterpiece, one would assume that the Ishaqzaade (2012)duo — Chopra and Arjun Kapoor — would have reunited for a film that could, at the very least, do justice to the chemistry that they had in the film. That, however, is not the case here.
Namaste England revolves around Jasmeet [Chopra], an aspiring jewellery designer who can't pursue her dreams because 'ladkiyon ko azadi kahan hai kuch karne ki?' Thankfully, she has enough 'azadi' to marry the man of her choice — Param [Kapoor]. In what may be seen as the most unreasonable development in the film, Jasmeet is suddenly obsessed with the notion of moving to London. What follows is a ridiculous chain of events, which includes plot twists that are utterly devoid of logic.
Jasmeet's fervent desire to move to London seems as absurd to Param as it does to us. He assures viewers that the move to the Queen's city will be a promising phase in their career. Without getting into the details of Param's overtly regressive behaviour, let us highlight that at this point, we are introduced to Sam [Aditya Seal]. The wealthy London resident attempts to woo Jasmeet, because he hopes to find a Punjabi biwi to please his dadaji. From this point onwards, the film becomes a gooey mishmash of love and patriotism, neither of which has been ably balanced in the writing.
Watch the trailer here:
Namaste England would have still made the cut, had the actors been able enough to shoulder the film. We have no idea where the fiery chemistry that Kapoor and Chopra had in Ishaqzaade fizzled out. In this film, Chopra is clearly lacking her usual spunk, while Kapoor seems to have been sleep-walking throughout the project.
At a time when women's roles are being carefully etched out in Indian cinema, Chopra is left with a character who doesn't have a spine. This role is in stark contrast to the person she showcases herself to be in public.
Namaste England is a shabbier version of Namaste London. In what may be seen as his attempt at inspiring laughs, Kapoor's deshbhakti speech is peppered with tiresome comical claims, like these: India has sent a spacecraft to Mars for "the cost of a rickshaw ride". Also, India will be a safe haven for Americans and Britishers to migrate to, in the next 50 years. While Namaste London wasn't particularly a gem, it at least had the brilliant
Rishi Kapoor to look forward to. Also, Akshay Kumar was sorely missed here.
Also Read: Arjun Kapoor Says Tough To To Call Sequels A Safe Bet
Catch up on all the latest entertainment news and gossip here. Also download the new mid-day Android and iOS apps to get latest updates