Preity Zinta's song in Bhaiaji Superhit to be along the lines of Mumtaz-starrer Jai Jai Shiv Shankar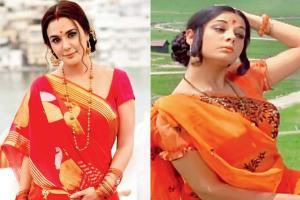 Preity Zinta and Mumtaz in Jai Jai Shiv Shankar
Set to return to the big screen with Sunny Deol-starrer Bhaiaji Superhit, Preity Zinta will pay tribute to an actor she was often told she resembled. Putting her dancing shoes on for the song called Shiva, Zinta will turn to Mumtaz for inspiration, in what may best be termed as a tribute to the veteran actor.
Mumtaz-starrer celebrated track, Jai Jai Shiv Shankar is being used as the source material to create this song, which is also a tribute to the deity. "Filmmakers often told me that I resemble Mumtazji, and there couldn't be a better tribute to her [than this song]. The track is dedicated to Shivji, and also involves bhaang [like the original]."
Promising that the number has spunk, Zinta says it will further establish the characteristics of the person she plays in the film. "My character, Sapna Dubey, is fun. After careful discussion with [choreographer] Ahmed Khan, we arrived at the steps for this song. Ahmed had to demonstrate each step, like Sarojji [Khan] would. He is cute and talented, and showcased every expression [demanded of me]. I replicated it to the tee, while adding my own characteristic to the part."
The actor says filming was wrapped up in a day-long schedule.
Also Read: When Preity Zinta fought with Saif Ali Khan
Catch up on all the latest entertainment news and gossip here. Also download the new mid-day Android and iOS apps to get latest updates