Saheb Biwi Aur Gangster script crawls at a sluggish pace, which particularly doesn't fit an action thriller, like this film.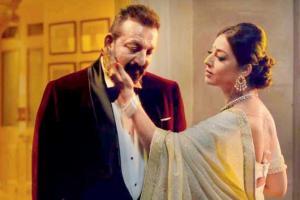 Saheb Biwi Aur Gangster 3
Saheb Biwi Aur Gangster 3
A: Drama, thriller
Director: Tigmanshu Dhulia
Cast: Sanjay Dutt, Mahie Gill, Jimmy Sheirgill, Chitrangda Singh
Rating: 

Third time is a charm, they say, but Saheb Biwi Aur Gangster 3 fails to create the magic that its previous editions did. The story gets stuck in a time warp, much like the inhabitants of the decadent haveli that occupies centre-stage in this drama. Tigmanshu Dhulia's franchise continues with tales about rajas and maharajas, kunwar saabs and malkins, who either play power games or bump off each other. That is when they are not playing the game of seduction.
Saheb Biwi Aur Gangster follow a template. The films are based in the hinterlands and infused with local flavours and nuances. As director and writer (along with Sanjay Chouhan), Dhulia showcases his grasp on dialogues, but what lets him down is the script. It crawls at a sluggish pace, which particularly doesn't fit an action thriller, like this film. The overzealousness in introducing a 'star value' with Sanjay Dutt steals from the final product.
A London-based track that unfolds in a night club, complete with pole dancers, costume changes and a mandatory love track amidst sand dunes, simply break the continuity. These deviations from the goings-on in the haveli turn out to be wrong bets. In fact, even the thrill in the mind-games that the characters play loses its charm in the face of an underlying desire to be overtly good.
Watch the trailer of Saheb Biwi Aur Gangster 3:
SBG was all about how being bad is good, sometimes. Yes, sometimes, but not this time. Neither the film, nor its music delivers. Jimmy Sheirgill has been a permanent fixture in Dhulia's films since his directorial debut, Haasil (2003). That he gets to play the leading role in this franchise gives him the opportunity to showcase his acting chops.
Mahie Gill ­— another name synonymous with the thriller — returns to play the scheming malkin, and does a fine job at it. Considering that the film sees Chitrangada Singh and Soha Ali Khan return to the big screen after a hiatus, one would assume the film would give them scope to deliver. However, there's little for them to do here.

The first instalment in 2011 saw Randeep Hooda slip into the role of a gangster to play the family's driver with aplomb; he proved to be quite a revelation. The second outing followed in 2013, with Irrfan Khan, who also — unsurprisingly — delivered. With Dutt taking over the baton this time, both makers and cinephiles were excited. In fact, Dutt's entry is even marked by a quirky 'The Baba is back' score. But, is he, really? Despite his towering presence, we'd say, he isn't. After Bhoomi (2017), Dutt's waiting game to make an impact in Bollywood again, continues.
Catch up on all the latest entertainment news and gossip here. Also download the new mid-day Android and iOS apps to get latest updates