Sanju Movie Review: Few glaring hiccups in an otherwise watchable and frankly, very enjoyable film. Just don't hope for a warts-and-all biopic.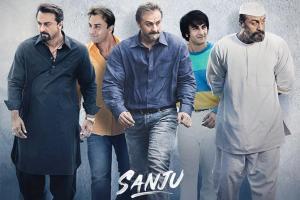 Ranbir Kapoor in Sanju poster
Sanju
U/A; Drama
Director: Rajkumar Hirani
Cast: Ranbir Kapoor, Sonam Kapoor, Anushka Sharma, Dia Mirza, Paresh Rawal, Manisha Koirala
Rating: 

A regular desi movie buff's romance with Raju Hirani started with the incredibly enjoyable Munnabhai MBBS which famously resurrected the nearly dwindling career of its leading man - Sanjay Dutt. Sleepwalking through most of 90s' passable films, Dutt's affable bad-boy act resonated with his teeming millions of fans, who loved him for those exact reasons - a movie star version of Robinhood. To abridge a rockstar life of that magnanimity must have been the most challenging part for filmmaker Hirani and his writer Abhijat Joshi. And their script is a true-blue Hirani product - a fable out of our textbooks with moral lessons at the end of each chapter. The millennial Hrishikesh Mukherjee-esque duo whip up a plot that resembles their designs the best - laughter, cheer, tears, rooted in heartfelt emotions, sucking out most of the controversies that would've accompanied Dutt's biopic, if the film were made by anyone else. Hirani and Joshi establish it as a survivor story, of father-son love and of undying friendships. 
So yeh aadmi, bewra hai, juari hai, tharkee hai par terrorist nahi hai... Yet, there is a handy justification for every problem of his. He is a drug addict because he was buried under the overwhelming legacy of his picture-perfect father. He recovers because of his mom's tape that inspires him to kick the bad habit. He kept AK-56 at home because there were rape threats for his sisters and his father was attacked by those who didn't approve of relief work for riot victims. 
The film lacks the risqué in its telling. It's too safe and apologetic in its tone. Dutt was wrong; sure; but most of it is a figment of imagination concocted largely by the media, harps the movie time and again. Unsubstantiated newspaper reports claimed he had RDX at his house, which resulted in him being branded as a terrorist. So in Dutt's life, the villain is Media according to a biopic endorsed by him. 
It would be easy to rubbish the film as a spoilt brat bickering about life handing him a raw deal but the cinephile inside me found it impossible to do so. One name: Ranbir Kapoor. He is absolutely sensational, more intense than Sanjay might've ever been. His eyes speak his pain, as life takes him through an unimaginable rollercoaster graph. Ranbir infuses his portrayal with pathos, colour, humour and soul. Physically, he gets the walk right, the talk perfect and even the beefed up body. There is a glimpse of a Dutt we never knew about - the one who probably hallucinated his mom's last hug because he was under substance influence, the one who sold off his girlfriend's mangalsutra to buy drugs (Sonam Kapoor will make you cry in this one, kudos!), the one who has confidence issues, who is broken, beaten down and yet can't give up. Ranbir nails the act. Paresh Rawal as Sunil Dutt is the film's anchor. You empathise with the really generous man who tries hard not to wish that he had a better son. Together, the duo is flawless, which ticks check the first triumph for Hirani in this tale. The other victory card is Vicky Kaushal, who is standout in every scene. The women, Anushka Sharma and Dia Mirza, have lamentably nothing to do.
There's so much that is missing here - which could have imbued flavour into this flat "I am not a terrorist" story. His estranged wife Richa Sharma or even daughter Trishala never make a show, neither do his 350 approx affairs. His contact with the underworld has been adequately underplayed and wrapped up in a funny scene. These are glaring hiccups in an otherwise watchable and frankly, very enjoyable film. Just don't hope for a warts-and-all biopic. I guess that one Dutt is taking to his grave because this easy-to-offend world we live in doesn't have the objectivity to stomach that tale.
Also View Photo Gallery: Sanjay Dutt's best friend, love interest and family: Know these Sanju characters
Catch up on all the latest entertainment news and gossip here. Also download the new mid-day Android and iOS apps to get latest updates