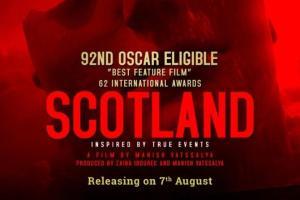 On: ShemarooMe Box Office
Director: Manish Vatssalya
Cast: Chetan pandit,Adam Saini,Kushboo purohit,Dayashankar pandey
Genre: Crime Thriller
Rating: 4/5
Sometimes one gets pleasantly surprised and amazingly delighted by the efforts put in by small production houses. Scotland is one such emotional roller coaster ride not to be missed. No wonder Manish Vatssalya is in the director's seat for this one. He has time and again proved his mastery over the crime thriller genre. He has beautifully utilized the somewhat limited resources available to him and come up on the top. It is high time the industry gives him his long overdue recognition.
It therefore comes as no surprise that the movie has won 62 international awards and was shortlisted for OSCARS 2020 as well. Coming to the story, the subject is not something new but its treatment is very good. The unfortunate rape crimes and the victim standing up against the perpetrators is not a genre which is unexplored in the cinema but the subject does connect to one's heart. The story revolves around a doctor from Scotland (Adam Saini) and his daughter (Khushboo purohit).