'Shubh Mangal Saavdhan' starring Ayushmann Khurrana and Bhumi Pednekar subtly, beautifully delves on the idea of machismo, employing first-rate humour to discuss male sexual issues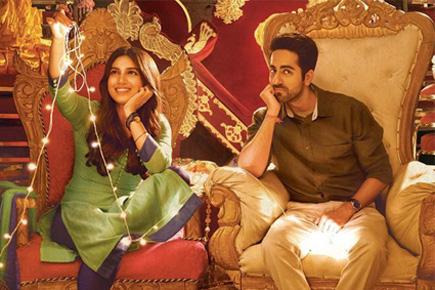 Shubh Mangal Saavdhan Movie Review: Keep it up!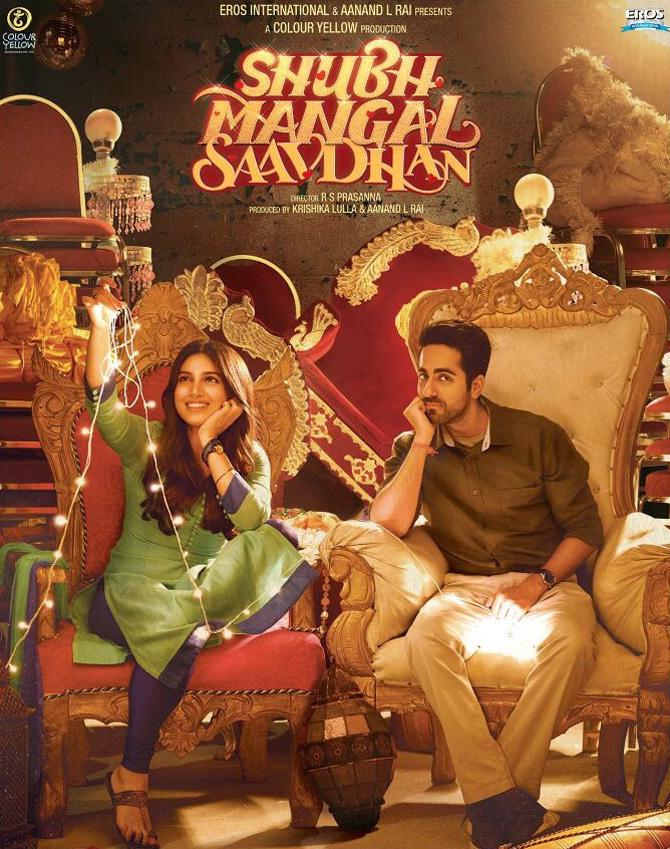 Bhumi Pednekar and Ayushmann Khurrana in 'Shubh Mangal Saavdhan' poster
'Shubh Mangal Saavdhan'
U/A; Romance/Comedy
Director: RS Prasanna
Cast: Ayushmann Khurrana, Bhumi Pednekar
Rating: 

Well, I haven't seen Kalyana Samayal Saadham (Wedding Feast), the Tamil film, written and directed by the same, super-fine filmmaker (RS Prasanna), that this is a Hindi remake of. The omission's obviously deliberate. I didn't want that movie to screw up this experience.
Maybe should've checked that one out first still. Because this one is so much a comedy of North Indian manners, or as Akshay Kumar would call it, a "a mitti ki khushbu wali film" — seeped in the local patois, packed with a supremely earthy, stunning ensemble cast—that I'm certain the Tamil version would be poles apart. Except for the basic premise, of course.
The repartee or dialogues here (Hitesh Kewalya), loaded with pop-culture references, bordering on fine Hindi literature, are absolutely spot-on. So is the production design. Delhi as the city with its own quirks is the sub-genre where this rom-com belongs more. Much along the lines of Dibakar Bannerjee's Khosla Ka Ghosla, Oye Lucky Lucky Oye, Habib Faizal's Do Dooni Char, Shoojit Sircar's Vicky Donor... Honestly, these are the realistic, funny, updated equivalents of Hrishikesh Mukherjee's middle-class movies from the '70s.
Vicky Donor incidentally marked actor Ayushmann Khurrana's impressive debut. The reason he's paired opposite the lovely Bhumi Pednekar in this film though is quite simply the recall value of the couple from the sleeper hit Dum Laga Ke Haisha (2015)—a slightly similar milieu, where the boy marries a fat girl, which leaves him wholly disappointed. Pednekar is, of course, sprightly, petite now. The same boy follows her around like a puppy. As men, according to this film, do—like dogs, they chase, but gradually disappear, losing interest, once the territory's marked.
But that's probably not the issue with the leading man here, who can't get it up in bed, with the very woman he evidently wants to bed, marry, and make children with. Ayushmann's character suffers from erectile dysfunction. This is undoubtedly a very gutsy role to pick for any performer (pun unintended), especially in mainstream films, where audiences often confuse the actor with the character itself— and an image is built around it. Which is how Shah Rukh Khan fans are convinced he's an eternal romantic, or Salman's bhakts genuinely believe he's the macho man in real life.
This film subtly, beautifully delves on this very idea of machismo, employing first-rate humour to discuss male sexual issues that otherwise remain so hidden under the carpet that the only way to address them is through babas and quacks, who put up secret bills and graffiti with their phone numbers across every Indian town.
What's the filmmakers' single biggest achievement then? That they get away with a film full of double meanings, without ever seeming crass or cheap at any point. This is a miracle, only undone by quite a few moments where they stretch the limits of imagination a bit too far for comfort. Does the movie find solutions, or urge you to dig deeper on the issue? Not really, only great movies tend to do that—this one comes quite close to being that by the way.
Watch 'Shubh Mangal Saavdhan' trailer:
Also see: Ganesh Chaturthi: These celebs got 'Ganpati Bappa' home