Ayushmann Khurrana continues to opt for subjects usually regarded taboos in mainstream Hindi Cinema with Shubh Mangal Zyada Saavdhan, and the result is both predictable and amusing.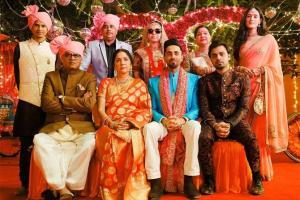 Shubh Mangal Zyada Saavdhan cast/picture courtesy: Ayushmann Khurrana's Instagram account
Shubh Mangal Zyada Saavdhan
U/A; Comedy, Romance
Director: Hitesh Kewalya
Cast: Ayushmann Khurrana, Jitendra Kumar, Neena Gupta, Gajraj Rao
Rating: 

Barring a few exceptions like Qayamat Se Qayamat Tak, Dil Se, and more recently Sairat, love stories in India end exactly the way the audiences want them to, or the way they predict, which can be both a boon and a curse. The other love stories hinge their narratives on nostalgia, reuniting iconic couples on the celluloid to elicit intrigue and interest in the viewers, for instance, Rohit Shetty's Dilwale.
Both these emotions find their ways into Ayushmann Khurrana and Jitendra Kumar's Shubh Mangal Zyada Saavdhan, and the addition of the word Zyada not only suggests more boisterousness, but also the fact that this time the conflict in the love story is twice the size of the last film. If the 2017 comedy was about a man struggling with the embarrassment of suffering from erectile dysfunction, this time, he's a homosexual character, but certainly not ashamed or afraid.
And who else but Khurrana to play the part, the champion of picking up taboo subjects? Khurrana's Kartik is in love with Aman Tripathi, played with effortless ease by the superb Jitendra Kumar, and their romance is threatened by parental conflict - the most predictable thread of any romance in Bollywood.
But writer-director Hitesh Kewalya infuses humour into a subject that could have turned too melodramatic, as it did in Ek Ladki Ko Dekha Toh Aisa Laga, another story dealing with the same subject. And because your leading man is Khurrana, the tale of his (mis)adventures have to be set in a small town. There's hardly any actor who can slip into this milieu as seamlessly as him.
Watch the trailer of Shubh Mangal Zyada Saavdhan below:
However, as stated above, there are a lot of predictable notes the film strikes. You know the society and the parents will look at the couple with shame and shock, and they will be adamant on their unhinged passion. You know there will be jokes on their love story and some of them may even fail to land or make you laugh. And you also know there will be a change of heart in the end and they all will live and love happily ever after. Despite some inspired moments of laughter and lunacy, Shubh Mangal Zyada Saavdhan suffers from this minor problem.
Coming to the other emotion - nostalgia. Gajraj Rao and Neena Gupta reunite after the blockbuster Badhaai Ho, playing a couple yet again, but this time struggling with their son's feelings for a man. They both are a hoot this time around as well, but the chemistry that charmed us in that Amit Sharma romance is reduced to their confrontations and arguments with Aman about his reality.
Beneath the humour, Shubh Mangal Zyada Saavdhan questions the redundant and stale mindset of the society. It's 2020, and we still continue to critique a man or a woman for the choices they make, be it in love or life. Thanks to the sharp one-liners and the lead pair's solid chemistry, the comedy turns out to be much better than what it could have been at the hands of someone else. But now the question is, what else is left for Khurrana to explore or exploit? Sperm donation, premature balding, caste system, erectile problems, parents' pregnancy, and even a murder mystery, all have been taken care of.
In a superb scene, he recreates the iconic DDLJ train sequence, asking Jitendra to hold his hand so they can elope. How about giving him a no-holds-barred and larger-than-life love story where he plays a charming hero, paying tribute to the very actor he just emulated in this film? What could be better than to see a man with imperfect celluloid characters playing the perfect hero?
Catch up on all the latest entertainment news and gossip here. Also download the new mid-day Android and iOS apps to get latest updates