Ranbir Kapoor in an exclusive chat with mid-day talks about 'marrying' the director's mind; sending harsh messages to his dad Rishi via his mom, why there will never be a Raj Kapoor biopic, and more...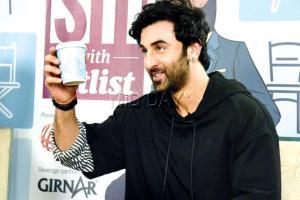 Ranbir Kapoor regales the audience at the latest edition of Sit with Hitlist. Pics/Rane Ashish, Nimesh Dave
Actor Ranbir Kapoor visited the mid-day office to 'Sit with Hitlist', as it were, right before the release of Sanju. Which is just as well, since he usually meets the press only to promote his films, a rule of sorts, we hope, he would make exceptions to, once in a while. For, the last time mid-day was trying to get in touch with him was in late 2016, when we wanted to put him on the cover of a new product we were launching. We asked his best-friend, filmmaker Ayan Mukerji, to put in a word, we exchanged text messages with Kapoor for a couple of days; until, he totally disappeared! Only fair then that we start this conversation with:
You obviously don't like being interviewed, now, do you?
No, I don't. Maybe it is because I am an introvert. And when I don't have a movie to talk about, I really feel naked to be asked [questions about myself], because I find it hard to lie about certain things.