Sonali Bendre, who is undergoing treatment for cancer in New York, now sports a short bob cut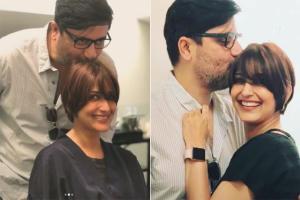 Sonali Bendre
Sonali Bendre Behl has chopped her long hair, possibly in anticipation of the effect chemotherapy can have. She now sports a short bob cut. Bendre took to Instagram to express gratitude to fans, followers and members of the film fraternity for the constant "outpouring of love". But the one who is being her biggest support system right now is her husband. Goldie Behl is always seen by her side.
Even in the video shared by Sonali, on Tuesday, had cutest moments captured with Behl. The visuals are nothing but adorable.
The actor, who is undergoing treatment for cancer in New York, posted a picture on Instagram and wrote, "Each day comes with its own challenges... I'm taking this one day at a time... I can only hope it reminds you that all is not lost and that someone understands what you're going through (sic)."
On July 4, the 43-year-old actor divulged she has "high grade cancer" and is currently undergoing treatment in New York. She opened up about the same on social media with long note that read: Sometimes, when you least expect it, life throws you a curveball. I have recently been diagnosed with high-grade cancer that has metastised, which we frankly did not see coming. A niggling pain led to some tests, which led to this unexpected diagnosis. My family and close friends have rallied around me, providing the best support system that anyone can ask for. I am very blessed and thankful for each of them. There is no better way to tackle this than to take swift and immediate action. And so, as advised by my doctors, I am currently undergoing a course of treatment in New York. We remain optimistic and I am determined to fight every step of the way. What has helped has been the immense outpouring of love and support I've received over the past few days, for which I am very grateful. I'm taking this battle head-on, knowing I have the strength of my family and friends behind me.
Stay positive, Sonali.
Also Read: German getaway for Shraddha Kapoor and family
Catch up on all the latest entertainment news and gossip here. Also download the new mid-day Android and iOS apps to get latest updates