Soorma Movie Review: With Soorma, Shaad Ali confidently gets to the centre, keeps his impulses under check, and plays it totally narrow, and fully straight. And, yes, he hits home, alright. This is possibly his best work yet.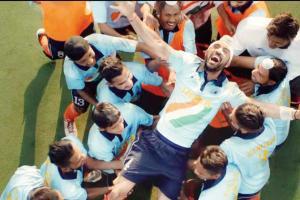 Soorma
Soorma
Director: Shaad Ali
Actors: Diljit Dosanjh, Tapsee Pannu, Angad Bedi
Rating: 

One way to look at this inherently inspirational film on Indian hockey's 'drag-flick' wizard, captain Sandeep Singh, is to inevitably compare it to the cricketing hero Mahendra Singh Dhoni's biopic (2016). For, like Dhoni, Singh began seriously playing the chosen sport relatively late in life.
And, much like Ranchi's Mahi, loved for his inexplicable 'helicopter shot', 'Flicker Singh' from Shahabad in Haryana took naturally to the game, like fish to water—coaching and technique thereafter only honing his intrinsic talent/craft, chiefly with dragging the hockey ball on the rough surface first (synthetic turf later), and flicking it with intense force towards the goal post.
Also, as is true for all sportspeople, it takes dedicated, generous mentors, sometimes a whole village/school/college/mohalla, to raise a champion. Singh has that in an adorable brother (played by Angad Bedi: finally finding screen-time equivalent to his fine acting chops). There's also the son-of-the-soil, slightly eccentric sorta coach (Vijay Raaz, killing it not-so-softly, with his swag).
Here's why Mahi may still be a wrong window through which to look at this film though. Firstly, because cricket is not field-hockey (at least not in India anymore). Even as Singh in blue-jersey makes it as a star-player, top-scorer in the national team, for instance, he takes a rickety ST (state transport) bus back home.
And while everyone knows all there's to know about MSD, I'm not sure how many non sports fans have even heard of Sandeep Singh, which makes his deeply compelling story, from only about a decade ago, smartly compressed into 130 minutes, as much an eye-opener, as uniformly engaging. Helps that the flick doesn't drag even for a sec!
Sure, this is a film on Indian hockey, and Shimin Amin's Chake De India (2006) does come to mind, although scales don't match. This is a much smaller pic, so to say, and I mean this by way of the size of the stadia, rather than sentiment, heart, or emotions. Either way, a film like this can do more for sport than state-funded federations, forever. Look what a TV channel could manage with kabbadi, for example.
In the middle of this khet/dusty field is Diljit Singh Dosanjh as Sandeep Singh—oddly enough the first Sardar super-star in Bollywood, which has otherwise been dominated by first/second/third generation Punjabis for decades. There is a disarming charm, child-like innocence that Dosanjh brings to his character going through serious ups and downs, dribbling through life's multiple obstacles, before reaching his final goal, which, like many extraordinary motives, essentially starts with him trying to impress the love of his life (an equally impressive Tapsee Pannu).
That supreme love and respect he has in his eyes for her is what the filmmakers have for him. You can see it, or even hear it with Shankar-Ehsaan-Loy's gooey, lilting background score. Over a career spanning a decade-and-half plus, director Shaad Ali has mainly oscillated between romances (Saathiya, OK Jaanu) and capers set almost in an alternate world (Bunty Aur Babli; and Jhoom Barabar Jhoom, Kill Dil: both in their own uniquely zany zones).
With Soorma, Ali confidently gets to the centre, keeps his impulses under check, and plays it totally narrow, and fully straight. And, yes, he hits home, alright. This is possibly his best work yet.
Also Read: Diljit Dosanjh And Taapsee Pannu's Soorma Receives Thumbs Up From Bollywood
Catch up on all the latest entertainment news and gossip here. Also download the new mid-day Android and iOS apps to get latest updates