A lover of street food, Taapsee Pannu swears by desi delicacies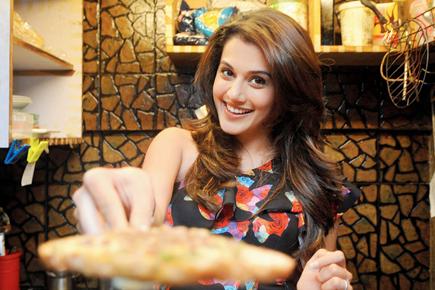 Taapsee Pannu
"Anyone who's going to Delhi and wants some know-how on where to get the best street food, should come to me," says Taapsee Pannu. The Baby actress hates diets and laughs when we ask her whether she loves Danish cookies or not. "I love Danish pastries," tells Taapsee who's loves Indian food the most. Describing her appetite as one of an 'engineering student' who has deadly food cravings, Taapsee takes us through her gastronomic preferences...

HIGH ON TASTE: Taapsee Pannu loves her street food and cooks the basic stuff quite well. Pic/Nimesh Dave LOCATION Courtesy/Bistro 1, Andheri West
Hunting for taste
My best food memories are of my school and college days. My friends and I would gather after our classes and head to some part of Delhi to eat something. Chole, biryani, shawarma or momos — every day was marked with one item. Even now, when I go home, I visit various parts of the city to binge on my favourite delicacies. I love the chole puri, kachori and papri chaat that's made in the city.
Balancing act
I exercise on a regular basis and don't mind spending some extra time at the gym. I just can't diet and sustain on leaves, juices, etc. If I eat an unhealthy item in a day, I try to balance it out by eating something healthy as well. I have a light dinner. This diet plan works well for me and I don't intend to change it (laughs).
Daily diet
I avoid eating anything heavy post 7 or 7.30pm. My breakfast is like that of a king. I love parathas, bread pizza, French toast or puris with aloo sabzi for breakfast. Lunch is normal Indian food — rotis, dal and sabzi. Dinner is usually sabzi and dal with or without rotis. Or else I will have a soup or salad. My mom makes this amazing salad with mixed sprouts and crushed peanuts. My dinners are always light.
Kitchen call
I can prepare the basic items. My specialty is my rotis. Every roti I make puffs up nicely (smiles). At home, I make rotis for my sister and myself. I can also make rajma chawal. When I set up my home in Hyderabad, I invested in non-stick cookware and the works. I love the small ceramic jars, wooden spoons and other knick knacks.
Insect experience
I ate fried grasshoppers in Europe. I found them tasteless. For me, it was like papad, too flaky. I don't like having adventures on a dinner table. My choices are quite safe when it comes to food.
Romantic meal
I feel a romantic meal has to be cooked by either one of the partners. It has to be something light and presentable. People should be able to eat it with fork and spoon. Getting one's hand messy in rice, dal and curries would be kind of
unromantic (laughs).
Chef crush
I found Vikas Khanna quite cute when I spotted him recently at an event. I am surprised he's a bachelor (laughs). I feel a chef makes an ideal partner for girls who love to eat.