If 'The Ghazi Attack' was elevated to IMAX, the experience would be even more immersive, and quite literally so. There's still very little happening below the surface so far as the script is concerned. The fact that the actors make their parts seem so phenomenally believable is a feat in itself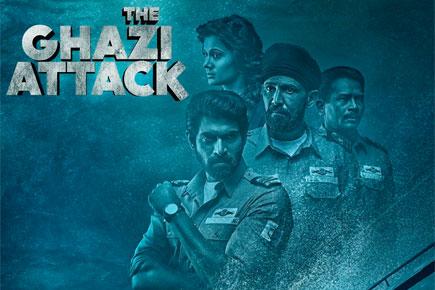 'The Ghazi Attack' - Movie Review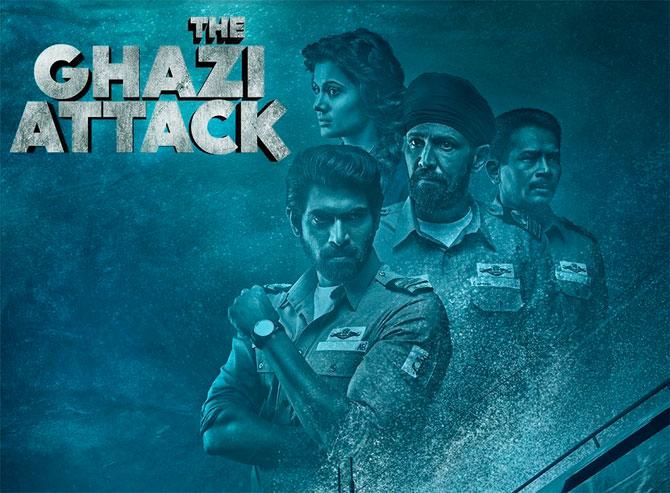 The Ghazi Attack. Picture courtesy: @TheGhaziAttack Twitter account
'The Ghazi Attack'
U/A; Drama/History/War
Director: Sankalp Reddy
Cast: Rana Daggubati, Taapsee Pannu, Kay Kay Menon, Atul Kulkarni
Rating: 

"Dive to 300," instructs the submarine's badass captain (Kay Kay Menon). "300?" Everybody looks and exults in amazement, much like those fellows from the famous Hayward's beer ad, upping alcohol levels in the bottle: "Hayward's. 5,000?"
Here of course we're talking about the Indian navy's submarine going below the usually acceptable sea levels, while it's been hovering so far at 250 metres already, with 2 lakh tons' worth of water pressure over it.
Yes, sitting in the audience, before a big screen, you can feel some of that pressure, and are actually mesmerised, right from the word go, by the fact that the filmmakers intend to grab your attention with a competently-produced war movie, wholly set underwater, inside a cramped indoor space, with three main characters, and two warring armies, who can't see each other, and you can't see anything else either. If anything, if this film was elevated to IMAX, the experience would be even more immersive, and quite literally so.
There's still very little happening below the surface so far as the script is concerned. Which essentially deals with a Pakistani submarine called Ghazi that is on its way to the Indian east coast to open a seafront, even as the 1971 Indo-Pak war hasn't been officially declared. Acting on intelligence reports, the Indian submarine S21 is packed off to check and patrol underwater, with strict instructions to act only on official orders.
So yeah, firstly, this is based on a true account, parts of which have been fictionalised. Which parts? We don't know. Also I wasn't taking any technical notes on starboard and torpedo to run a fact-check on the film's research. It does seem like they've got it right. Only experts can tell.
My knowledge of submarines, perhaps like yours, is limited to the popular '90s boardgame, Battleship, at best. I do have a childhood submarine-engineer friend, who was brave enough to run away from home when he was a li'l kid, but tells me stories of how infinitely petrifying it is to 'dive' under. He's a gallant Sardar officer in the navy.
So is Kay Kay in this film. Rana Daggubati and Atul Kulkarni play his deputies. Their Pakistani counterparts (led by actor Rahul Singh) aren't shown to be dimwits either. While we have no back-story to emotionally connect, or strongly empathise with any of these characters, the fact that the actors make their parts seem so phenomenally believable is a feat in itself. They make up for what's not there on paper, rendering the movie's descent into schmaltzy patriotism, on occasion, wholly unnecessary.
Yup, you don't take your eyes off the screen. The production design appears exceptional, because it's unexpected. We don't make such movies in India, even while we've been watching such from the West since forever (Das Boot came out in 1981, for God's sake!). The captain of this sturdy ship, or director (Sankalp Reddy), as it were, I'm told, is a young first-time filmmaker from Hyderabad. Now that's the guy to watch out for. As is his debut. Of course.