Undeniably, majestic movie experiences are created by filmmakers and in Thugs of Hindostan, Vijay Krishna Acharya makes a fatal mistake - he takes his audience for granted.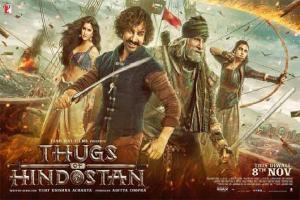 Thugs of Hindostan trailer
U/A: Action, Adventure
Director: Vijay Krishna Acharya
Cast: Amitabh Bachchan, Aamir Khan, Katrina Kaif, Fatima Sana Shaikh, Llyod Owen
Rating: 

May be Aamir Khan's Firangi Malla is, after all, modelled on Jack Sparrow. But the film is far from being inspired by The Pirates of Carribean. Though, after sitting through 2 hours and 45 minutes of Thugs of Hindostan, I wish it were. The swashbuckler Diwali venture is nothing short of colossal heartbreak for cinephiles. The maiden screen union of two of the country's biggest stars - Amitabh Bachchan and Aamir Khan deserved a better film. But TOH is as bad as its trailer; a film so devoid of spunk that you'll be baffled why those who spend 300 crores and 3 years on creating visual spectacles, don't invest half as much in writing better screenplays.
Set in the fictional town of Raunakpur - TOH is essentially a revenge drama with a dash of patriotism thrown in. Zafira (Fatima Sana Shaikh), the princess of Raunakpur witnesses the death of her entire family at the hands of John Clive (Llyod Owen), an East India Company officer. Her trusted godfather Khudabaksh (played by Amitabh Bachchan) raises her to be a warrior and her heart is set upon bringing freedom. The British employ one of their trusted spies Firangi (Aamir Khan) to nab Khudabaksh's army. A victim of his own swinish habits, Firangi struggles to rise above his greed and not sell his soul to the devil.
Evidently, the plot isn't a forte here but it's almost shameful that after seven decades of independence, we are whipping up shoddy rehashes in the name of patriotic movies. The villains are singularly cardboard fixtures speaking incorrect Hindi with flair. The vision is far from refreshing that is problematic because 2018 has given us AndhaDhun, Raazi and Stree, each an example of how good writing is the key to a great film.
To give credit where its due, there is certainly some inventiveness in the character of Firangi. He is deliciously slimy who has been entrusted with a larger responsibility of seeking freedom. Khan plays Firangi with charm, rendering an endearing quality despite his devious tendencies. He is pitted alongside Khudabaksh - a Bollywood-ised Katappa, whom Bachchan doesn't seem to enjoy much. In fact, he looks weary and worn down by the weight of his character's high moral ground. In comparison to Khan, who even hams to perfection, Bachchan's work seems rather lackluster. The ladies - Fatima Sana Shaikh and Katrina Kaif serve as mere props. The former slips into the role of a stunt extra while the latter settles for being just pretty face who lights up the screen for exactly 10 minutes.
Of course, another pitfall here is that we know almost nothing about these Thugs - where they come for, how they sustain themselves and how are they trained to be warriors. There are a few stray scenes with the supporting but none of them lend strength to the larger narratives. It's worse that the plot twists are so predictable, that anyone who has watched a handful of movies will know where the narrative is headed.
There is, of course, a great deal of work gone into mounting the film but neither the action nor the visual effects really match up to the experience that is expected of it. The on-sea war sequences are lazily put together and the other stunt pieces -especially the sword fights - don't really blow your mind.
The blame, in this case, lies entirely with the director Vijay Krishna Acharya, who doesn't try hard enough to give an out of the world experience. Post-Bahubali, big-ticket period outings have a mammoth of a precedent to supersede. Undeniably, majestic movie experiences are created by filmmakers and in this one, Acharya makes a fatal mistake- he takes his audience for granted. No wonder, Thugs doesn't rise above being an absolute snoozefest.
Watch the trailer here:
Catch up on all the latest entertainment news and gossip here. Also download the new mid-day Android and iOS apps to get latest updates